CNN not only hunted down a private citizen for blackmail, they appear to have tracked down a 15-year old kid, who called himself HanA**holeSolo. They threatened him and then pretended they didn't. We must add an update. CNN reports he is not a kid but an adult male.
Poor @KFILE can't keep his lies straight. #CNNBlackmail pic.twitter.com/dlGR2jkwrK

— John Cardillo (@johncardillo) July 5, 2017
CNN, the ClownNewsNetwork, will track you down and tell everyone who you are and where you live if you don't do as they say.
Thug Chris Cuomo deleted his tweet, suggesting it was the way to go. Power goes right to their little heads.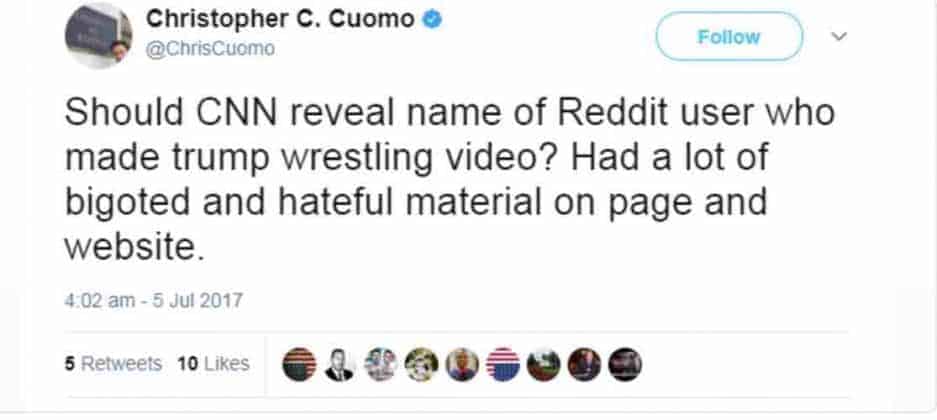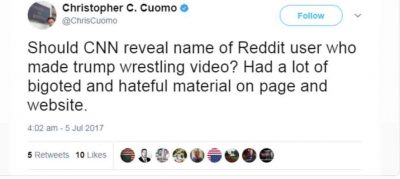 For some reason, the #CNNBlackmail has disappeared from trending and we now have things like National Bikini Day taking its place. CNN has been silent on their blackmail stunt all day.
We haven't been silent though and picked out our favorite tweets of the day for you. We hope you like them.
MT @KimDotcom #BREAKING #CNNBlackMail
Keep the tweets coming pic.twitter.com/js62q6NHPO #CNN #CNNisISIS #Trump #Meme #MSM #FakeNews

— Lee Pryer (@pryerlee) July 5, 2017
CNN is the Devil!#CNNBlackmail pic.twitter.com/sAIdEEn4UG

— Vladimir (@trollasaurusrx) July 5, 2017
Legal scholar and Senator @tedcruz is looking into #CNNBlackmail! pic.twitter.com/aGZzN0g3oS

— Mike Cernovich 🇺🇸 (@Cernovich) July 5, 2017
Catch us if you can! #CNNBlackmail #Remix pic.twitter.com/KzQtcHQHAg

— ✩chiℓℓ✩ (@chiIIum) July 5, 2017
CNN picked a fight with the wrong ppl….#NationalBikiniDay #CNNBlackmail #WednesdayWisdom pic.twitter.com/DDGhHNwb4N

— Kek Magician ߷ (@Keque_Mage) July 5, 2017
BUT IT'S JUST ART

Right #CNN?

😀pic.twitter.com/31iQBy7W94@realDonaldTrump #Trump #MAGA#CNNBlackmail #Tucker #Hannity #FoxNewsSpecialists

— Boca Vista (@bocavista2016) July 5, 2017