Update: Rightside broadcasting is live on the scene and the link is at the end.
A biker for Trump 2020 posted a video of the leftist loons and it was interesting. These drones are looking for trouble.
WE HAVE ADDITIONAL INFORMATION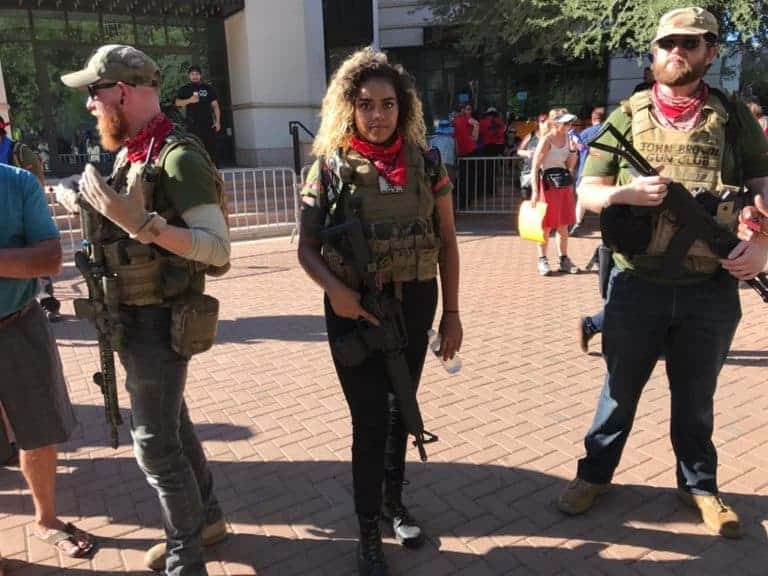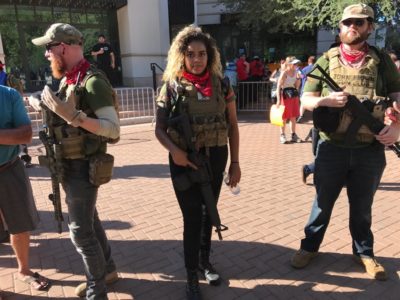 You can see the list of groups at the rally on this link. It's amazing in that they are communists, socialists, open borders groups and no one seems bothered by it. They're mainstream now. People are producing ads for paid actors to show up. We haven't been able to verify the ads.
AntiFa is already throwing smoke bombs.
Black clad group Throwing smoke bombs into trump rally pic.twitter.com/JbtSNmCGMo

— Mike Bivins (@itsmikebivins) April 2, 2017
Hundreds of protesters gather outside President Trump's campaign-style rally in Phoenix, Arizona. pic.twitter.com/7AsdGDbl88

— NBC Politics (@NBCPolitics) August 22, 2017
The Phoenix Democrat Mayor Greg Stanton told President Trump to not hold his rally in Phoenix. That takes a lot of gall. He wrote in an op-ed Monday, "America is hurting… I fear the president may be looking to light a match."
Stanton suggested Trump was holding a hate rally on Rachel Maddow's show, and added that the President is not welcome here. Stanton has also been attacking Trump for considering a pardon for former Sheriff Arpaio.
The mayor is shameful and he's a partisan hack. When ever did a mayor tell a President he shouldn't hold a rally?
TENS OF THOUSANDS OF SUPPORTERS
Trump arrived in Phoenix earlier and stopped at Air Station Yuma where he was greeted with cheers from the Marines.
President Trump greeted with cheers from Marines in Arizona ahead of #PhoenixRally.

You won't see this on CNN. pic.twitter.com/Njqin53LDW

— Tennessee (@TEN_GOP) August 22, 2017
The lines to see President Trump in Phoenix this evening have been very long.
Huge line waiting to see Trump in Phoenix. But Media pretend it's not newsworthy!

Spread this video!#PhoenixRallypic.twitter.com/zMVc9nV9F0

— Tennessee (@TEN_GOP) August 22, 2017
In case you haven't seen this, it's great!
Puerto Rican Trump supporter blasts CNN ahead of Phoenix rally: 'You're the real racists and fascists!' pic.twitter.com/nqday5Aa7j

— Josh Caplan (@joshdcaplan) August 22, 2017
LIVE FROM RIGHTSIDE BROADCASTING
CORRECTION: WE HAD A CROWD PHOTO UP WHICH WE HAVE TAKEN DOWN AFTER IT WAS DISPUTED. IT HAD BEEN PUT UP WITH A CAVEAT THAT IT WAS AN 'ALLEGED' SHOT OF THE CROWD.