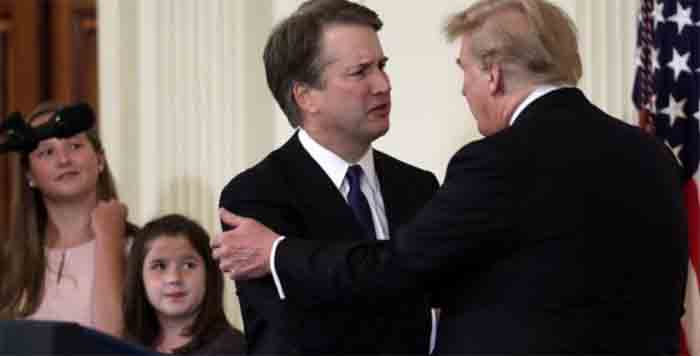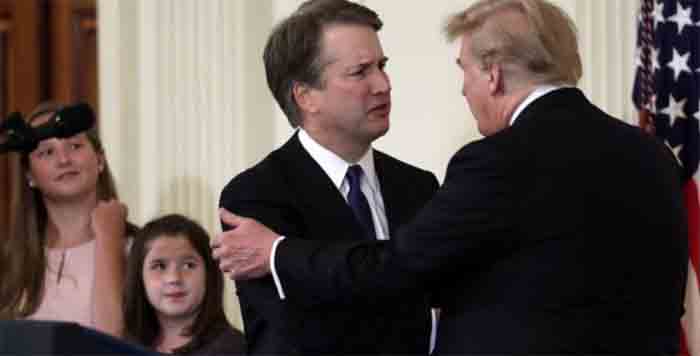 Judge Brett Kavanagh sounds fairly close to perfect as a nominee for the Supreme Court of the United States. He promises to execute the law as written and his personal life is one of love, generosity, and service.
Have faith in the left, however, to defame him. Surely he teased someone in high school or put a dog in a carrier on his roof once.
The far-left planned protests before he was even selected – they're ready to go.
He's apparently Catholic — very Catholic — and that will certainly make it hard for him to pass the Democrats' illegal religious test.
THE LEFT IS WORRIED: ABOUT HIS VALUES, NOT GETTING TO PUT TRUMP IN JAIL, SOCIALIST HEALTHCARE, ABORTION, AND…WAIT FOR IT…RUSSIANS
Senator Mark Warner tweeted: "I plan to carefully examine Judge Kavanaugh's record and judicial philosophy. I cannot and will not support a nominee who would take this country backwards by undermining our fundamental rights and American values."
What values are those Mark? Open borders? Character assassination, kicking political opponents out of restaurants and gas stations? Maybe it's high taxes and heavy regulations?
Notorious liar Adam Schiff tweeted: "Ever mindful of his self-interest, Trump has picked Brett Kavanaugh, who once wrote that he didn't believe a sitting President should be subject to criminal investigation or prosecution."
That appears to be the major pre-planned talking point. Hysteric Cory Booker carried on with that accusation as did others.
Sen. Booker tells @maddow that Supreme Court nominee Brett Kavanaugh is the most "self-serving" selection that President Trump could have made to protect himself from a criminal investigation. pic.twitter.com/snSv5EhCqp

— MSNBC (@MSNBC) July 10, 2018
They're ridiculous. That's the law. Perhaps they would have been happy with a nominee who wrote an opinion that Donald Trump should be in jail.
Chuck Schumer said, "I oppose Judge Kavanagh's nomination with everything I have". His reasons are the usual fearmongering.
Schumer claims that with Kavanaugh's nomination, reproductive rights and health care protections are "on the judicial chopping block."
Schumer forgot Democrats lost the election.
Kavanagh actually wrote the argument Justice Roberts used to approve Obamacare. As for abortion rights, only Congress can overturn the law.
Far-left Hill reporter Ed Krassenstein sees the Russians — Putin to be specific — in the selection [presumably he got the talking points memo about this judge not being willing to prosecute Trump]:

Socialist race-baiter Sharpton sees Kavanagh as a serious threat. That's good enough for us at the Sentinel. We support Kavanagh!
The nomination of Kavanaugh is a serious and immediate threat to civil rights,women's rights, labor rights and LGBTQ rights. No confirmation

— Reverend Al Sharpton (@TheRevAl) July 10, 2018
Justice Kavanagh wants to preserve the rule of law so the left says get rid of him.
Judge Brett Kavanaugh: "I will always strive to preserve the Constitution of the United States and the American rule of law." #ScotusPick https://t.co/uRPKIrJlQo pic.twitter.com/1eXWSKYjfX

— Fox News (@FoxNews) July 10, 2018
One interesting fact is George W. Bush finally found something the President did that he agrees with.
President George W. Bush said "President Trump has made an outstanding decision in nominating Judge Brett Kavanaugh to the Supreme Court" in statement following announcement https://t.co/leFfMP32ib pic.twitter.com/a8qkjJpG9n

— NBC News (@NBCNews) July 10, 2018
The Nominee Will Follow the Law, Democrats Find His Nomination Very Objectionable
Brett Kavanaugh to @POTUS: "I have witnessed firsthand your appreciation for the vital role of the American judiciary." https://t.co/gESqJwfTQI pic.twitter.com/hWAe8tPalV

— Fox News (@FoxNews) July 10, 2018
Kavanaugh: "My philosophy is straightforward: a judge must be independent and interpret the law, not make the law" pic.twitter.com/qetKdgybDl

— Washington Examiner (@dcexaminer) July 10, 2018