New York City Mayor Bill de Blasio is a committed Marxist whose admiration for Cuban communism and the communist Sandanistas in Nicaragua is no secret. His disdain for the Capitalism that is at the center of his city's success doesn't really stop his incremental push towards communism.
A case in point is his book program.
On February 1, 2017, the Mayor's Office of Media and Entertainment launched One Book, One New York, a campaign from the communist mayor himself, designed to bring book-loving New Yorkers together through reading one great book at the same time.
There was an alleged "outpouring of enthusiasm" for this program which hoped to have all New Yorkers read the same book at the same time.
MOME blanketed the City with ads in subways and bus shelters and taxi TV featured the celebrity videos made by partner BuzzFeed. It even trended on social media throughout the five boroughs. They had 500 people at one event, however the books weren't checked out with any noticeable regularity. We doubt it was a big success.
The choice books included a group of anti-American, anti-white screeds selected by a panel of show biz celebrities including Larry Wilmore and Danielle Broetz. Among the selection are works by Ta-Nehisi Coates, Chimamamda Ngozi, a race-obsessed chick, and Junot Diaz, hailed by the communist mag Peoples' World. Bizarrely, the Mayor sees these purveyors of anger and divisiveness as a source for unity.
They are multiculturalists who see race and white supremacy in all things at all times. White supremacy is the thing they must conquer. Whites must become the minority.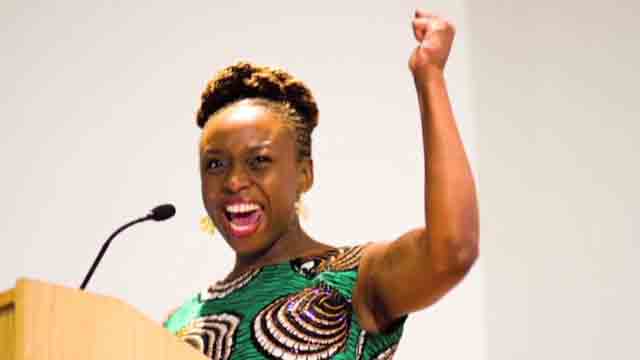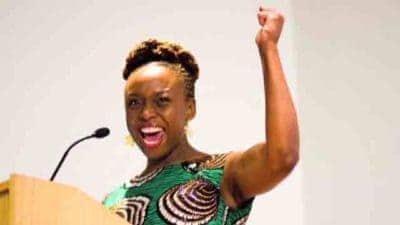 The winner of this communist book launch was Americanah by Chimamanda Ngozi Adichie, a dreary tome written in 2013 in which her character ifemelu finds race matters everywhere. It describes the United States as a nation that has gained ground as the multicultural nation it strives to be, but still has a long way to go.
We really need a foreigner telling us what is wrong with our successful nation?
Meanwhile, communist de Blasio is still being investigated for corruption and just fired a top city deputy commissioner who says he was fired because he complained that City Hall inappropriately intervened on behalf of a major campaign donor to Mayor de Blasio who owed nearly $750,000 in back rent on his Queens restaurant, the Daily News has learned.
Communism and corruption go hand-in-hand.