The left-wing Daily Beast published a brutal article about President Trump as he makes his way to Saudi Arabia. They quoted anonymous sources who were responding to Trump's latest comments referring to former FBI Director as a "nut job".
"I just fired the head of the FBI. He was crazy, a real nut job," Trump told Russia's foreign minister and ambassador to the United States according to the NY Times based on a leak of a summary of the meeting. It was not denied by Sean Spicer.
Comey is actually a crazy nut job. He set up the case against Hillary and then exonerated her in the same speech because she didn't have "intent" and was "extremely careless". He testified that thousands of Hillary's classified emails were on Weiner's laptop but there were only three. The list goes on.
According to Axios, Comey's friend Ben Wittes, a Brookings Fellow, said Comey was uncomfortable with contacts he had with Trump. In one case, during an event honoring law enforcement on January 22nd, the 6'8″ Director tried to blend in with the curtains so Trump wouldn't spot him.
Please tell me how this 6'8″ Comey could blend in with those curtains.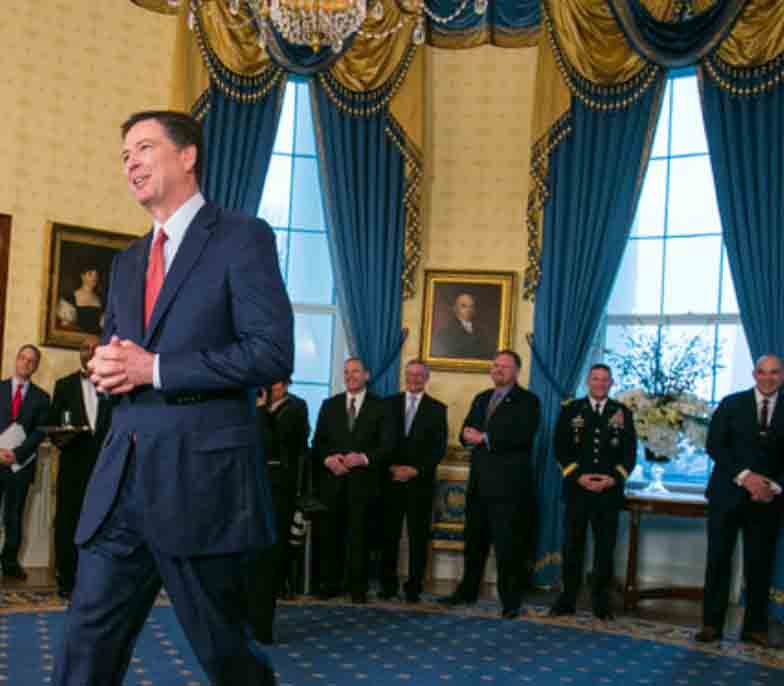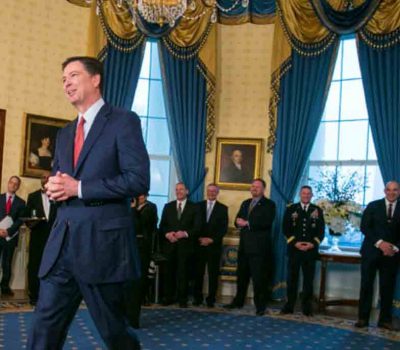 Wittes said, "Comey said that as he was walking across the room he was determined that there wasn't going to be a hug…Comey has long arms so Comey said he preemptively reached out for a handshake and grabbed the president's hand. But Trump pulled him into an embrace and Comey didn't reciprocate. if you look at the video, it's one person shaking hands and another hugging."
Look at this nothing burger. This is a hug??? The left is off the rails.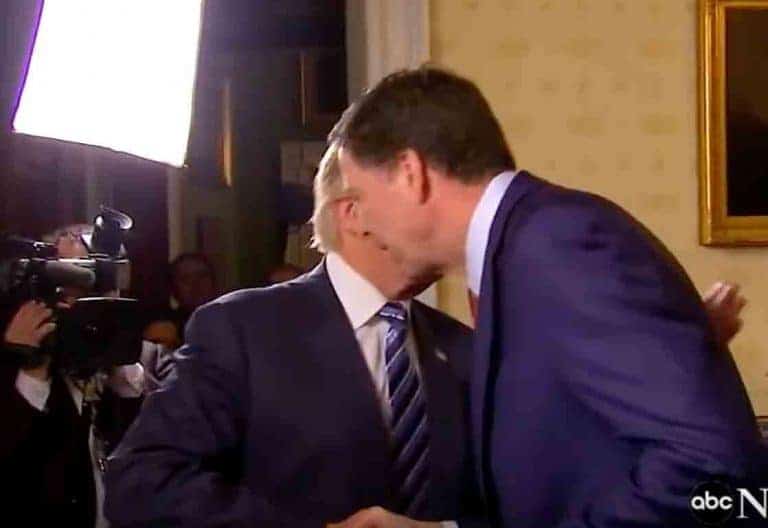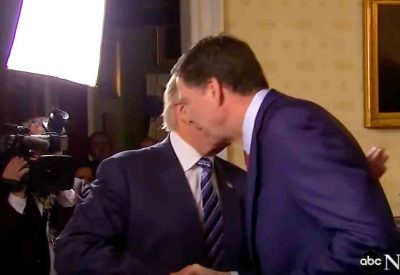 Thank God Trump didn't give him a Russian bear hug or speak Russian!
Does that sound petty to anyone besides me?
The stories got worse throughout the day. According to The Daily Beast, some of Trump's staff hates him and a number of them avoided getting on Air Force One with him.
The Daily Beast reported that at least one insider who supported Trump thinks he's a moron.
Trump's repeated media missteps have frustrated even longtime supporters. "Every day he looks more and more like a complete moron," said one senior administration official who also worked on Trump's campaign. "I can't see Trump resigning or even being impeached, but at this point I wish he'd grow a brain and be the man that he sold himself as on the campaign."
Another Republican source said he needs a 'lobotomy"?
Asked whether an administration staff change-up would ameliorate this latest crisis, a Republican source formerly involved with a pro-Trump political group told The Daily Beast, "yes, if it comes with a frontal lobotomy for Trump."
If that's true, then Trump is going to have a hard time surviving and what we would get next is a Marxist.
Why don't these people just quit?
The insults continued throughout the article.
The Beast then went into their Trump obstructed justice argument.
Spengler says all that we are seeing is a coup orchestrated by the media, Democrats and NeverTrumpers to force Trump to resign.