Emails between de Blasio and top outside advisers who work for political consulting BerlinRosen, were released Thursday after DeBlasio spent months trying to keep them secret, arguing the consultants served as "agents of the city."
He reversed course but only after a Manhattan appeals court ordered their release after NY1 sued.
As it turns out, he was only protecting his butt.
The 4,245 pages of emails make clear that from the early days of his arrival at City Hall, the de Blasio team was constantly seeking ways to manipulate the press and massage the mayor's image.
DEBLASIO THINKS THE MEDIA IS "PITIFUL"
In one email, to show how "authentic" he was, the mayor and his aides meticulously planned to attend three Mets vs. Red Sox games in a row, complete with de Blasio scolding his staff for not realizing that if he visited the Sox's batting practice, he'd have to do the same for the Mets.
In another email, de Blasio himself weighed in on his office's media strategy after he was harshly criticized for working out at the gym while a firefighter was shot on Staten Island. He said the media was being "pitiful."
"Here's what we know: the media wants to focus on death in all its forms and wants me to be present wherever death or grievous injury is involved," he wrote. "Today's controversy about when exactly I should be at the hospital or an active shooter situation and what I'm 'allowed' to do if I'm not there is a case in point."
He said the administration could either "surrender" — and go to fires, crime scenes and memorials — "or we can govern."
He surrendered and made sure someone showed up.
CLICK-BAIT
In response to a 2015 New York Times article about de Blasio responding more calmly to negative questions about his administration—including his trip to the gym when the firefighter was shot —he passed along an idea brainstormed by his wife, First Lady Chirlane McCray.
She suggested that the city come up with its own form of "click-bait" content. FAKE NEWS!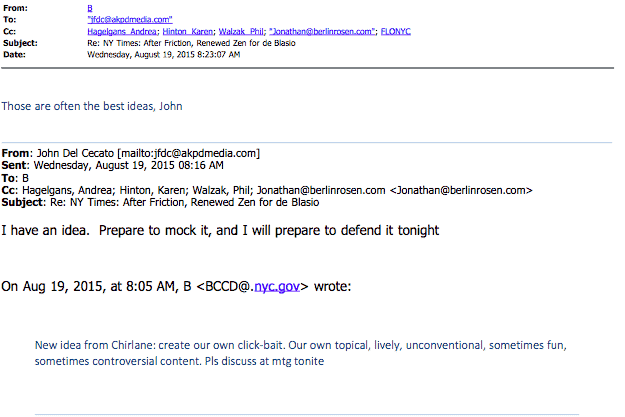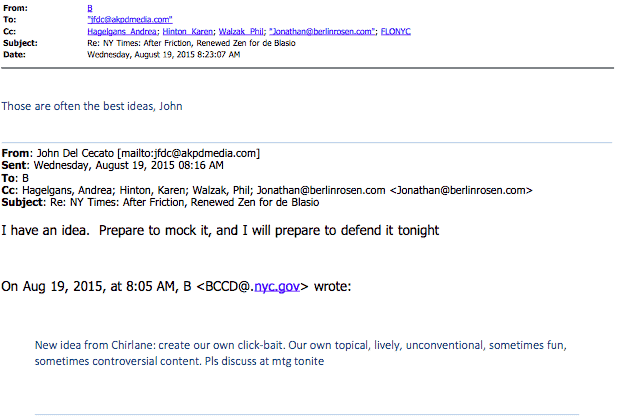 RIP HIS FACE OFF
On July 6, 2016, New York Post's Carl Campanile reached out to former de Blasio aide Phil Walzak, who is now the NYPD's deputy commissioner of public information; Austin Finan, de Blasio's first deputy press secretary; and Dan Levitan, who was de Blasio's campaign spokesman for comment on then-GOP presidential candidate Donald Trump's assertion that de Blasio was the "single worst mayor in the history of New York City."
Walzak's recommendation was clear and nasty.


DeBlasio's press secretary put this spin on it because he is a lying phony.
That's just an old Midwestern expression we use for laying out a cogent, respectful argument in response to an adversary. https://t.co/Sam4UH4OS3

— Eric Phillips (@EricFPhillips) May 24, 2018
MORE CONTRIVED NEWS AIMED AT CUOMO
De Blasio was very unhappy about a 2015 Observer article titled, "What Does Bill de Blasio Gain by Openly Blasting Andrew Cuomo?" exploring the mayor's decision to start publicly airing his complaints about Cuomo as a way to counter him.
It's funny how DeBlasio knows the media is a joke but when Trump says it, he's calling for his head.
Trump and the right are not the only ones sowing discord regarding the credibility of the news media. Liberal New York City Mayor Bill de Blasio calls the media "pitiful" and "sad for our city and nation." What's that saying? The enemy of my enemy is my friend? https://t.co/5Yvkz99WNI

— Josefa Velasquez (@J__Velasquez) May 24, 2018