The left went literally insane today over the Kavanaugh hearings, with crazy stories filling up the Internet. Their angst arises from the fact that the Justice will be confirmed and they can't Bork him.
There were over 70 Democrats arrested today, 61 were in the hearing room.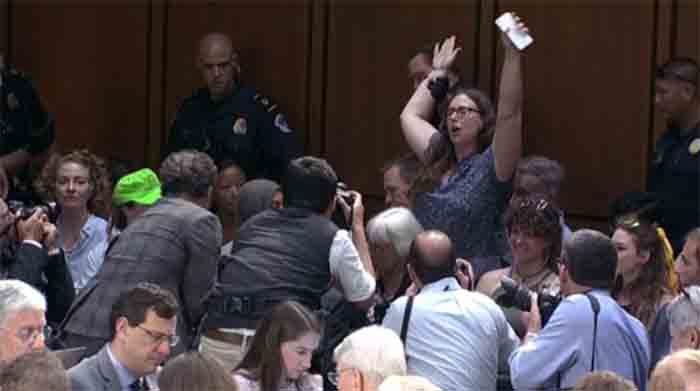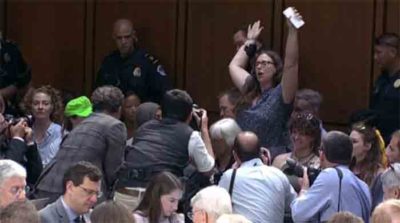 THE JUDGE WOULDN'T SHAKE HANDS WITH THE FATHER OF A PARKLAND VICTIM?
This next photo is the photo Axios is still pushing Wednesday morning. It's a deceptive AP shot. The message with is Judge Kavanaugh would not shake hands with the father of a Parkland victim.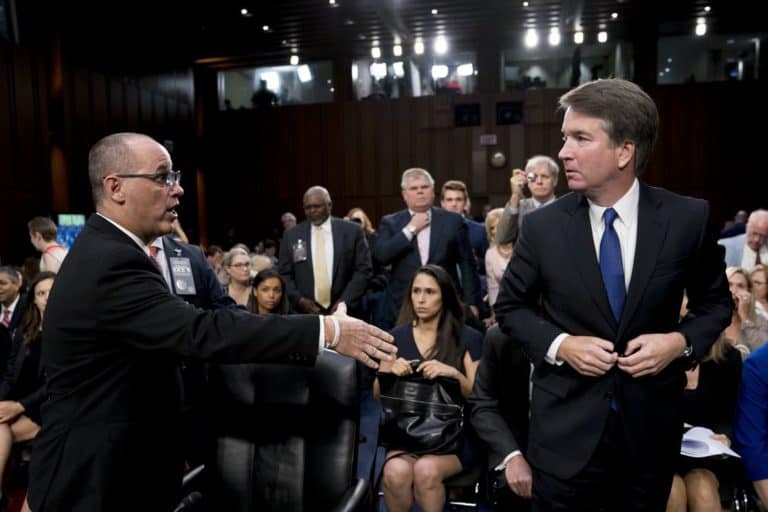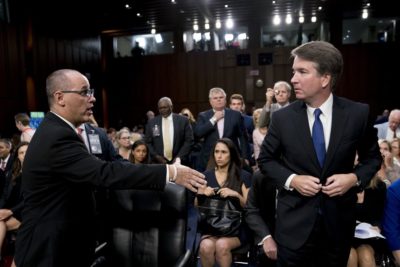 One of the lies told about Brett Kavanaugh Tuesday is that he refused to shake hands with the father of a Parkland victim, Fred Guttenberg. The judge didn't know who he was and he had been screamed at by strangers for hours.
This is the clip being passed around by the media that never seem to check on anything if the message fits their narrative.
WATCH: Fred Guttenberg, the father of a Parkland school shooting victim, approaches Brett Kavanaugh during a break in his confirmation hearing, but when he attempted to shake the Supreme Court nominee's hand, Kavanaugh appears to walk away. https://t.co/U2w8doDZr5 pic.twitter.com/xyQwhWHARr

— CBS News (@CBSNews) September 4, 2018
It was probably a setup, judging from Mr. Guttenberg's tweet before the hearing.
.@Fred_Guttenberg, the #Parkland father who wanted to shake Judge Kavanaugh's hand in front of news cameras, tweeted this one day before #SCOTUS confirmation hearings began today. pic.twitter.com/KPoZUhsNDI

— PJ Media (@PJMedia_com) September 4, 2018
As it turns out, the video from a different angle shows that security swept in and ushered the judge away before he even had time to think about it.
Fred Guttenberg, who lost his daughter in the tragic Parkland shooting, approached Supreme Court nominee Brett Kavanaugh and claimed that Kavanaugh refused to shake his hand.

As can be seen in this video clip, security immediately intervened and moved Kavanaugh away. pic.twitter.com/RertGJ3A9m

— Ryan Saavedra 🇺🇸 (@RealSaavedra) September 4, 2018
THEN THERE IS THIS CRAZY STORY
"A WH staffer was throwing white power signs on camera!" the media and trolls screamed. As it turns out the woman they think was throwing white power signs is Hispanic and Jewish. White power, no way.
Do these idiots think a Hispanic, Jewish White House staffer would flash white power signs on TV? The answer is 'yes.' They are that crazy.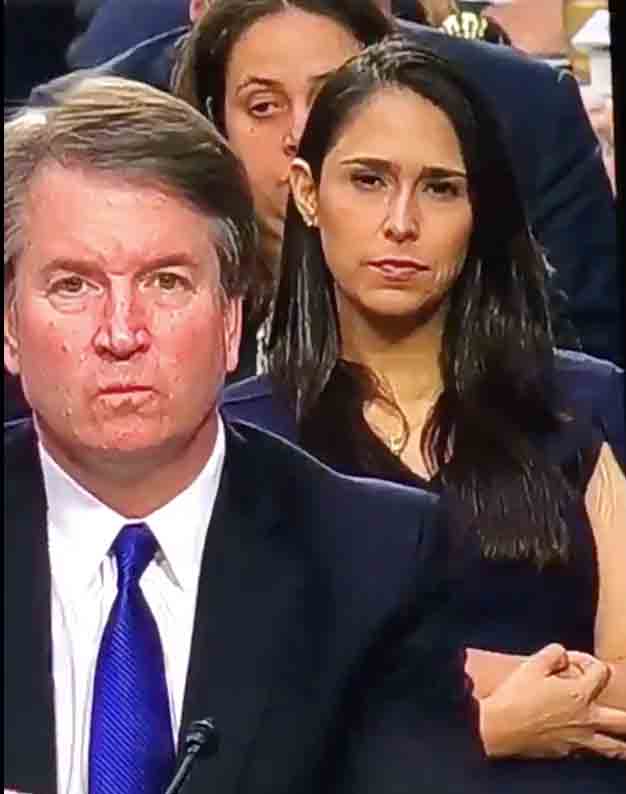 JAMES WOODS DOES IT AGAIN, PUTS THE INSANITY IN PERSPECTIVE
The hearing was truly a circus act with Democrats screaming, interrupting, and trashing the judge. They're gaslighting Republicans and it's hard to stay anchored. One of the crazy things they are doing to delay the hearings is to demand a million documents in a month.
James Woods did put all in a perspective.
The #Democrats don't care. They are there just to throw sand in the gears. They didn't even read their own Obamacare act. Hank Johnson thinks Guam could tip over. Half of them probably can't even read. None of it matters. The #Democrats have become a circus act now, nothing more. https://t.co/KKDklAoM1V

— James Woods (@RealJamesWoods) September 4, 2018
It's taken over three years to get Hillary's illegal emails and we're still waiting, but these clowns want a million documents in a month?

— James Woods (@RealJamesWoods) September 4, 2018