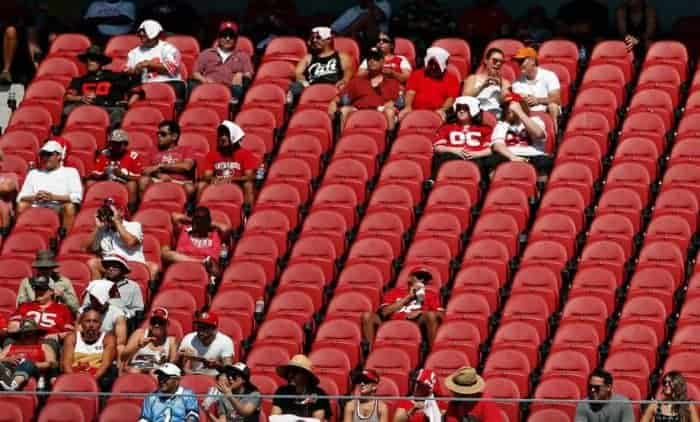 The NFL is finally back in Los Angeles. But so far Los Angeles isn't showing up.
The Rams played in front of tens of thousands of empty seats on Sunday, and the Chargers are playing in a stadium less than half the size of any other venue in the league.
Last December the Cleveland Browns tickets were going for a dollar.
As of Wednesday, resale tickets for the 49ers-LA Rams were being offered on StubHub for as low as $14. That price is just cheaper than buying a pair of $7.50 pretzels through the Levi's Stadium app and comparable to the price of a beer and a hot dog at the the three-year-old arena.
The disappearance of fans at lower-profile games isn't only a problem in Santa Clara. This past weekend headlines slammed the Chargers for failing to fill their 30,000 person temporary home in Los Angeles. Even TV ratings are going down.
The excuses for the disappearing fans are endless but the one they never mention is the response to the disrespectful players who kneel during our nation's anthem.
They think it's because Colin Kaepernick, the anti-American former 49ers quarterback, doesn't have a job.
Maybe, just maybe they should show some respect and leave politics out of entertainment?
Read about the crazy idea they have now on this link.