Update: Disney cut ties with writer/director James Gunn [Guardians of the Galaxy] today.
Disney filmmaker James Gunn put himself in the middle of a hatefest and now ends up as one of the casualties. He went to the defense of a friend, director Mark Duplass, who said something nice about conservative Ben Shapiro. Gunn defended Duplass by trashing Ben Shapiro and President Donald Trump.
Unfortunately for Gunn, The Daily Caller News Foundation uncovered his seedy past which makes him quite the hypocrite…and disgusting too.
It got much worse after that when his horrendously sick and perverted pedophilia 'jokes' surfaced.
GUNN'S PEDOPHILE JOKES
It got much, much worse. He posted pedophile-joke tweets in 2007 and prior to that. Heavy and Hollywood Life go into this in depth.
WARNING! Do not let children watch this summary of the 'jokes' as if that is something to joke about.
Watch, but not children:
People can't help but wonder if he's a pedophile or a wannabe.
So when James Gunn made those comments about Jared Leto being a pedophile was he just projecting? pic.twitter.com/rVPvw29VXV

— Shittheldam (@Shittheldam) July 20, 2018
This is what the Democrat Party and Marxist culture offers.
GUNN IS NOW MAKING EXCUSES FOR HIMSELF
Gunn has now been forced to defend himself. He lies well so he might pull it off.

THIS IS HOW IT ALL BEGAN
Director Mark Duplass committed the unforgivable sin of saying something nice about conservative Ben Shapiro in a tweet. He wrote: Fellow liberals: If you are interested at all in "crossing the aisle" you should consider following @benshapiro. I don't agree with him on much but he's a genuine person who once helped me for no the reason than to be nice. He doesn't bend the truth. His intentions are good.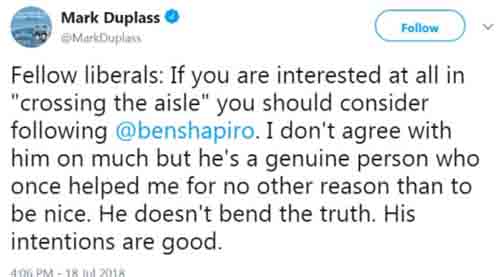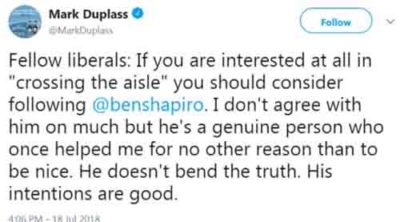 Duplass summed up Shapiro pretty well as a person. He's unfortunately a never Trumper, but he appears to be a good person.
Duplass thought he had free speech, but the far-left forces are burying these liberals along with the right. He was pilloried and had to extend his deepest apologies for saying something nice about a conservative. All conservatives have been painted as homophobes, racists, Islamophobes, sexists, and nativists.
His apology left him looking weak and cowardly, but his career is on the line. The man's been castrated.
— Mark Duplass (@MarkDuplass) July 19, 2018
GUNN TO THE RESCUE
His friend, Disney filmmaker, James Gunn came to his rescue by trashing Shapiro.
"Maybe you disagree with Mark Duplass, which is completely fair (personally I think even Ben Shapiro's mother should unfollow him). But that doesn't make Duplass' point-of-view evil," Gunn tweeted. "There are a lot of traitors & racists in the country today. Perhaps save the outrage for them."
Gunn accused President Donald Trump of being "an operative for a foreign national," criticizing his zero-tolerance immigration policy, and blamed Republicans for future potential Russian election meddling. He ended the Twitter rant by calling Shapiro an "asshole."
The Daily Caller News Foundation did a search of his tweets and uncovered racist, anti-semitic, homophobic and rape-related remarks.
One tweet said: New poll. 9-11 jokes. Always in poor taste, or sometimes funny? Additional question: More or less offensive than Holocaust jokes?"
Another said, "I want to go big-game hunting but I know it's morally questionable. So I am going to split the difference and go big-game raping."
"I burnt my tongue on an enchilada. F***ing Mexicans," one tweet said. In still another, he said Jews aren't allowed to open the oven on the Sabbath so he did them a favor.
There were jokes about fat people, eating babies, ass-raping a friend in her sleep, laughing at people with AIDS, and how he was happy to see a monkey masturbate all over a child on the set.
Even it this is humor, it's grotesque. This is who writes for Disney? He is a fine example of the leftists hypocrites who demonize the President and Ben Shapiro.