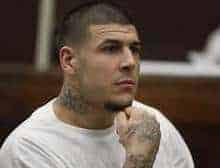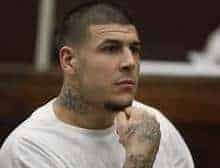 A judge on Tuesday vacated Aaron Hernandez's conviction for the 2013 murder of Odin Lloyd because the former New England Patriots star from Bristol died while his appeal was pending. This might mean $6 million for his girlfriend.
It's standard practice in Massachusetts to declare a person innocent if they die while appeals are being heard. The legal principle that reversed Hernandez's conviction posthumously is known as "abatement ab initio" — a Latin phrase meaning "from the beginning" — and dates to when Massachusetts was a British colony.
It's not known how this will effect the civil lawsuit by Odin's mother but it does affect the NFL.
However, one of the suicide notes left by Hernandez suggests he knew his fiancé would stand to gain if he killed himself.
Even though he was fired by the Patriots, the NFL might still be on the hook because he has now been declared innocent in a court of law. The NFL can fight on the grounds that he was exploiting a loophole.
Fans of his are saying that the reporter who outed him as gay in prison caused his death – not likely.
It recently came out that he was a member of the Bloods street gang. He was a criminal without ethics to the end.
#AaronHernandez's suicide note revealed & The Patriots are on the hook for $6 million! #TMZ pic.twitter.com/AvurdDXBNV

— TMZ (@TMZ) May 8, 2017