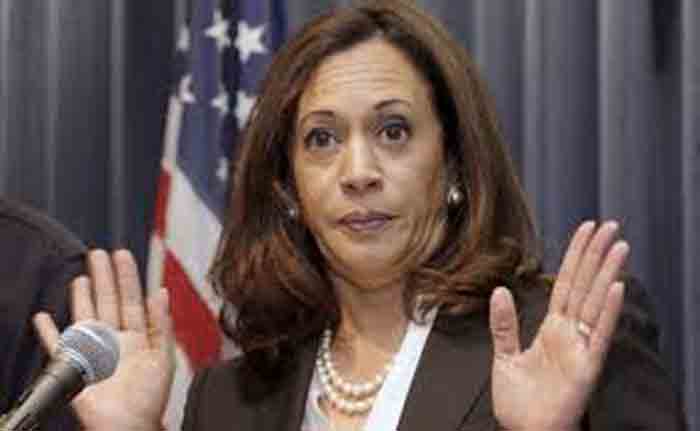 The Hill reports that Senator Kamala Harris (D-CA) mingled with Hillary Clinton's top donors and supporters at a Bridgehampton, Long Island event over the weekend.
Harris is "thinking much bigger" than the Senate, one top bundler said.
"She's running for president. Take it to the bank," another fundraiser said. "She's absolutely going to run."
Donors see hope in the woman described as the "female Obama" according to the hill.
They see the former prosecutor-turned-California attorney general as embodying the qualities they want in 2020.
She's also a 52-year old black woman, an added bonus.
"There's a big hunger out there for somebody new and different," said Bill Carrick, a Democratic consultant who served as an adviser to former Rep. Loretta Sanchez (D-Calif.), who challenged Harris in last year's senatorial race.
Harris is not popular on the right.
Harris is well known for having destroyed lists of illegal alien gang members to keep them safe from President Trump. She's also anti-gun at the same time she's encouraging open borders.
When the Republican House passed a healthcare bill, she sent out an extremely dumb tweet about how it will "destroy lives" and deny coverage to "129 million people with pre-existing conditions".
Once again, 129M people with pre-existing conditions could be denied coverage and insurers could charge sick people more money.

— Kamala Harris (@KamalaHarris) May 4, 2017
That was a particularly popular lie from the left. It's actually about 250,000 people who have been denied coverage over pre-existing conditions, according to the Kaiser Family Foundation. She's a bald-faced liar.
When she grilled Mike Pompeo for the CIA position, she questioned him about the threat of climate change.
You can hear her irrational grilling of Attorney General Sessions in this next clip. The donors are right – she's perfect for the hard-left Democratic Party.