The first person out of the cave is reportedly Mongkol Boonpiam. One Thai twitter user thinks he was taken out first because of his name.
Mongkol means 'auspicious' and Boonpiam means 'full of merit.' The user said some think the teams took him out first for good luck. That sounds unlikely. There is a doctor in the cave deciding who is the fittest. Most media said the ablest are the ones chosen first.
The twitter user included this photo and said it is Mongkol.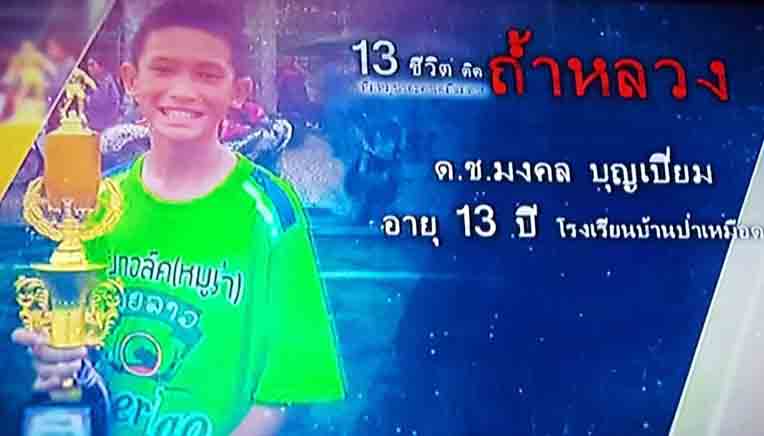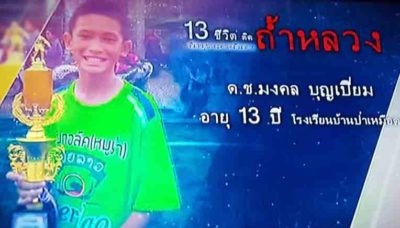 Thai Navy SEALs posted updates on their Facebook page in Thai and English and they confirmed that four of the children had been rescued. They posted that "the 4th Wild Boar is out of the cave" and was rescued at 7:47 p.m. local time.
They were rescued after 16 days. Each boy was accompanied by two divers, Sky News reported.
On Monday, they will begin the rescue of the other eight boys and the coach.
According to John Irvine of ITV News, the condition of one of the first two boys rescued is of concern.
Anxious Thailand"s longest day ends with four of the trapped thirteen out and safe.
Brilliant international rescue effort #ThaiCaveRescue

— John Irvine (@johnirvineitv) July 8, 2018
The first videos are out:
The latest picture from the Thailand cave rescue – the first two boys have now been rescued pic.twitter.com/LJNNZZBOYv

— Sky News (@SkyNews) July 8, 2018
#ถ้ำหลวง กราฟิกจำลองเสมือนจริง

Look at what they have to go through.

คอห่านที่ เนินนมสาว แคบแค่ไหน? หน้าตาเป็นอย่างไร? มาดำน้ำไปดูกัน#หมูป่าผู้แข็งแกร่ง #13ชีวิตรอดแล้ว #ทีมหมูป่า #พาทีมหมูป่ากลับบ้าน #ไทยรัฐ #ไทยรัฐทีวี pic.twitter.com/R7R1qG5ko7

— ThairathTV (@Thairath_TV) July 8, 2018
This Is the Moment the British Divers First Found Them — ALIVE!
This was the moment British divers first found the 12 boys and their football coach.

Follow the rescue mission here: https://t.co/mZWcNBiAN5 pic.twitter.com/jEXvU60mvI

— Sky News (@SkyNews) July 8, 2018
Who Is Involved:
According to the Guardian, the mission includes 40 Thai divers and 50 international divers with teams from Australia, the US, the UK, and China aiding in the efforts. 
Chief of operations governor Narongsak Osatanakorn told ITV that 13 foreign and five Thai divers are taking part in the operation.
The British Cave Rescue Council (BCRC) confirmed that seven divers from the UK with "expertise in cave diving" are assisting.
Two elite British divers, Rick Stanton and John Volanthen, were the first rescuers to reach the group on Monday night and are believed to be part of the team.
A former Thai Navy SEAL  sadly died on Friday while placing oxygen tanks in the cave in preparation for the rescue. Saman Gunan ran out of air practicing the rescue.
The operation took seven hours instead of ten which is good news. They will resume in the morning local time.