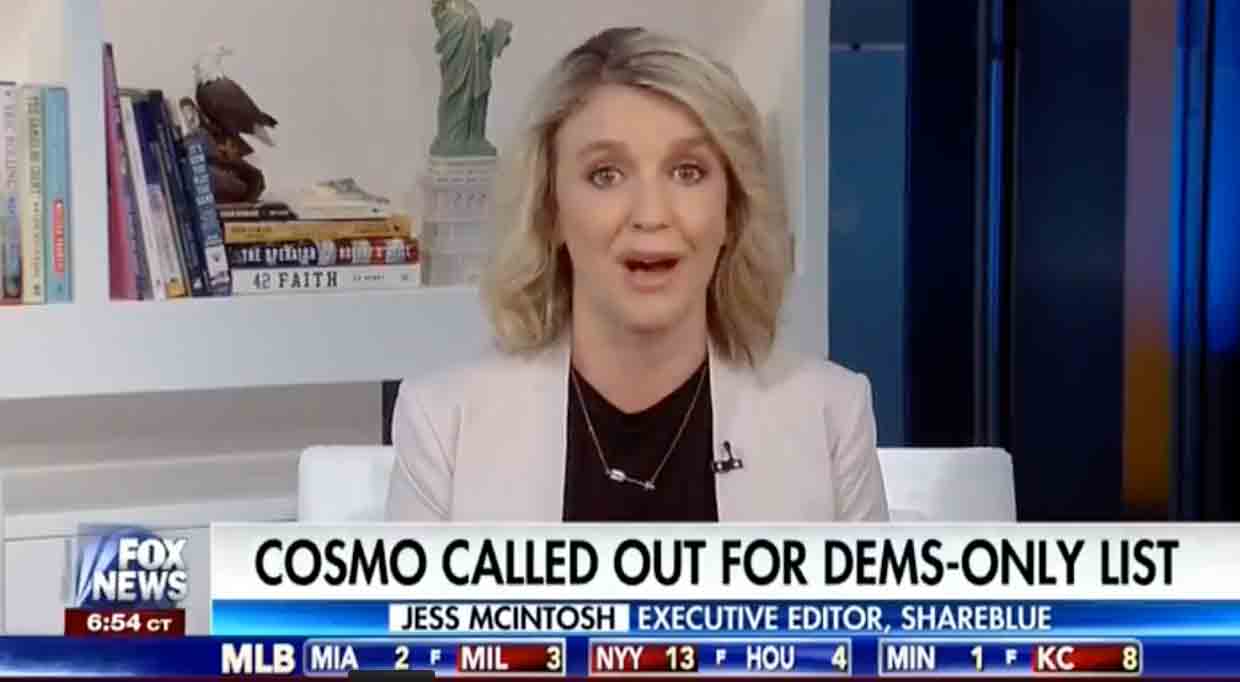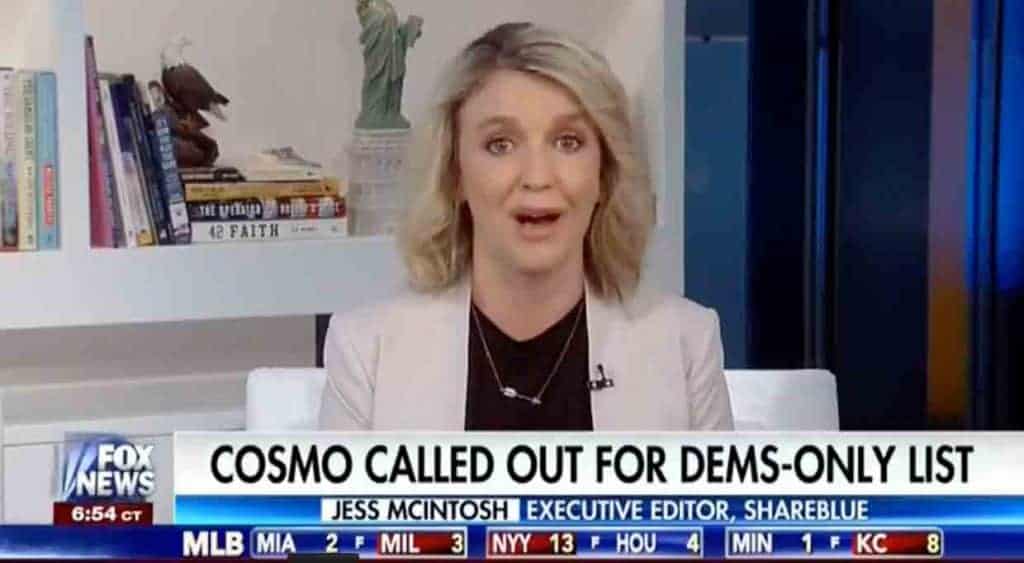 Jess McIntosh, the Executive editor of Shareblue, is getting airtime on Fox News. It's the "nucleus" of the anti-Trump, anti-Republican movement.
Last summer, McIntosh appeared on Fox News with Alan Colmes, but at the time she was the Hillary For America, Director of Communications Outreach. However, now she's in charge of a David Brock organization out to destroy Republicans. Brock is the Soros dirty tricks guy who launched the war on Fox.
Listen to how subtly this executive editor works. She pretends she's supportive of Republican women as she demonizes Republicans.
In case you don't know about Shareblue, it's an arm of the Soros-funded Brock initiative to destroy Donald Trump and Republicans.
What Shareblue is will appall you
The initiative was outlined in a memo and shared during a conference attended by the Washington Free Beacon. It was given out to deep-pocketed liberals/leftists at a January meeting led by Brock. He is the founder of Media Matters, and is a close ally of George Soros.
Titled, "Democracy Matters: Strategic Plan for Action," the memo outlines Brock's four-year agenda to attack Trump and Republicans using Media Matters, American Bridge, Citizens for Responsibility and Ethics in Washington (CREW), and Shareblue, each with their own strategy and attack plan.
It contains plans for defeating Trump through impeachment, expanding Media Matters' mission to combat "government misinformation," ensuring Democratic control of the Senate in the 2018 midterm elections, filing lawsuits against the Trump administration, monetizing political advocacy, using a "digital attacker" to delegitimize Trump's presidencyand damage Republicans, and partnering with Facebook to combat "fake news."
Shareblue in particular is the nucleus of the anti-Trump media entity
According to the Brock memo, Shareblue, formerly called BlueNationRising, is purposed to disseminate information to the public. It's specifically aimed at damaging Trump and his allies.
The memo reads:
"We will delegitimize Donald Trump's presidency by emboldening the opposition and empowering the majority of Americans who oppose him," the memo states. "Shareblue will be the dynamic nucleus of a multi-platform media company that informs, engages, and arms Americans to fight."
"Shareblue is positioned to frame opposition research from American Bridge and other progressive groups, as well as leaks and intel from Democrats on House and Senate committees, in our signature punchy, emotive style—and disseminate it directly to our followers in a daily inline persuasion campaign."
The nucleus organization is out destroying the right on TV, on radio, commenting in newspapers, and posting in Democratic communications and ads.
They are "weaponizing oppo research", claiming the right has done it for years
The group's editorial priorities include exposing Trump as a "weak, thin skinned 'loser,'" keeping focus on Trump's "conflicts of interests," and propping up Republicans who veer from Trump's positions, according to Brock's own words.
Shareblue's full editorial priorities are listed as follows:
Calling out signs of authoritarianism and kleptocracy. Championing voices who have been right to warns us.
Nonstop coverage of the influence of Vladimir Putin and Russia on Trump and his administration.
Exposing Trump as a weak, thin-skinned "loser" vulnerable to goading.
Relentlessly beating the drum that he has no mandate, lost the popular vote, and is the least popular president-elect in modern American history.
Exposing the insidious role of Mike Pence, who is replicating the right-wing governance ideology he inflicted in Indiana.
Demystifying Trump's "conflicts of interest" and calling them what they are: Subversions of the nation's interests.
Spotlighting the Trump administration's vast ties to white nationalists and the ways in which they explicitly empower white supremacy.
Tracking and fighting back against odious GOP legislation in Congress.
Following SCOTUS nominations/appointments/major cases.
Morale-boosting coverage of the grassroots opposition and resistance efforts outside the beltway.
Positive coverage of Democrats who boldly call out Trump and aggressively work against him. Pressure of Democrats who hold him accountable.
Fighting outrage fatigue.
They have taken over Twitter and Facebook with their propagandized anti-Republican messages. We now have Fox News giving them a podium!