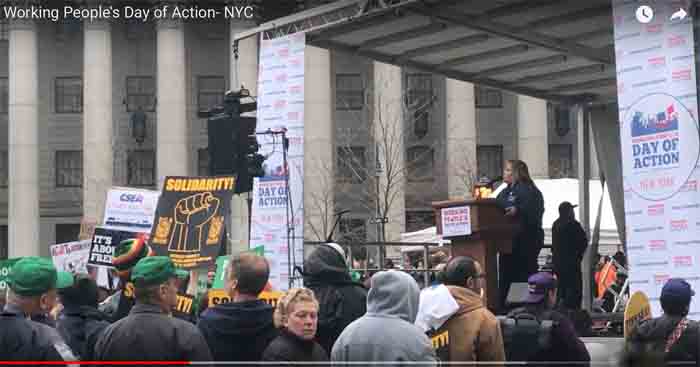 Communists and Socialists [the same thing] rallied in New York City Monday, screaming at actual workers that they are victims of corporate greed. The SEIU and other communist unions held their Working Peoples' Day of Action, railing against the government as well as corporations.
Signs read, no prisons, no war and there are no borders in the workers' struggle. Others openly advertised the Communist World Workers Party.
Union workers jeered and cheered beginning at 11 a.m. in Foley Square.
They all watched the big screen as speakers blasted the mantra.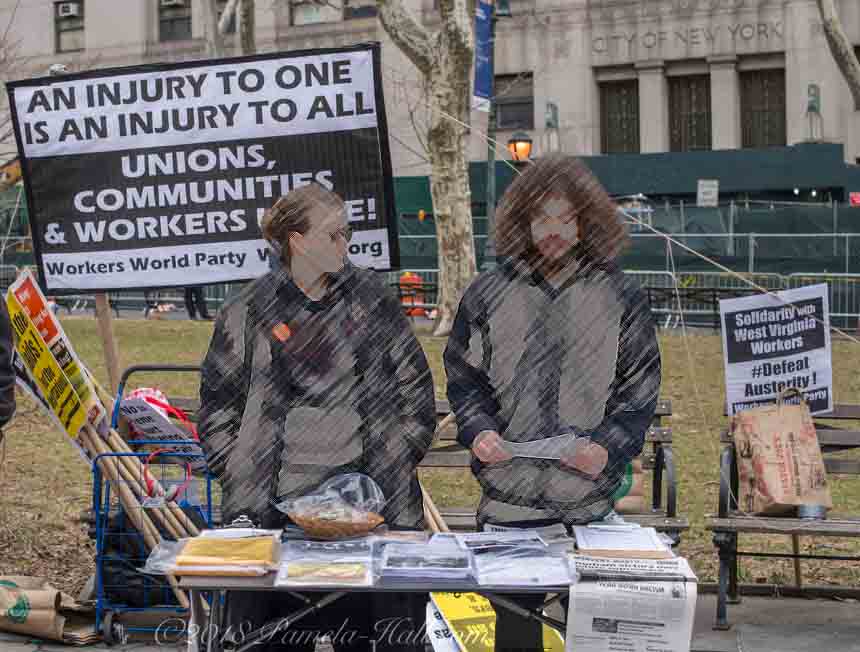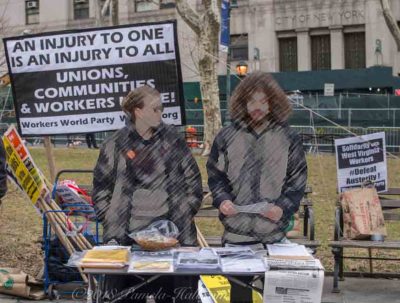 THE GOALS
Their goals are the same as Bernie Sanders or Barack Obama and Hillary Clinton [We Are Stronger Together] for that matter.
"When we unite, we can do almost anything. Join with us as we protect our freedoms and fight back against the corporate CEOs and politicians who have rigged the system and our economy against us."  #UnrigtheSystem #ItsAboutFreedom
Fight for the freedom to come together in strong unions.
Fight for equitable pay.
Fight for affordable health care.
Fight for quality schools.
Fight for vibrant communities.
Fight for a secure future for all of us.
They are very opposed to 'Right to Work' and support forced unionization and forced dues.
Ironically, they carry signs claiming it's about freedom.
RACKETEERING
The NY Post explained that public Sector unions, which even FDR rejected, are racketeering outfits: First, the state creates a monopoly. The monopoly forces taxpayers to fund those workers, whether they do a good job or not. The union then coerces workers to pay dues regardless of whether or not they want to. Then the union uses those dues to help fund political advocacy that perpetuates their monopoly and the union's influence. So, in other words: racketeering.
They are trained seals. Nasty behavior is encouraged while they all pretend they care about our children, our welfare, and our workers.
THUG GOVERNOR CUOMO PROUDLY ADDRESSED THE COMMIES AND SOCIALISTS
THIS REPORT CAME VIA PAMELA GELLER, SEE MORE PHOTOS ON HER WEBSITE