Half of Detroit's eight mayoral candidates are convicted felons, according to a review by the Detroit News.
Four of the mayoral hopefuls, who will face off on November 7, have been convicted of felony crimes involving assault, weapons and drugs, with the most recent conviction dating to 2008, the Detroit News found. Three of the contenders were charged with gun crimes and two for assault with intent to commit murder.
The former press secretary to Detroit Mayor Dennis Archer said it shows you "have lived and have overcome some challenges".
In Michigan, you can't run if you are in jail or have breach of public trust crimes on your record.
Aren't all crimes a breach of trust?
The two who have polled ahead of the field, incumbent Mayor Mike Duggan and state Sen. Coleman A. Young II, the son of the city's first black mayor, have no criminal records. Nor do candidates Edward Dean and Angelo Brown.
The fall election will be the first mayoral election in the city since it emerged from bankruptcy in 2014.
Candidates with criminal records are Articia Bomer, Curtis Greene, Donna Pitts and the State Senator Virgil Smith.
Articia Bomer, 45, a document specialist, was charged in 2008 with carrying a concealed weapon.  She was convicted during a bench trial in January 2009 and sentenced to a year of probation, records say.
Curtis Christopher Greene, 32, was charged in 2004 with fourth-degree fleeing and eluding police during an attempted traffic stop as well as delivering and manufacturing marijuana. He was sentenced to 18 months' probation but violated his probation in July 2005 when he was arrested and charged with publishing a fraudulent check in Gratiot County, a felony.
Donna Marie Pitts, 58 has multiple felony convictions, according to court records obtained by the Detroit News. The convictions include two counts of assault with intent to murder and two firearm offenses in connection with two separate shooting incidents on March 24, 1987.  Pitts served four years and eight months in prison and was paroled June 1, 1992. Pitts was later convicted of illegal possession of a firearm found during a traffic stop in 2002. The News reported that she was paroled in August 2006.
Danetta L. Simpson was convicted in 1996 for assault with intent to murder. According to the Detroit News, Simpson made threatening phone calls to the woman who was married to the father of her two children. At one point, Simpson pulled up in a van and screamed for the woman to come outside. When she did, Simpson reportedly fired a gun at her, striking the doorway two feet away. She pleaded no contest during her 1998 trial. She was put on probation for one year and discharged Sept. 30, 1999.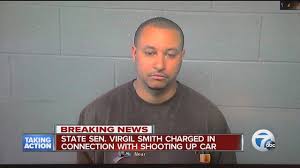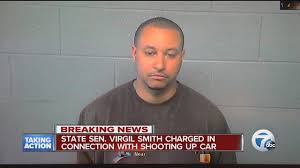 State Sen. Virgil Smith who was a late surprise entry, was sentenced to 10 months in jail  in 2015 for shooting up his ex-wife's Mercedes-Benz. He also assaulted his ex-wife.
One of the other eight candidates who pulled out was Ingrid LaFleur, an afrofuturist. Afrofuturism is a cultural aesthetic, philosophy of science, and philosophy of history that combines elements of science fiction, historical fiction, fantasy, Afrocentrism, and magic realism with non-Western cosmologies in order to critique not only the present-day dilemmas of black people, but also to revise, interrogate, and re-examine the historical events of the past.