A mother beheaded her 7-year old child Friday morning with a large kitchen knife and there is no explanation, according to the testimony of witnesses inside the house.
No one was present in the room where she killed the child in what has been described as an act of "evil".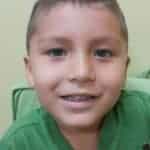 According to court papers, Hanane Mouhib, 36, was arraigned on a charge of second-degree murder in Sweden Town Court Friday morning. She is being held in the Monroe County Jail without bail.
Mouhib stabbed her own seven-year-old son, Abraham E. Cardenas, a first-grader at Barclay Elementary School within the Brockport Central School District.
"There's absolutely no explanation for us," Monroe County Sheriff Todd Baxter said at a midday news conference on Friday. "The word 'evil' comes to mind…this is a mother who took her son's life."
There were no warning signs or indicators that preceded the fatal stabbing, he said.
Baxter said deputies arrived to find "an extreme, horrific crime scene," inside 5499 S. Lake Road (Route 19) in Sweden.
Investigators said that Mouhib used a large-bladed kitchen knife to stab the victim in the upper left area of the back and in his neck, causing the victim's head to become severed from his body.
Five people, including another child, were inside the home when Abraham was killed, deputies said. In addition to Mouhib and her 7-year-old son, were the boy's father, who is also Mouhib's husband, the boy's grandmother and his 10-year-old brother, Baxter said.
Hanane has pleaded not guilty. She reportedly has mental problems.