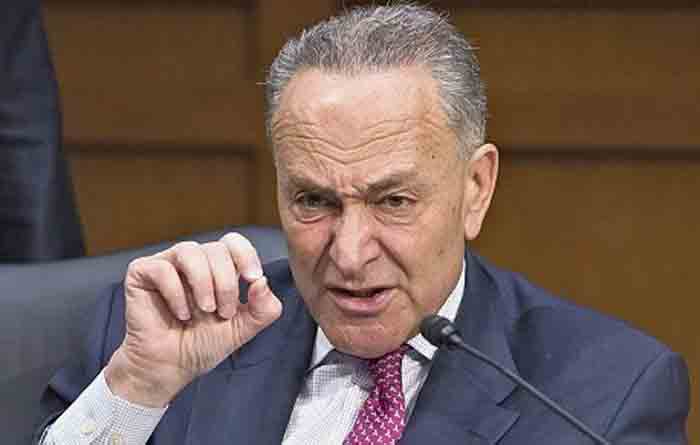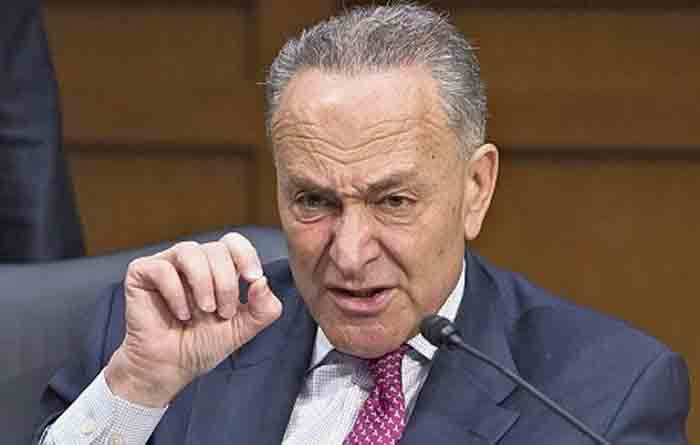 Democrats are doing their best to pin the shutdown on Republicans. They are trying to convince people that if they control Congress and the White House, Republicans are responsible. The fact is that the Senate needs 60 votes to keep the spending going and they must have Democrats.
Democrats do whatever Chuck Schumer tells them to do and Schumer has no intention of giving Trump any wins. He knows the media will tell the nation that this is a Republican shutdown when it's obviously a Schumer Shutdown.
Three Democrats in red states voted 'yes', knowing it was going down. They did it get re-elected. The 'yes' votes were: Doug Jones in Alabama, who is a Soros-funded Democrat; Heidi Heitkamp in North Dakota; and Claire McCaskill in Missouri.
The 'no' vote Republicans were: Lindsey Graham who wants amnesty for all while Mike Lee and Rand Paul who were concerned about the spending. The bill gave Democrats every single thing they wanted, but Democrats decided to make amnesty for DACA with nothing in exchange a pre-requisite for funding the government.
John McCain didn't vote but he wouldn't have voted for it. He wants amnesty for all, always has. Mitch McConnell had to vote 'no' according to Senate rules in order to bring the bill back to the floor.
The Democrats and media believe they can pin the shutdown and the failure of the DACA bill on the President. It's deceitful but the end justifies the means.
They claim Trump blew up the deal when in fact, Democrats blew it up with a bill that met NONE of the President's requirements. Democrats are demanding everything they want because amnesty means 4 or 5 red states will turn blue. A recent shocking report claims there are 3.6 million DACA in the United States. Democrats and Lindsey Graham even gave protected status to DAPA.
The final vote was 49-50. See the tally at the end.
The Democrats chose illegal aliens over the military.
SARAH SANDERS BLASTS SCHUMER DEMOCRATS
"Senate Democrats own the Schumer Shutdown. Tonight, they put politics above our national security, military families, vulnerable children, and our country's ability to serve all Americans," Sanders said.
"This is the behavior of obstructionist losers, not legislators," she said. "When Democrats start paying our armed forces and first responders we will repoen negotiations on immigration reform. During this politically manufactured Schumer shutdown, the President and his administration will fight for and protect the administration."
"Democrats can't shut down the booming Trump economy. Are they now so desperate they'll shut down the government instead?" she retorted, adding the #SchumerShutdown hashtag on Twitter.
THE TALLY
Here's how every senator voted:
Alaska
Sen. Lisa Murkowski, Republican: YES
Sen. Dan Sullivan, Republican: YES
Alabama
Sen. Doug Jones, Democrat: YES
Sen. Richard Shelby, Republican: YES
Arkansas
Sen. John Boozman, Republican: YES
Sen. Tom Cotton, Republican: YES
Arizona
Sen. Jeff Flake, Republican: NO
Sen. John McCain, Republican: Did not vote
California
Sen. Dianne Feinstein, Democrat: NO
Sen. Kamala Harris, Democrat: NO
Colorado
Sen. Michael Bennet, Democrat: NO
Sen. Cory Gardner, Republican: YES
Connecticut
Sen. Richard Blumenthal, Democrat: NO
Sen. Christopher Murphy, Democrat: NO
Delaware
Sen. Thomas Carper, Democrat: NO
Sen. Chris Coons, Democrat: NO
Florida
Sen. Bill Nelson, Democrat: NO
Sen. Marco Rubio, Republican: YES
Georgia
Sen. Johnny Isakson, Republican: YES
Sen. David Perdue, Republican: YES
Hawaii
Sen. Mazie Hirono, Democrat: NO
Sen. Brian Schatz, Democrat: NO
Iowa
Sen. Joni Ernst, Republican: YES
Sen. Chuck Grassley, Republican: YES
Idaho
Sen. Mike Crapo, Republican: YES
Sen. Jim Risch, Republican: YES
Illinois
Sen. Tammy Duckworth, Democrat: NO
Sen. Dick Durbin, Democrat: NO
Indiana
Sen. Joe Donnelly, Democrat: YES
Sen. Todd Young, Republican: YES
Kansas
Sen. Jerry Moran, Republican: YES
Sen. Pat Roberts, Republican: YES
Kentucky
Sen. Mitch McConnell, Republican: NO
Sen. Rand Paul, Republican: NO
Louisiana
Sen. Bill Cassidy, Republican: YES
Sen. John Kennedy, Republican: YES
Massachusetts
Sen. Edward Markey, Democrat: NO
Sen Elizabeth Warren, Democrat: NO
Maryland
Sen. Ben Cardin, Democrat: NO
Sen. Chris Van Hollen, Democrat: NO
Maine
Sen. Susan Collins, Republican: YES
Sen. Angus King, Independent: NO
Michigan
Sen. Gary Peters, Democrat: NO
Sen. Debby Stabenow, Democrat: NO
Minnesota
Sen. Amy Klobuchar, Democrat: NO
Sen. Tina Smith, Democrat: NO
Missouri
Sen. Roy Blunt, Republican: YES
Sen. Claire McCaskill, Democrat: YES
Mississippi
Sen. Thad Cochran, Republican: YES
Sen. Roger Wicker, Republican: YES
Montana
Sen. Steve Daines, Republican: YES
Sen. Jon Tester, Democrat: NO
North Carolina
Sen. Richard Burr, Republican: YES
Sen. Thom Tillis, Republican: YES
North Dakota
Sen. Heidi Heitkamp, Democrat: YES
Sen. John Hoeven, Republican: YES
Nebraska
Sen. Deb Fischer, Republican: YES
Sen. Ben Sasse, Republican: YES
New Hampshire
Sen. Maggie Hassan, Democrat: NO
Sen. Jeanne Shaheen, Democrat: NO
New Jersey
Sen. Cory Booker, Democrat: NO
Sen. Robert Menendez, Democrat: NO
New Mexico
Sen. Martin Heinrich, Democrat: NO
Sen. Tom Udall, Democrat: NO
Nevada
Sen. Catherine Cortez Masto, Democrat: NO
Sen. Dean Heller, Republican: YES
New York
Sen. Kirsten Gillibrand, Democrat: NO
Sen. Chuck Schumer, Democrat: NO
Ohio
Sen. Rob Portman, Republican: YES
Sen. Sherrod Brown, Democrat: NO
Oklahoma
Sen. James Inhofe, Republican: YES
Sen. James Lankford, Republican: YES
Oregon
Sen. Jeff Merkley, Democrat: NO
Sen. Ron Wyden, Democrat: NO
Pennsylvania
Sen. Bob Casey, Democrat: NO
Sen. Pat Toomey, Republican: YES
Rhode Island
Sen. Jack Reed, Democrat: NO
Sen. Sheldon Whitehouse, Democrat: NO
South Carolina
Sen. Lindsey Graham, Republican NO
Sen. Tim Scott, Republican: YES
South Dakota
Sen. Mike Rounds, Republican: YES
Sen. John Thune, Republican: YES
Tennessee
Sen. Lamar Alexander, Republican: YES
Sen. Bob Corker, Republican: YES
Texas
Sen. John Cornyn, Republican: YES
Sen. Ted Cruz, Republican: YES
Utah
Sen. Orrin Hatch, Republican: YES
Sen. Mike Lee, Republican: NO
Virginia
Sen. Tim Kaine, Democrat: NO
Sen. Mark Warner, Democrat: NO
Vermont
Sen. Patrick Leahy, Democrat: NO
Sen. Bernie Sanders, Independent: NO
Washington
Sen. Maria Cantwell, Democrat: NO
Sen. Patty Murray, Democrat: NO
Wisconsin
Sen. Tammy Baldwin, Democrat: NO
Sen. Ron Johnson, Republican: YES
West Virginia
Sen. Shelley Moore Capito, Republican: YES
Sen. Joe Manchin, Democrat: YES
Wyoming
Sen. John Barasso, Republican: YES
Sen. Michael Enzi, Republican: YES