Tolerant leftists, crazy celebrities, and slews of nobodies took to social media this weekend to celebrate the fire at Trump Tower. One man, in particular, stood out because he's a mental health professional. The man — remember this name, Jeffrey Guterman — is a stand out for overall meanness.
Guterman wasn't alone but he was really crazy and, sadly, he has 203,000 followers. Hundreds liked and shared his evil tweets.
On Saturday, 76-Year old musician, David Crosby wrote on Twitter "oh boy … burn baby burn" while the news was developing of the four-alarm fire at the high rise, which killed 67-year-old art dealer Todd Brassner and injured six firefighters.
Rick Wilson, a regular on MSNBC, was ecstatic.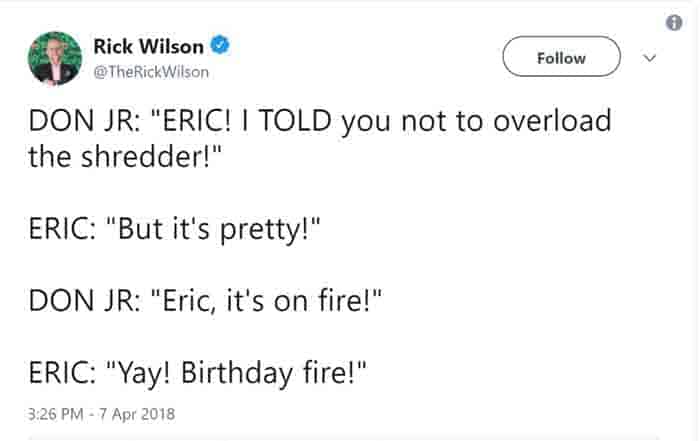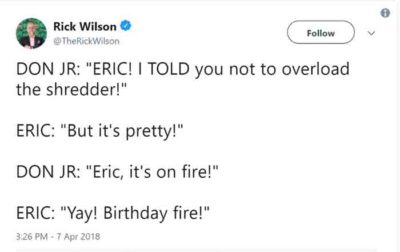 In addition to a slew of celebrities, many, many nobody liberals rejoiced or used it as an opportunity to bash Trump. They had no cause. In fact, the building is built very well. The New York City Fire Commissioner Nigro said, "it was very confined, the building is very well built, it held up quite well".
As we said Guterman was a standout.
One Evil Fool Jeffrey Guterman
"Mental health counselor" Jeffrey Guterman got "excited", according to his tweet, when he heard there was a fire at Trump Tower and was "hoping there is major damage." He knew at the time that a man had died. In another tweet, he wrote, "I hope the fire rages." He also told Dana Loesch to "eat my @ss."
So civil, so tolerant!
James Woods would have none of it and he can speak for me any time. 
Now you can sleep happily. A person has died and four are injured. #Democrat #Liberal #PieceOfshit @JeffreyGuterman https://t.co/kePrcdSgtt… pic.twitter.com/wEFSSzRNYa

— James Woods (@RealJamesWoods) April 8, 2018
In case this walking, talking piece of human waste deletes his tweet… pic.twitter.com/Kpl52Hz2Oi

— James Woods (@RealJamesWoods) April 8, 2018
Maybe you should take up arson, since the destruction of property and the inevitable concomitant destruction of lives excites you so. #InsanityOfDemocrats @SecretService @jack https://t.co/QGSt0DSGyz

— James Woods (@RealJamesWoods) April 7, 2018
Doing what #Democrats do best… #HateHateHate pic.twitter.com/eFdYMX58su

— James Woods (@RealJamesWoods) April 7, 2018
Even Yashar Ali called him out.
Left-winger Yashar Ali also blasted him, reminding Guterman of the Democrats who live in the building. The Guterman fool changed his job title from "mental health counselor" to "satirist" on his Twitter profile and then made it private.
Jeffrey's twitter bio had "mental health counselor" for a long time now all of a sudden it says "satirist" – even if you hate Trump and want his property destroyed…you do realize lots of Democrats live in Trump Tower, right Jeffrey? https://t.co/U159x8AFyV

— Yashar Ali 🐘 (@yashar) April 8, 2018