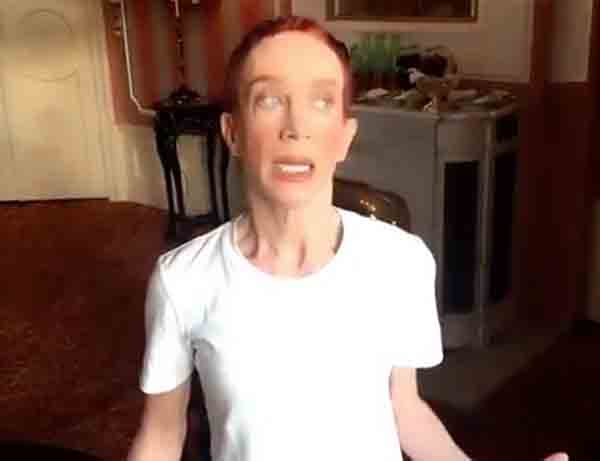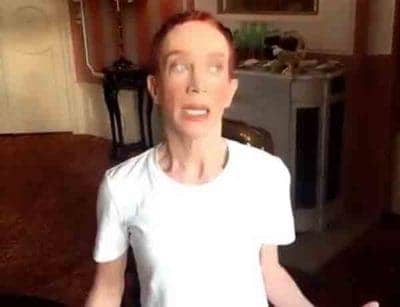 Kathy Griffin made a five-minute youtube video pleading for a TV gig after she gets back from her European tour. "As far as what we're going through," she said, she's hoping this is "a turning point for feminism and women's equality." Later in her speech, she compared herself to Earth Kitt, a very talented comedian, actress, singer and activist who helped underprivileged youth. Ms. Kitt was black.
Gloria Allred's attorney daughter Lisa Bloom was trying to sell her as a woman's activist. Griffin adopted the mantra but also went to great length's to blame the victim – Trump – and old white men. for her having held up the severed head of Donald Trump in a photo shoot. The gif appeared on TV and frightened Trump's then-1o-year old son when he saw it.
Griffin has cut her hair to the roots, accentuating her bony, aging face weighed down with heavy makeup. While she talked on int he video, she said she is indeed crazy, though she meant it in a fun way.
She said she is on Interpol's list as well as a Hollywood blacklist and her legal bills are through the roof because of her beheading photo-shoot.
"I just want you guys to know that I am fully in the middle of a blacklist, like I'm in the middle of a Hollywood blacklist. It is real. I'm not booked on any talk shows," Griffin said.
"When I get home, I do not have one single day of paid work in front of me," Griffin continued.
She also said she was unwilling to do the club circuit or free fundraisers because, at 56, she has worked too hard in her life and she is above that type of work.
Griffin also mentioned Harvey Weinstein hired a company to follow Rose McGowan around after she came forward about Hollywood sexual assault and thinks that she may be next.
She said she has no work back in the states for when she returns from Europe and is being targeted because she's a woman. Actually, she alienated half the country with her pressers after the incident.
She ended the video with her plea for a gig on a TV. Her biggest gig, pre-beheading shots, was probably the one on CNN with Anderson Cooper New Year's Eve but she didn't really top the ratings charts.
It's unclear how she is a fighter for feminism and women as she begs for a paying gig on TV.