The New York Police Department revealed Wednesday that no device was found at the Manhattan office of New York Gov. Andrew Cuomo, saying a suspicious package found there was cleared and "unrelated."
The far-left governor reported it on air when he received information that a device was found in his office.
"The earlier suspicious package at Governor Cuomo's office in midtown has been cleared by NYPD personnel. It was unrelated. And there was no device of any kind," said J. Peter Donald, a spokesperson for the NYPD, in a tweet.
A preliminary investigation found that the package contained computer files on a "hate group," the Proud Boys, who recently made an appearance in New York, said Rich Azzopardi, a spokesman for the governor's office.
The media is describing the Proud Boys as far-right extremists but it's hard to know how accurate that description is because the media lies about everything.
They are reporting that the Proud Boys were involved in violence in Oregon and New York City. They failed to mention they were fighting with Antifa who were equally-violent or far worse. Antifa, the anarcho-communist hate group, are instigators – always.
This is the worst reporting — ever!
HE JUST GOT MAIL
All he received was some mail. Now the media is associating the Proud Boys with this bombing without detonations.
The photo is of the package that was allegedly suspicious can be seen below. Now we could be missing something here, but it looks like it's just an envelope with information on the Proud Boys who someone is obviously spying on. The return address is of office condominiums.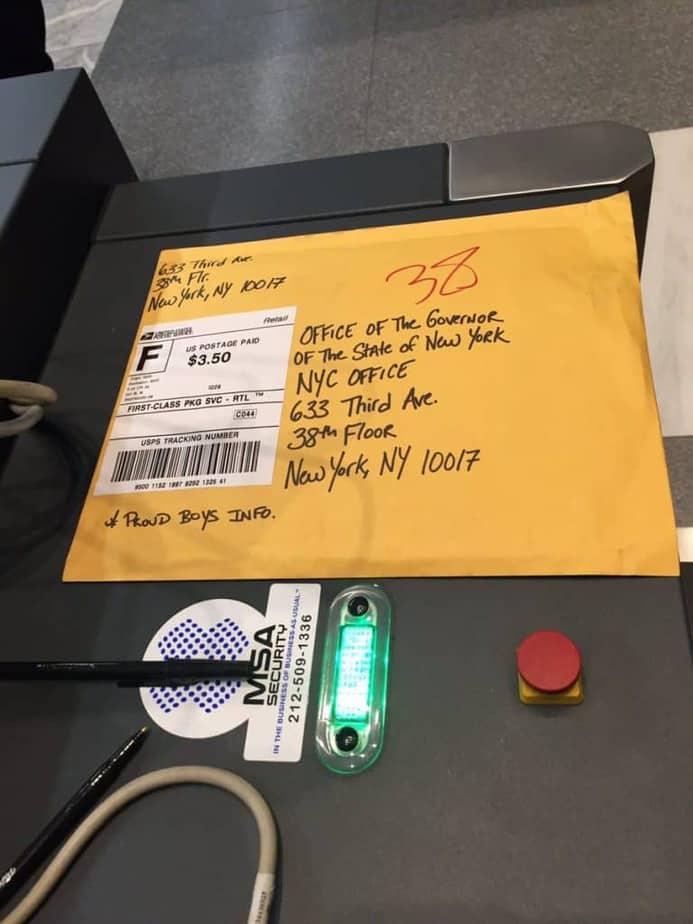 A preliminary investigation on the package at @NYGovCuomo's office shows it is computer files on the hate group, The Proud Boys, who recently appeared in New York.

— Rich Azzopardi (@RichAzzopardi) October 24, 2018
So far, there are no detonations. According to reports, the one device sent to George Soros had black powder in it. The others appear to have a white powder in them.