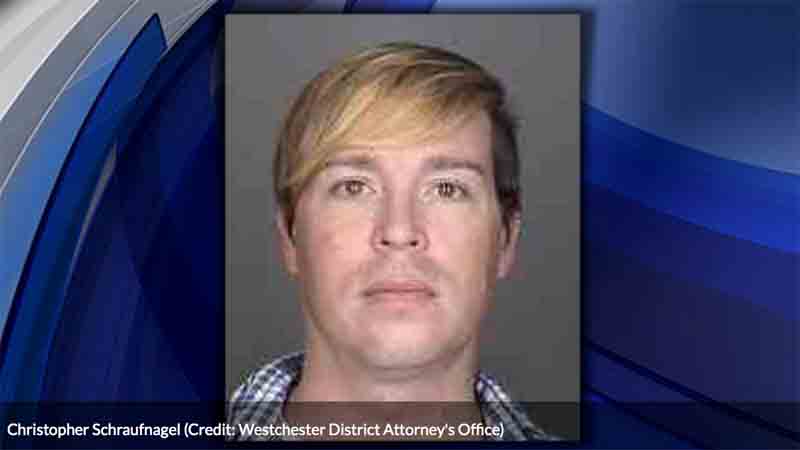 Prominent Manhattan investigator Richard 'Bo' Dietl has taken over a case that allowed a child predator to escape prison. The predator took his students overseas for illicit sex. Dietl is pushing the feds to file charges. He has presented evidence showing it is a federal crime because he took his victims overseas on school trips with the intention of plying them with alcohol and demanding sex from them.
Dietl wants the "creep" locked up. His company president also says the Chappaqua school district "turned a blind eye".
The New York high school drama teacher at Horace Greeley High sexually abused multiple students, but he won't go to jail because the school district ignored the abuse.
Former Chappaqua teacher Christopher Schraufnagel, 41, headed up Horace Greeley High School's theater program for a dozen years before students accused him of sexual abuse in June 2015, according to Lohud.com.
CBS News Local reports:
[He engaged in] inappropriate sexual contact with the students between May 1, 2011 and June 5, 2015.
Prosecutors said between May and June in 2001, Schraufnagel engaged in oral sex with a then-15-year-old student inside the school.
In 2014, Schraufnagel allegedly asked another 15-year-old student to kiss every student in a class while Schraufnagel took pictures. He then made a slide show to humiliate the students, prosecutors alleged.
After students came forward, the school suspended him and he resigned in September, 2015.
According to the Examiner, Many parents protested that since 2011, there had been a vast number of complaints made to Superintendent of Schools Dr. Lyn McKay, the high school principal and board of education members about Schraufnagel as well as posts on the Chappaqua Moms Facebook page. They said their concerns were ignored.
The warning signs included keeping students until midnight and demanding they only join his club as part of a loyalty oath.
THE SCHOOL DISTRICT ACTUALLY BLAMED THE CHILDREN 
In a court document filed earlier this month, the Chappaqua School District attributed "injuries and damages" sustained by the students to their own "carelessness, recklessness and negligence," or, that of the former teacher, Christopher Schraufnagel.
The district also denied knowledge of "information sufficient to form a belief," of the student's allegations, before issuing, a cross-claim against Schraufnagel, who it said "will be wholly or partially responsible."
The lawyer for the then-15 year old students, David Engelsher, called the district's reply "a textbook example of simply throwing dreck against the wall and hoping something sticks," The Journal News reported.
Seven students filed suit and those lawsuits are still pending.
Among the allegations in one lawsuit, anonymous student John Roe says Schraufnagel plied him and another student with alcohol on a trip. The student says he was forced to perform oral sex on Schraufnagel. This was during a 2012 educational trip in Greece. Schraufnagel also took groups of students to Canada and Italy.
"During this trip, Schraufnagel drank alcohol every night to the point of inebriation and encouraged all of the students, including John Roe, to do so as well," the lawsuit states. "One night, during the trip to Greece, Schraufnagel instructed John Roe and another (Horace Greeley) student to come to his hotel room. Schraufnagel plied both students with vodka and they became inebriated."
NO PRISON
A month after Schraufnagel resigned, he was arrested and charged with a third-degree criminal sex act, felony and six misdemeanor counts according to Lohud. The pervert pleaded guilty in August 2016 in exchange for a lighter sentence.
New Castle Town Justice Douglas Kraus rejected it because it failed to add Schraufnagel to the official sex offender registry.
Also disconcerting to the judge is the fact that Schraufnagel didn't even bother to show for at least four court appearances.
The pervert pleaded guilty again within a few months and received three years probation, gave up his teaching license, and registered as a Level Three sex offender.
The school district refused to press any federal charges that would have put the child predator in prison. The school says they were fully cooperative and the local police say they investigated aggressively.
Private investigator 'Bo' Dietl, however, said he has presented damning evidence to federal prosecutors, which should land Schraufnagel behind bars.
Dietl charged and cannot understand why the school district has not been more vocal about the scandal. Michael Ciravolo, the president of Dietl's company said the school district shares the blame.  "I think that it's unconscionable for this school district to turn a blind eye."
Dietl met with four U.S. attorneys for an hour-and-a-half who promise to investigate.
Dietl's clients have included Roger Ailes, Steve Bannon and Don Imus. He has also been a Fox News contributor.