When the media reports with shock and dismay about President Trump's secret meetings with Putin, they are spreading fake news. It is a common practice for presidents to meet on the sidelines with leaders of other nations, including those with whom we don't trust.
The news media knows it's common practice and had no problem reporting it in a positive or neutral light when Barack Obama did it over and over.
President Trump's two, possibly three meetings with Putin, is treated entirely differently because they want to damage Trump. They are even reporting phone calls between the two as something out of the ordinary though they are not.
It's very concerning when the media are trying to drive a wedge between the U.S. and Russia to hurt the President. They are obviously willing to risk serious repercussions, even another Cold War to do it.
2016, Putin and Obama meet
Michael Crowley, a foreign correspondent for Politico, tweeted this out a couple days ago.
When Obama and Putin had a hotel lobby "pull-aside" at the G-20 two years ago, Susan Rice was there. pic.twitter.com/jj7gGzQ8DB

— Michael Crowley (@michaelcrowley) July 19, 2017
Fox News reported in September, 2016, that a "candid, blunt" meeting was held between President Obama and Russian leader Vladimir Putin. They discussed the Syrian conflict at the end of the G20 and came up with no agreement.
Obama and Putin….were "huddling for 90 minutes on the sidelines," according to a senior White House official. And they scheduled another meeting for later in the week.
"Secretary of State John Kerry and Russian Foreign Minister Sergey Lavrov also met…for an hour but emerged still at odds on certain issues, a senior State Department official said".
The Independent had a rundown of their "secret" meetings in 2015, preceded by this paragraph: Face-to-face meetings between President Obama and Russian President Vladimir Putin are fairly rare. They talk on the phone with relative frequency, but many of their previous personal meetings have been remarkably brief …
And there is more, much more, and this likely isn't all of it.
2009 – A two-hour meeting in Moscow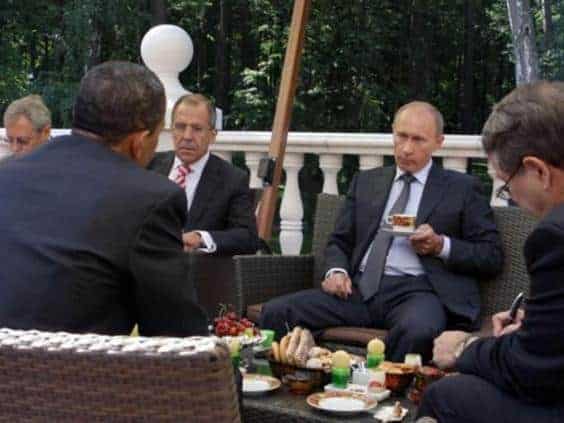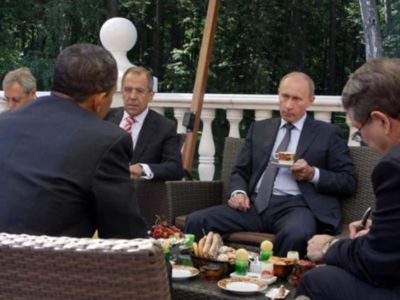 Of the meeting The Independent wrote: …Obama seemed keen to meet him [Putin]. He traveled to Putin's residence outside Moscow to talk, with a planned discussion of an hour and a half running over by a half-hour. The pair were photographed enjoying tea and pastries in Putin's garden. "I found him to be tough, smart, shrewd, very unsentimental, very pragmatic," Obama said after the meeting.
2012 – Another two-hour meeting in Mexico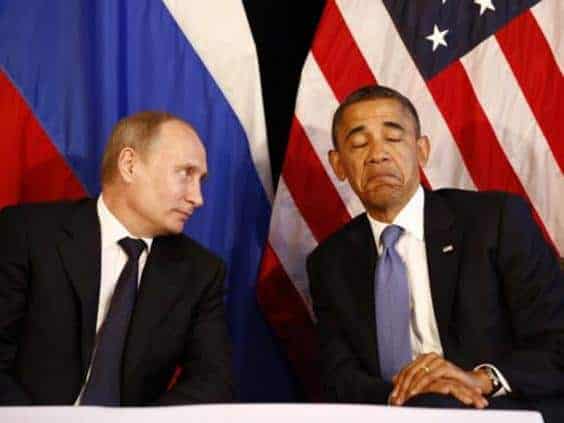 The article says that Obama and Medvedev had gone for burgers together but by 2012 Putin was president again.
The two met in person for the first time as presidents on the sidelines of the Group of 20 economic summit in San Jose del Cabo, Mexico. They talked for two hours…Administration officials described the conversation as fruitful, but things soon went downhill.
2013 – An awkward photo, a canceled meeting and a 20- to 30-minute private talk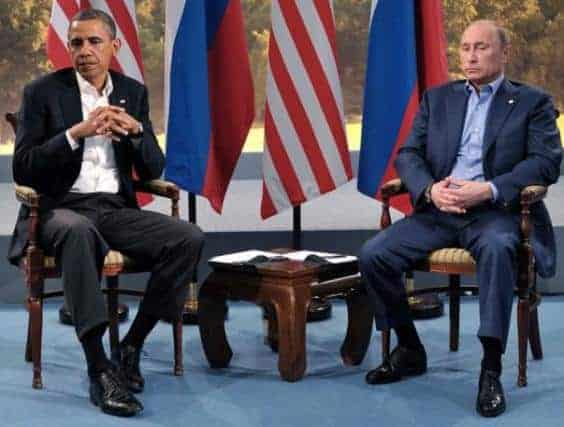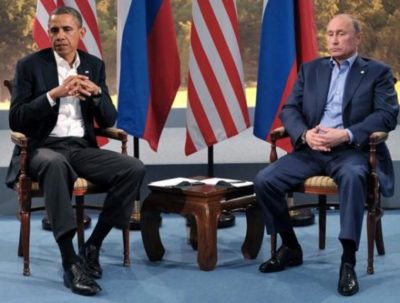 They met on the sidelines again, "on the fringes of the Group of Eight summit in Northern Ireland, The Independent writes.
2014 – A 15-minute conversation during the D-Day commemoration in France
The pair broke away from the crowd and spent about 15 minutes talking about Ukraine, according to The Independent.
"It's a positive thing that they spoke, but more needs to be done," an official told CNN after the talk.
2014 – A brief talk in Beijing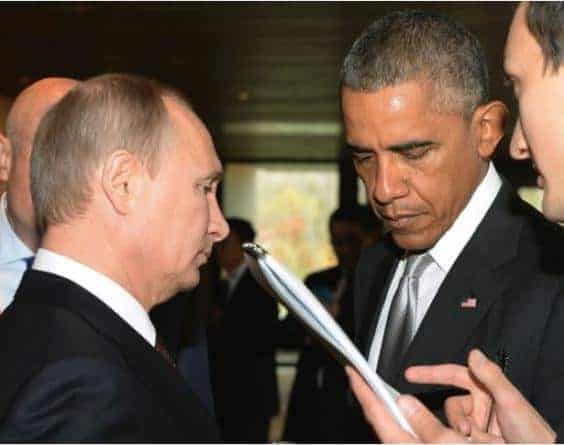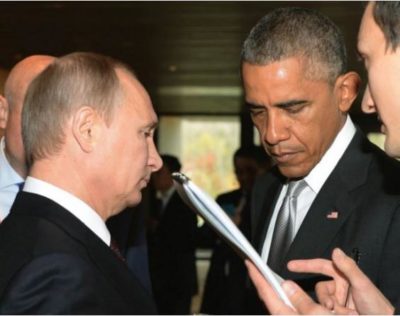 …the two men again broke away to talk privately a number of times. "On three occasions throughout the day, for a total of approximately 15-20 minutes…
2015 – A tense toast in New York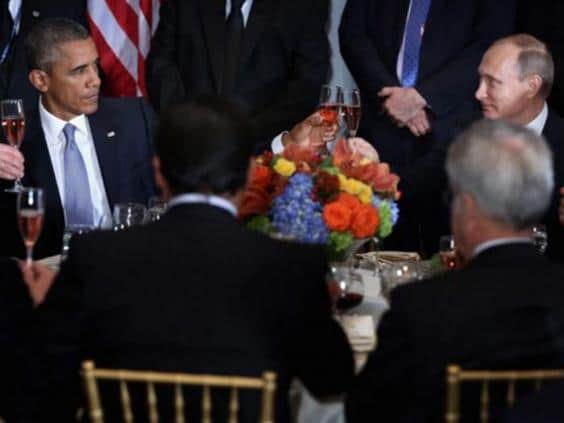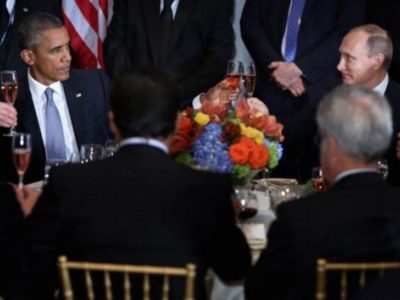 The luncheon was a precursor to a longer one-on-one talk later in the day before Putin left for Moscow.
2015 – A behind-closed-doors chat in Paris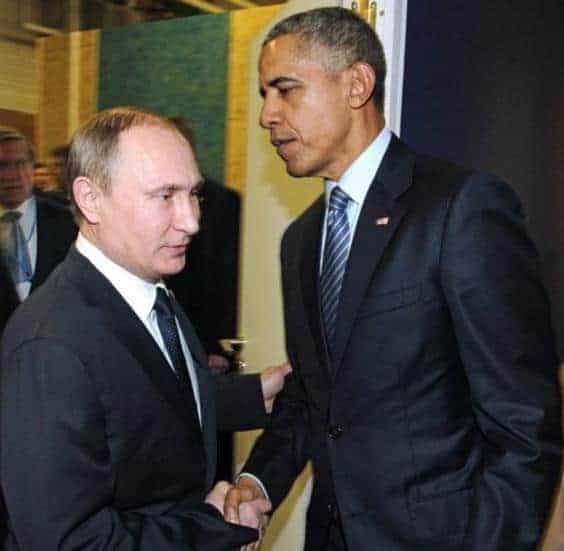 The leaders met Nov. 30 on the sidelines of the big climate change conference in Paris. It was their second face-to-face meeting in two weeks, after a small group session during the G-20 summit in Turkey, according to The Independent.