According to CNN, the Coral Springs police were very upset that the Broward Sheriffs never went into the school building, even after they showed up and went in to confront the shooter. In addition, they seemed to take credit for taking action.
Four deputies did not enter the school but only one was going to be suspended. The deputies said they were told not to go into the school. We don't know who told them that or if it's true. Perhaps, if it was anyone, it was the deputy who retired under duress, Scot Peterson. What if it was the sanctimonious Sheriff Israel.
The Coral Springs police were "stunned" and "upset" at the situation according to CNN's reporting.
Jake Tapper reported that at a Feb 15 vigil, in front of dozens of others, Coral Springs City Manager Mike Goodrum confronted Broward County Sheriff Israel. Goodrum was upset that the Broward deputies had remained outside the school while kids inside could have been bleeding out.
The Coral Springs police chief didn't deny it and came close to confirming it.
Coral Springs Police chief said this yesterday at press conference. Today — @jaketapper reports more @browardsheriff deputies did not go into school initially to stop the shooter. https://t.co/a66DZEyw8C pic.twitter.com/hQxtZctw34

— Brian Entin (@BrianEntin) February 23, 2018
The Corl Springs Police Department's official statement was purposely vague.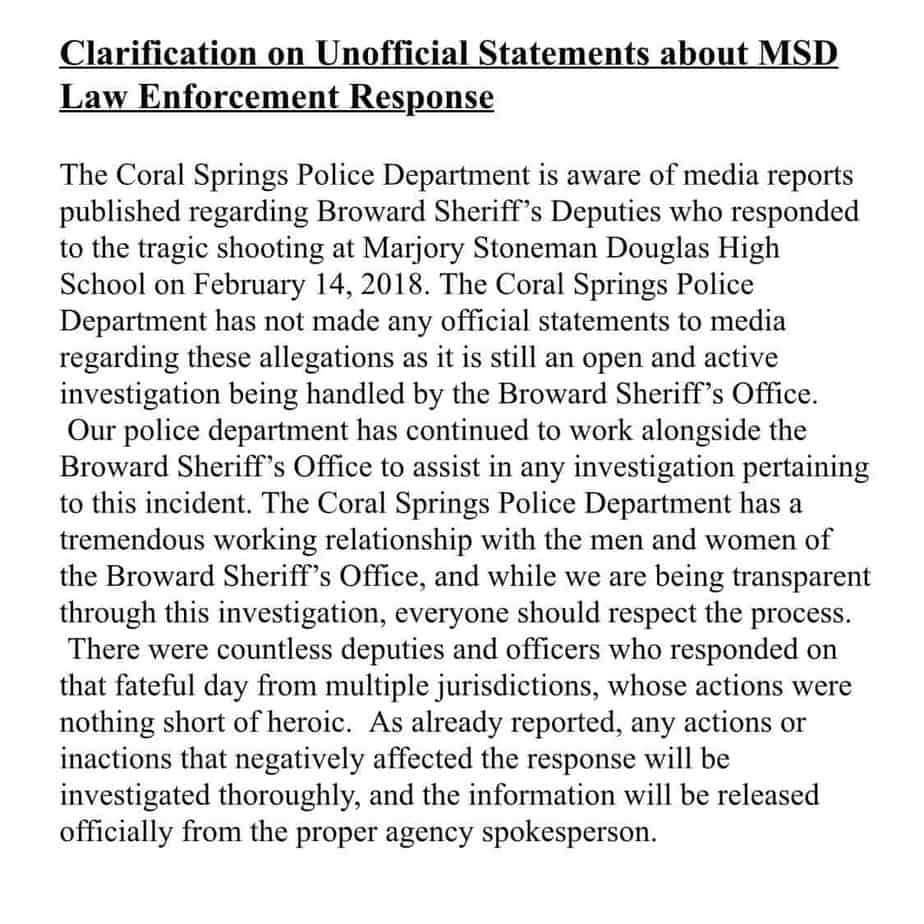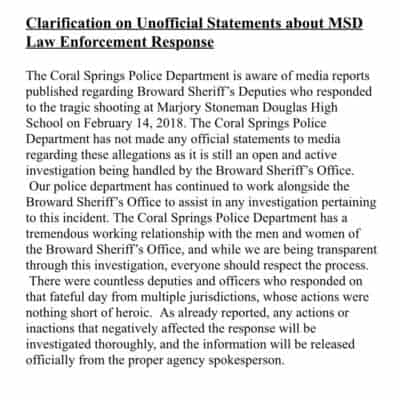 The Email Sent by the Coral Springs Police Chief
According to Jake Tapper, the Coral Springs Police Chief Anthony Pustizzi sent out this email to his staff on Feb 16 because, per source, some officers under his command were upset that Broward Sheriff's Office wasn't acknowledging that Coral Springs Police were first to charge into MSD High School:
Coral Springs Police Chief Anthony Pustizzi sent out this email to his staff on Feb 16 because, per source, some officers under his command were upset that Broward Sheriff's Office wasn't acknowledging that Coral Springs Police were first to charge into MSD High School: pic.twitter.com/G3DcbB3lwB

— Jake Tapper (@jaketapper) February 23, 2018