Rev. Billy Graham died today at age 99. He was larger-than-life, a man who dedicated his life to God and to the service of his fellow man. Even for those who aren't religious, his record of sacrifice on behalf of his fellow man should mean something. It doesn't for a doyen of the left. To an award-winning columnist for, of all things, "Teen Vogue", it was an opportunity to call him a "b**ch" and wish him well in Hell.
Columnist Lauren Duca responded to news of Rev. Billy Graham's death by telling him to, "Have fun in hell, bitch."
"The big news today is that Billy Graham was still alive this whole time. Anyway, have fun in hell, bitch."
Her hateful disrespect for a deceased reverend met with some backlash. Undeterred, that was her cue to double down on her comment, declaring that "Respecting the dead" only applies to people who weren't evil pieces of sh*t while they were alive, thanks."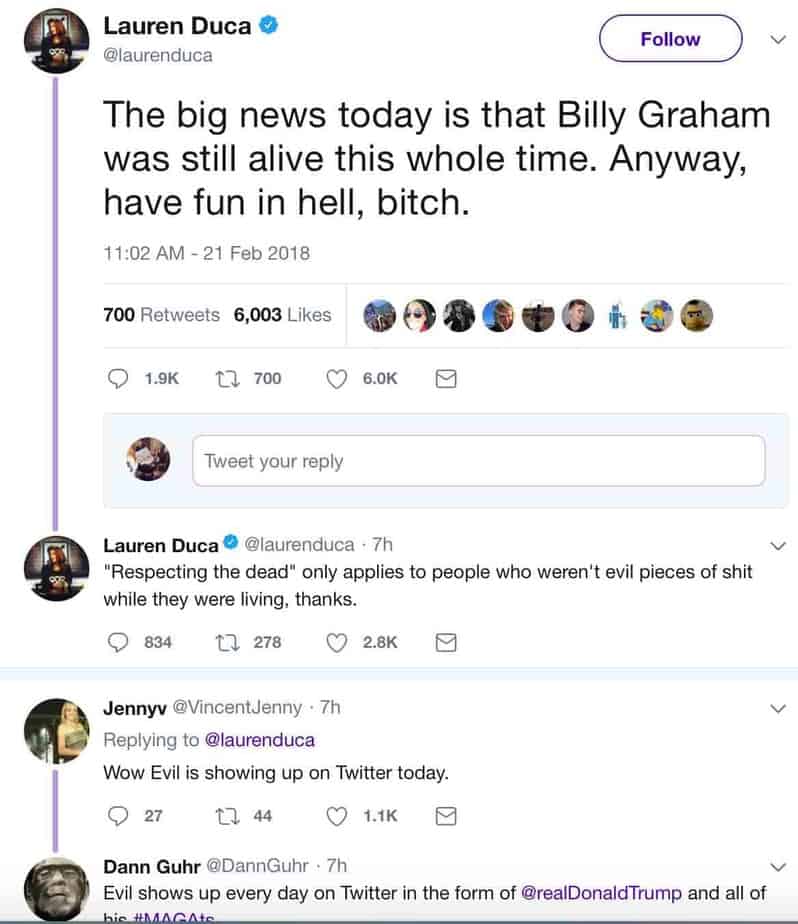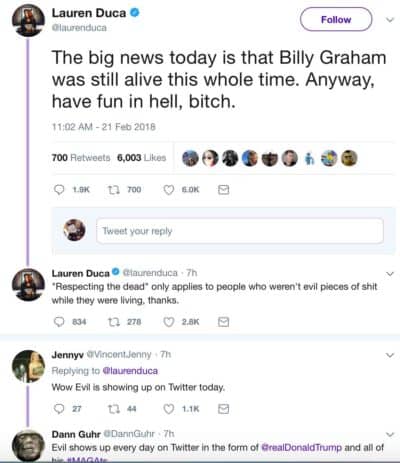 THE SAD STATE OF THE CIVIL TOLERANT LEFT TODAY
Not all of the responses to this self-described "Progressive feminist" were normal as you can see from the nasty DannGuhr.
Duca calls her new column for young teens, "Thigh-High Politics." She is feeding hate and Marxism to these young kids. I don't think she will have to worry about seeing Billy Graham again where she's going.
Sadly, last time I checked, 6.2 thousand people liked her tweet. What a sorry state of affairs.
DUCA MADE A FOOL OF HERSELF ON TUCKER AND THE LEFT APPLAUDED HER PERFORMANCE
A while back, she tried to mock and ridicule Tucker during one interview with childish face-making and vapid comments. The sad thing is she was a hit with his idiotic friends on the left.