Within a stone's throw of the burial place of Sam Adams and a number of Founding Fathers, some New England Patriots knelt during the national anthem. The Foxborough crowd booed them and only stopped out of respect for the anthem.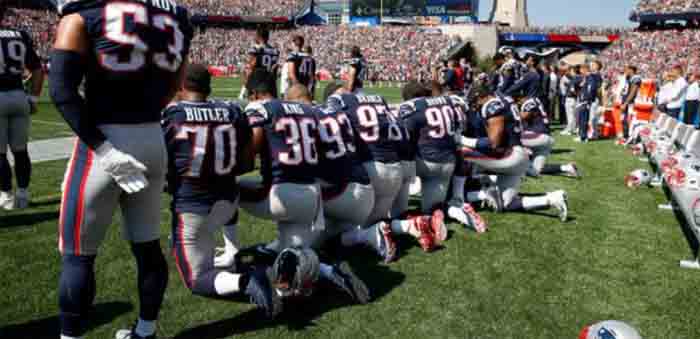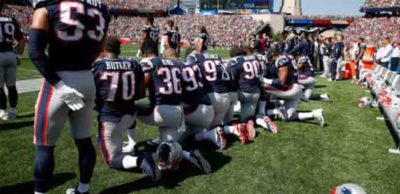 Fans watching the Texas-Patriots game booed as about 20 players knelt during the anthem. There were screams of "Stand Up"!
The President will be blamed for this display but the blame is squarely on the shoulders of the players and the NFL. Americans know that.
President Trump tweeted that if fans boycott, the disrespect will stop. Do people care enough about their country to give up a game they love for the season?
If NFL fans refuse to go to games until players stop disrespecting our Flag & Country, you will see change take place fast. Fire or suspend!

— Donald J. Trump (@realDonaldTrump) September 24, 2017
He also said this has nothing to do with race and everything to do with disrespecting our flag and our country. [Since it's driven by the hard-left, that has to be true.]
"This has NOTHING to do w/ race & EVERYTHING to do w/ Respect for our Country & Respect for Our Flag!" -Trump

Here tht CNN!? #TakeTheKnee pic.twitter.com/97op2uJ8ai

— 💎STOCK MONSTER💎 (@StockMonsterUSA) September 24, 2017
I wonder what this BRAVE American would give to stand on his OWN two legs just ONCE MORE for our #Anthem? #MAGA #NFL pic.twitter.com/3AVqnAlu3F

— DONNA WARREN 🇺🇸 (@DonnaWR8) September 24, 2017
Actor James Woods went on a Twitter storm.
There is not a single law in America that treats people differently by color, race, creed, or national origin. Not one. #StandUp

— James Woods (@RealJamesWoods) September 24, 2017
#Liberals have supported "taking a knee" from Colin Kaepernick back to Monica Lewinsky.

— James Woods (@RealJamesWoods) September 24, 2017
That is correct. Let's not forget that #TimTebow was chastised for "taking a knee" for different reasons. https://t.co/a5WeQKp4TY

— James Woods (@RealJamesWoods) September 24, 2017
#NFL Ambassadors for America… pic.twitter.com/NrebjPip1u

— James Woods (@RealJamesWoods) September 24, 2017
How much fun is the CEO of Anheuser-Busch having today? #NFLBoycott #NFLBoycottSponsors

— James Woods (@RealJamesWoods) September 24, 2017