Sean Hannity is being accused of sexual harassment in the wake of Bill O'Reilly's and Roger Ailes' firing for the same reasons. Could there be a more unlikely candidate for such an accusation? Controversial ultra conservative Debbie Schlussel is the accuser. She is referred to as a Fox News contributor but I can only find one appearance on Fox, the one on Hannity's show. Hannity says she has been stalking him for ten years.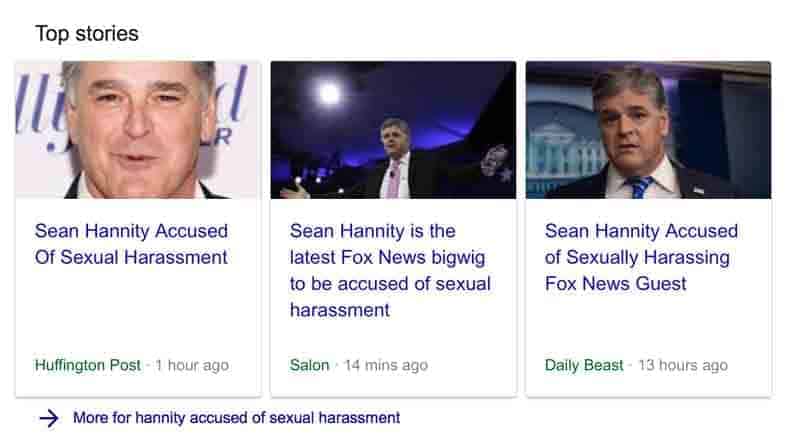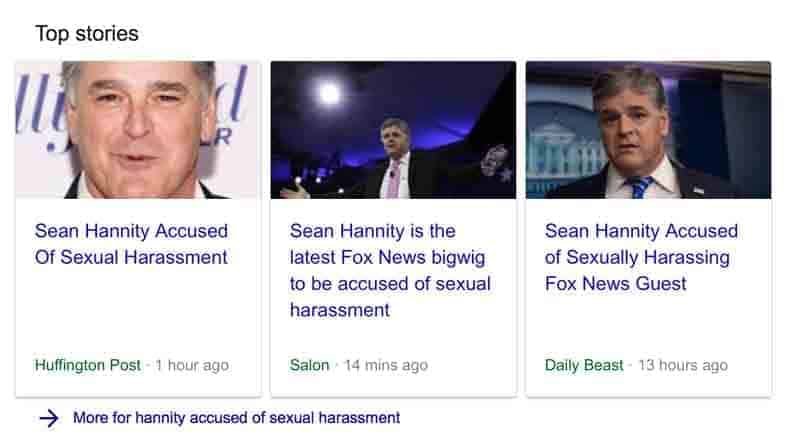 In an interview on the Pat Campbell Show Friday, a former Fox News contributor Debbie Schlussel, claimed that Hannity had invited her to his hotel room — twice — when they appeared together for one of his programs. But when she rebuffed him, Schlussel said that she was never asked back on the show.
That appearance she references didn't seem to go very well by her own account and that could be the reason she was never asked back.
"I wasn't booked on his show again," she says on the show, "and he called me and yelled at me," Schlussel said. "It was made clear to me that I didn't go back to his hotel with him after. I got a very weird feeling about the whole thing, and I kind of knew I wouldn't be back on his show."
She added: "This kind of stuff is all over the place at Fox News and anything that has to do with Sean Hannity."
Conveniently, that is the line of attack being used by David Brock in the War on Fox: the culture was allegedly sexist and racist.
Hannity said that Schlussel's claims were "100 percent false and a complete fabrication." He called her a "serial harasser who has been lying about me for well over a decade," and threatened to sue her using a "team of some of the finest and toughest lawyers in the country."
Hannity also characterized Schlussel's comments as part of a "coordinated effort afoot to now silence those with conservative views."
Schlussel is, as Huff Po said, a conservative, she's also been known for making nasty and outlandish statements.
In 2007, she accused Hannity of plagiarizing one of her columns. Three years later, she said the Freedom Alliance, a charity linked to Hannity, was involved in questionable practices, which the charity vehemently denied.
Very conveniently, Schlussel names a handful of Republicans still at Fox as being involved in some way. She says Bill Shine, the co-President, was a pimp for Roger Ailes and the Fixter for Bill O'Reilly. She mentions two lawyers and a former, secretary now a Vice President, as people who covered for the harassers.
Schlussel mentions the 2007 phone sex scandal that Bill O'Reilly survived and says there are tapes of those calls. The accuser did say she had tapes but none have ever been released. The case was settled. O'Reilly sued her for extortion the same day she sued him for harassment.
Listen to the interview here:
It is interesting that every time the leftists want to dispatch a Republican or a Conservative, they bring out Gloria Allred or a host of women attesting to sexual harassment. It has been going on for years. Remember Herman Cain?
They brought out about nine women who all claimed the CEO and pizza entrepreneur with a pristine reputation harassed them during the three-years he lived in Chicago. Two had ties to David Axelrod, one lives in his apartment building. All disappeared as soon as he dropped out of the running for president.
Sean has also responded in tweets.
Very true. This now becoming "liberal fascism". Silence all political opponents by any means necessary. I for one will fight. Care to join? https://t.co/H0EJUd2eKU

— Sean Hannity (@seanhannity) April 23, 2017
No, no, no!!! That's what the left does, they try and silence opposition voices via boycotts, unsubstantiated allegations. Viewers decide! https://t.co/fNDn0Kpilq

— Sean Hannity (@seanhannity) April 23, 2017
— Sean Hannity (@seanhannity) April 24, 2017
STAY TUNED!!! https://t.co/pYJSAaSm0O

— Sean Hannity (@seanhannity) April 23, 2017