Mike Tomlin is a big Hillary supporter. Hillary is a supporter of the hard-left Resistance movement aimed at Trump, his supporters and Americans. We have proof below.
Tomlin oddly claimed he was 'protecting' his players by allegedly going along with a vote by the players to all remain off-field during the performance of the national anthem. PennLive reported that they discussed allowing Alejandro Villanueva to stand for the anthem since he is a war hero. Some thought he had the waiver.
Villanueva looking like a hero standing alone for the anthem while the rest of the team looked craptastic hiding in the tunnel. That snapshot is said to have angered coach Mike Tomlin who publicly stated:
"I was looking for 100% participation, we were going to be respectful of our football team," Tomlin said, when asked about Villaneuva's decision to act as the lone Steeler paying respect to revered national symbolism in view of the crowd.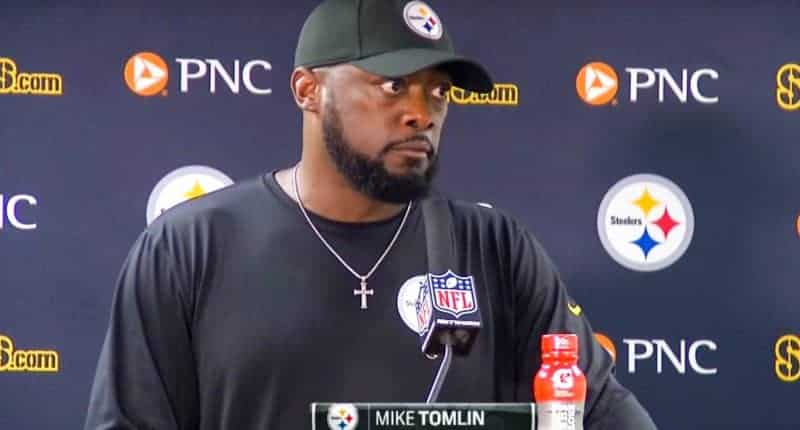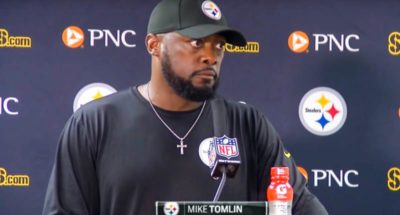 Villanueva reportedly agrees with Marxist Colin Kaepernick about racial inequality but that could be MSM fake news. He might have thought he was given an exception if this version from PennLive is true. According to the newspaper, "Some disagreement remained after the game on if left tackle and Bronze Star Army Ranger Alejandro Villanueva would be exempt from the collective decision.".
Chris Hubbard and Ramon Foster said Villanueva had an exemption.
From PennLive: "Villanueva went on to stand outside the away team tunnel with his right hand over his chest at 12:57 p.m. while his teammates stayed in the bowels of Soldier Field. He was OK with everyone else not appearing for the anthem and everyone else accepted there would be an exception for Villanueva, Hubbard said. Ramon Foster also said the team supported Villanueva standing just off of the field during the anthem performance."
Some weren't okay because they don't really believe in free speech.
This is different from other stories we heard. Someone is lying.
Mr. Villanueva came out after the game and said he was embarrassed to have been out there alone, which was unintentional and accidental according to him. He said he was just looking for the flag. His teammates were behind him, some with hands on their hearts and at least one with his head hung down.
Villanueva apologized for being patriotic.
Villanueva's leg allegedly in the foreground of the photo below.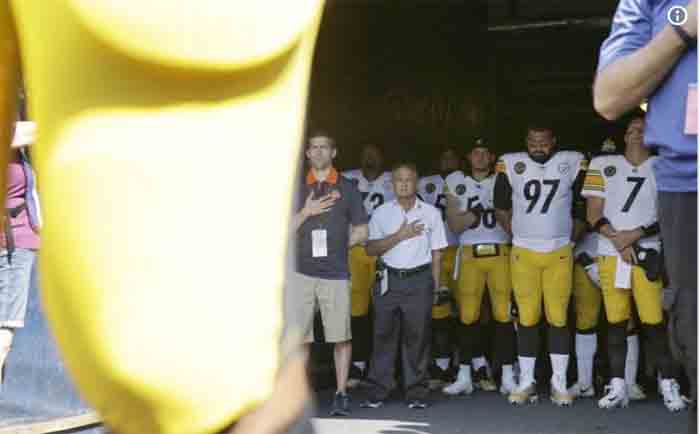 Whatever the reason for Villanueva's presence in the front of the pack, he was in the position of apologizing and many believe he was forced to do it because his teammates looked craptastic.
According to PennLive, the players are saying no one called the meeting to discuss their options about kneeling, standing for the anthem, or hiding in the locker room, or, as it turns out, hiding in the tunnel. That is very hard to believe. In any case, they knew where their Hillary-supporting coach stood.
After the fiasco, Villanueva said his teammates and Mike Tomlin are very patriotic. Tomlin posted this tweet in 2014 and has resuscitated it to prove it though the responses weren't great for him on social media.
Thank you to the men and women of the Armed Forces who served our country and continue to serve. I have the utmost respect for you.

— Mike Tomlin (@CoachTomlin) November 11, 2014
Not respectful of them enough to stand for the anthem or for the USA!
It is worth noting that Tomlin and his wife are very big supporters of Hillary Clinton. He promised to vote for her, appears to have donated thousands, and he held a posh fundraiser for her at his Pittsburgh mansion in 2016.
Tickets to the event cost $10,000 to $33,400. The most expensive ticket included a private meeting with Tomlin and Hillary.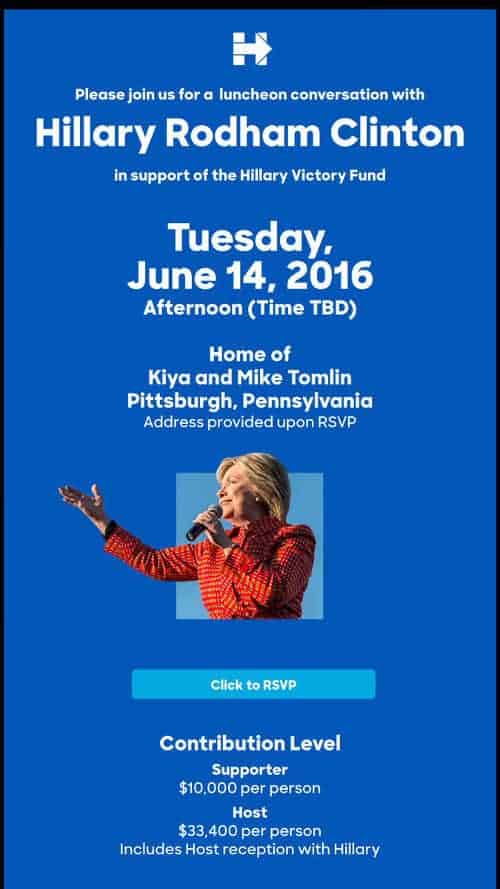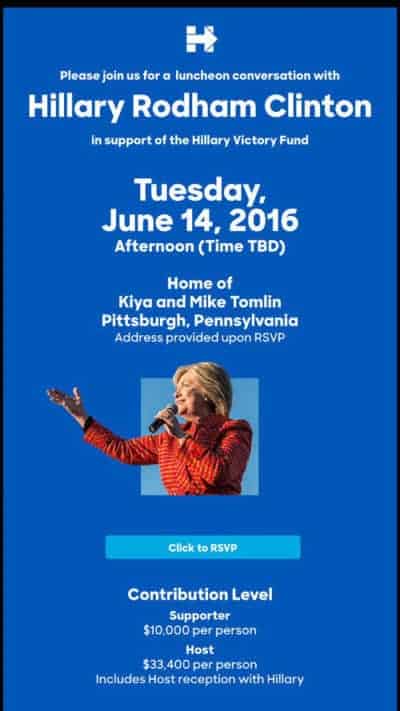 Not everyone is wild about Mike Tomlin. Fox Sports anchor Jason Whitlock — who's African-American — said Tomlin is treated with kid gloves because he's black. "Mike Tomlin is the most coddled coach, perhaps in the history of professional sports," Whitlock said.
Tomlin slammed President Trump this week, claiming Trump had dragged politics into the NFL. In reality, it is Tomlin who has used his status as an NFL coach to panhandle for money from wealthy Democrats. It is the NFL millionaires and Colin Kaepernick who dragged politics into the NFL so that is another deceit.
It's plainly anti-American no matter how much they lie.
The bottom line is the excuses and lying aren't cutting it. Just stand for the anthem like men and stop making football a personal political playground.