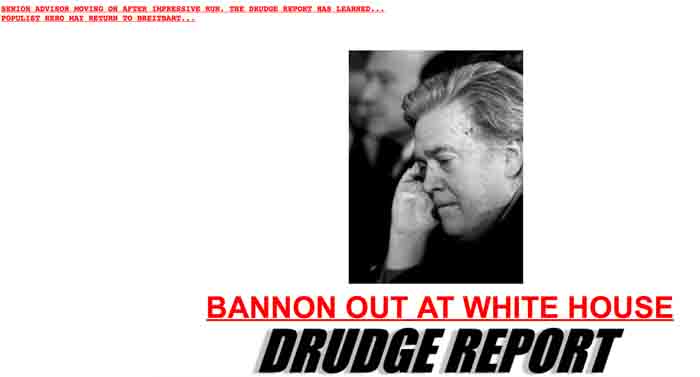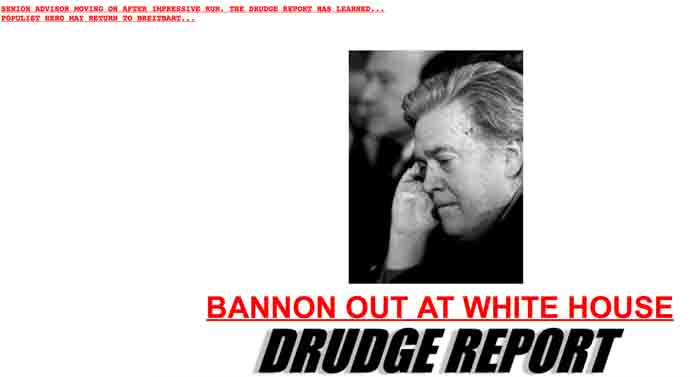 Steve Bannon, President Trump's most controversial White House staffer unfairly accused of having ties to the white nationalist movement, has been removed from the Trump administration, according to The Drudge Report.
Bannon said he quit. He told Sarah Carter of Circa News that he resigned two weeks ago, but the NY Times said yesterday Trump was considering firing him. Friday is his last day.
In any case, the MSM will do their best to exploit him in the hopes he will demonize President Trump. There will be book deals, invitations to MSNBC, CNN, CBS.
Trump's "both sides" argument regarding the rally violence was reportedly championed by Bannon, but who knows.
Bannon might return to Breitbart.
The left is currently demonizing the President and calling him a puppet of Bannon's. Bannon of course is being portrayed as a Neo-Nazi.


Perhaps this is one of the "serious changes" some Republicans have called for.
Echoing the words of Senator Corker yesterday, Trump's loyal supporter Newt Gingrich, told Bill Hemmer on Fox News that Trump is more isolated than he realizes and needs to make "serious changes" if he's going to have a stable presidency.
"I think he's in a position right now where he's much more isolated than he realizes," Gingrich said in an interview with Fox News' Bill Hemmer. "On the Hill, he has far more people willing to sit to one side and not help him right now, and I think that he needs to recognize that he's taken a good first step with bringing in General Kelly, but he needs to think about what has not worked. You don't get down to 35 percent approval and have people in your own party shooting at you and conclude that everything's going fine."

Trump supporter Newt warns Trump needs to make… by mauriedee–