MEXICO SENT LAW ENFORCEMENT DOWN TO THEIR SOUTHERN BORDER TO STOP THE CONTINUALLY GROWING CARAVAN. THEY SET UP BARRIERS BUT THE INVADERS SIMPLY BREAK THROUGH THEM.
The migrant caravan broke down the border gate and flood across the bridge into Mexico.

This is a damn invasion.

They keep screaming about being a village without borders.

— Harlan Z. Hill (@Harlan) October 19, 2018
Stunning image as the caravan of migrants stack up on the bridge into Mexico after breaking through police barricades. Mexican border guards blocking their progress for now pic.twitter.com/EJuKpI9EPv

— Jack Posobiec 🇺🇸 (@JackPosobiec) October 19, 2018
The caravan of
thousands storm the border of
Mexico-Guatemala#VoteRed#VoteREDToSaveAmerica#FridayFeelingpic.twitter.com/EyJIvPCQrl

— Jayne720 (@Jayne720) October 19, 2018
The group keeps growing in size.
#HondurasCaravan Continues Increasing in Size as It Moves Towards US Border. #BuildTheWall #Cody45🐯pic.twitter.com/QJjVwuRRm3

— Cody (@buzzman888) October 19, 2018
When thousands of people are marching on your border waving the flag of their country, it's called an Invasion.pic.twitter.com/TI2bhktziE

— Will Westcott (@westland_will) October 19, 2018
HERE'S EVIDENCE U.S. DEMOCRAT LEFTISTS ARE BEHIND IT
A woman holds up the sign in the next clip. Notice how nice her nails look – not like a desperate refugee at all.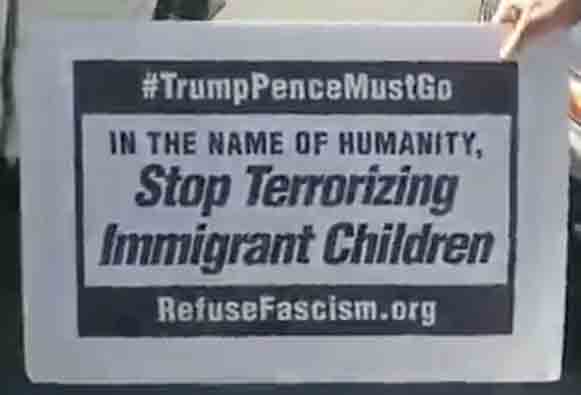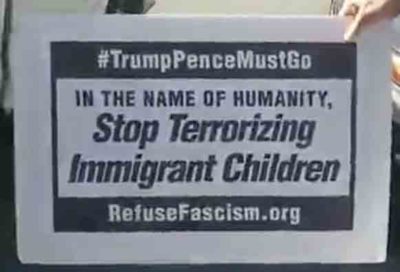 Check out the RefuseFascism sign in the next video. Refuse Fascism is the Resistance and they have endorsed Antifa. They want to depose President Trump and Vice President Pence.
Refuse Fascism was formed by a group of leftists, including the Revolutionary Communist Party (RCP) after the 2016 election.
'Refuse Fascism' is the lead organizing 'Resistance' group behind almost every group protesting Trump. It's Hollywood's favorite organization. Hollywood has never condemned Antifa.
Funding can be traced back to George Soros and 'Alliance for Global Justice', a Progressive 'charity'.
In the clips via Pueblo sin Fronteras, they say things like 'Honduras we are with you' and 'solidarity', 'not repression in Guatemala'. Like Democrats in this country, they claim it is immoral to not let them come into the U.S. illegally.
INCOMING
Look at how many men are coming in.
THIS GOES ON EVERY DAY, THANK A DEMOCRAT & ACTIVIST JUDGES
Caravan aside, enormous numbers of people are flooding across our borders every day. Cartels and left-wing American groups like Refuse Fascism are paying families to go across the border. It serves as a distraction for Border patrol and allows the drugs to get through. Leftist Democrats want to make the President look bad and overwhelm the border with future Democrats.
Fox News reporter Griff Jenkins went down to the border and said they are coming non-stop. "Literally in 90 minutes we've chased what is now four groups. According to the agents here, as many as 75 to 100 illegal aliens are actively trying to cross into the United States at this very moment," he explained.
FOX NEWS ALERT: @GriffJenkins is live in Texas as border patrol arrest illegal immigrants at the border pic.twitter.com/cyQIHZ6gpN

— FOX & friends (@foxandfriends) October 19, 2018
THERE'S UTTER CHAOS AT THE BORDER
CNN reporter Bill Weir was hit with tear gas during a live report on a caravan of Central American immigrants approaching the Mexico-Guatemala border Friday, calling the scene "utter chaos", according to The Hill.
"The policemen are forcing the gates back after firing either smoke canisters. I didn't smell tear gas. But an incredibly frightening scene to be in the middle of this scrum of people," Weir said Friday afternoon from Tapachula, Mexico, during a live report. 
"You can see all the shoes that have been lost in the trample. There's a man in front of me — suffering from heat stroke, maybe having a heart attack. It's so hard to tell."
"Oh, tear gas. Tear gas. The canister landed literally two feet from me," Weir reported later. "No, no, no, no, doesn't throw rocks!" he could be heard urging the crowd.
"Bill, if you need to go, we understand. We understand if you need to go. Stay safe," CNN host Ana Cabrera urged.