A top Tennessee Democratic Party's communications official — Mark Brown — cursed at the idea of reaching out to Trump voters because they're "idiots", Fox News reported. Maybe he's the one who gave Hillary the idea to call Trump supporters "deplorable".
The leading spokesperson to help Democrat Phil Bredesen win the Senate race against Republican Marsha Blackburn is the best Democrats can do apparently. He must reflect the views of his candidate if he's the top guy.
Brown has called the president "f—stik" and "Putin's b—-," the Washington Free Beacon revealed.
He thinks Trump voters are "idiots". Just what we need in Tennessee, another arrogant elitist.
He tweeted, "Exactly, f— 'reaching out' to Trump voters. The idiots aren't listening," Brown wrote in one of the tweets from 2017. In other tweets he also called Trump a "f—ing moron" and "insane f—."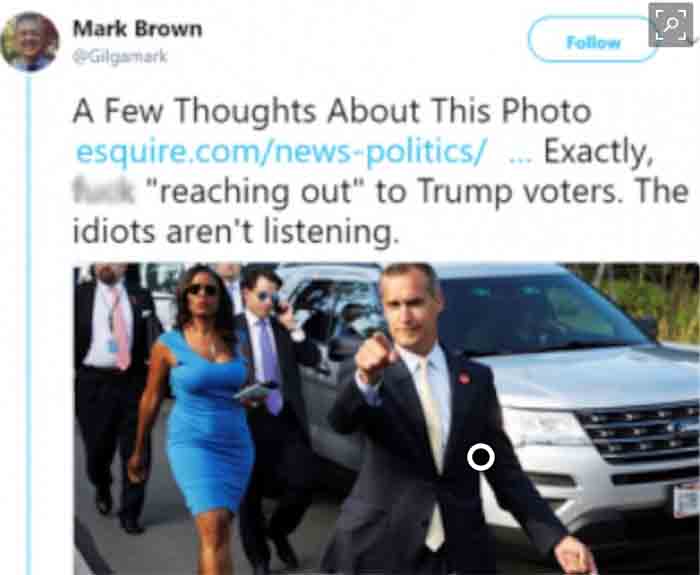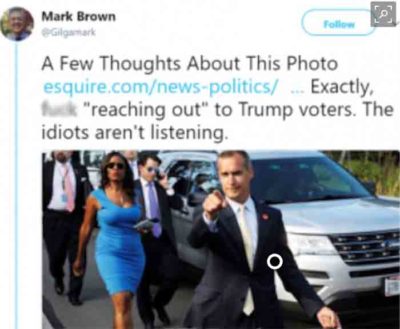 Wow, so basically, to be a communications official for ole Phil, you really only need to know the "f" word.
IT'S VERY VERY IRONIC
What makes it all the more ironic is Bredesen, a far-left guy, complained about Vice President Mike Pence's "name-calling". Pence said Bredesen was "too liberal" for Tennessee. That's name-calling?
Bredesen is too liberal. He supports the far-left agenda, including Single Payer healthcare.
Also ironic is Bredesen's trying to paint himself as the guy who will cross party lines and work with Republicans.
Not likely!
BROWN DOESN'T THINK MUCH OF EVANGELICALS OR AMERICANS EITHER
Also, as far as he's concerned, if you're an Evangelical Christian, you're a racist. If you're American, you're a racist.
The tweets have since been deleted but this is what they said.
An understatent in racist America https://t.co/oHNjrnrq4n

— Mark Brown (@Gilgamark) November 17, 2016
Under Trump, evangelicals show their true racist colors https://t.co/QaUj4hcSUd #Truth

— Mark Brown (@Gilgamark) August 27, 2017