Most Americans hope that they would run into a school to save children and teachers should such a terrible occasion arise. Unfortunately, that was not what took place for the children and teachers at Stoneman Douglas High School. A sheriff's deputy did not go in as bullets rang, each one aimed at a child or a teacher. The EMT's were not allowed to go in and drag out those who lay bleeding out.
It was the perfect wave.
Donald Trump brought ridiculue upon himself over the Marjory Stoneman Douglas High shooting when he said he would have run into the building. But, based on his history, it is likely he would have. There is something in his past that makes you think that's the kind of person he is.
With Marla Maples, his then-girlfriend, begging him to stay in the car, he told his driver to pull over when he saw a man being beaten by another with a bat.
As the crowd watched the beating and as Marla pleaded with him to stay in the limo, he jumped out.
Trump told James Rosen of the Daily News, "The guy with the bat looked at me, and I said, 'Look, you've gotta stop this. Put down the bat.' I guess he recognized me because he said, 'Mr. Trump, I didn't do anything wrong.' I said, 'How could you not do anything wrong when you're whacking a guy with a bat?' Then he ran away."
There were witnesses, including Kathleen Romeo, who told the newspaper that when he emerged from his limo, the crowd cried, "There's Trump."
Romeo also said, "A lot of people were surprised that he got out to see what was happening."
Then There Was Mr. Herbert
It was only weeks before when his 79-year old mother was attacked. A bread deliveryman Lawrence Herbert chased the mugger down and caught him, a 16-year old youthful offender.
Trump rewarded Mr. Herbert by writing a check to save his home from foreclosure.
This is the man the left is demonizing. He's pretty special and his timing is impeccible.
The story was published by Reddit, the Donald.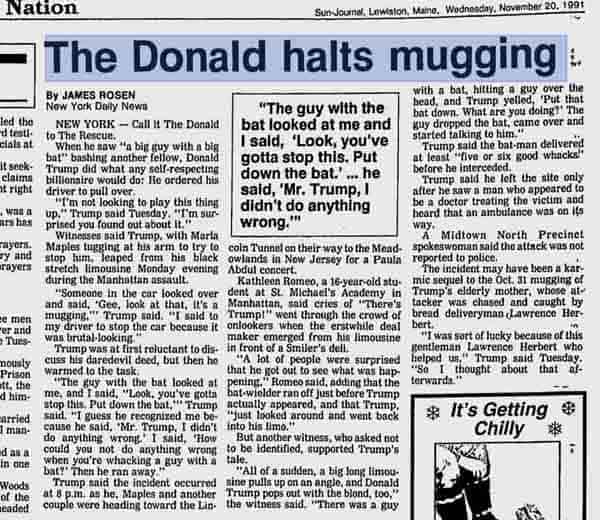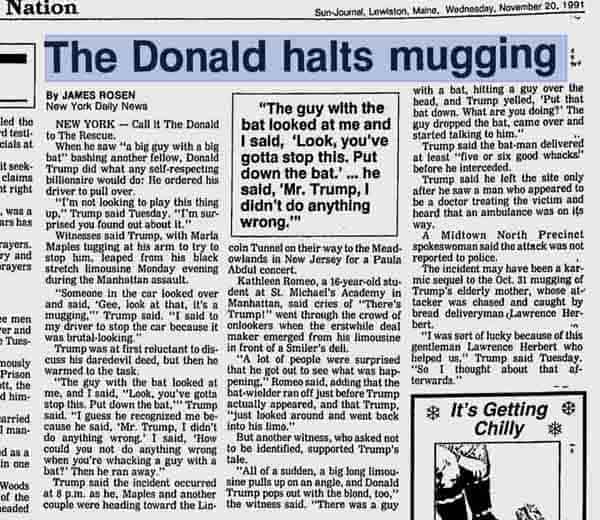 The many people who hate him won't believe it. It must be noted that left-wing Snopes says the story is unproven and one witness says Trump arrived after the offender ran off while another says he did indeed stop the attacker. But keep in mind this is a man who sacrificed everything to save the country and make it great again after eight years of a Marxist.
We'll go with the Daily News account. He has courage. It's hard to know what else to call it.