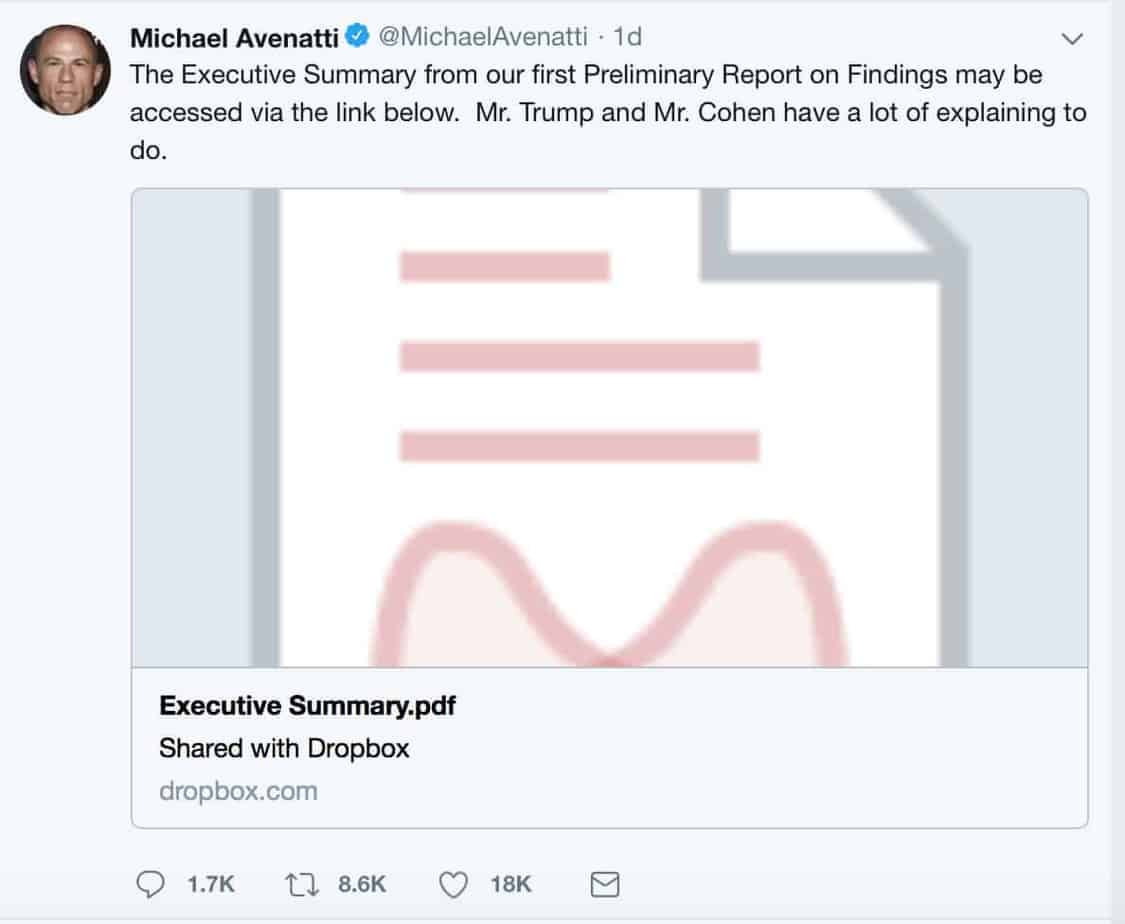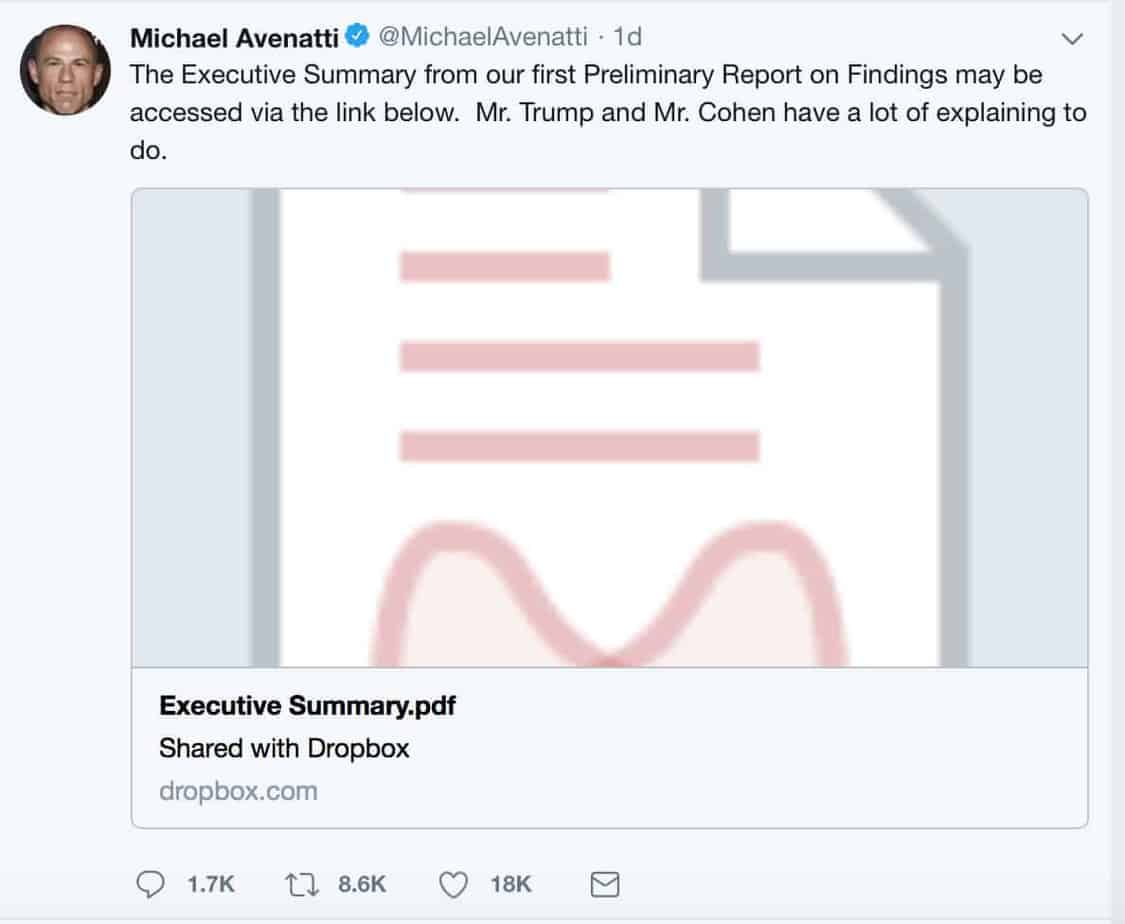 The Wall Street Journal, in an article provocatively titled, "Trump Lawyer Received $500,000 From Firm Linked to Russian Oligarch," reported today that Michael Cohen's company, Essential Consultants received payments from certain companies linked to a Russian oligarch:
"Essential Consultants received payments in 2017 from an investment-management firm called Columbus Nova, that company confirmed Tuesday. Columbus Nova's biggest investor is a company founded by Russian oligarch Viktor Vekselberg, one of the richest men in Russia who has close ties to the Kremlin, and Columbus Nova is run by Mr. Vekselberg's cousin, Andrew Intrater."
Vekselberg's spokesman said: "Neither Viktor Vekselberg nor Renova has ever had any contractual relationship with Mr. Cohen or Essential Consultants," Andrey Shtorkh … told The Wall Street Journal."
Renova is Vekselberg's holding company, The WSJ tells us. What the Journal doesn't tell us is this, which was revealed by the Washington Examiner on September 12, 2016:
"Vekselberg's Renova Group has donated between $50,000 and $100,000 to the Clinton Foundation, donor records show. Another firm associated with Vekselberg, OC Oerlikon, donated $25,000 to the Clinton Foundation."
There's more.
"Beginning in May 2010," said the Examiner, "Amitabh Desai, a Clinton Foundation employee who acted as a frequent liaison to the State Department on behalf of Bill Clinton, asked agency officials if they had any objections to the former president's plan to meet with a handful of Russian executives on an upcoming swing through the country….Vekselberg's name appeared on the list of Russian businessmen."
It was Hillary Clinton's task "to drum up interest in a technology-sharing project, led by Vekselberg, called Skolkovo," said the Examiner, adding:
Hailed as the Russian version of Silicon Valley, Skolkovo was conceived during President Obama's 'Russia Reset' as a way to attract investors to Moscow-based technology start-ups.

Four days after Hillary Clinton met with then-Russian President Dmitri Medvedev in March 2010, Medvedev announced that Vekselberg would head up the Skolkovo project.

Just one day after Hillary Clinton had a private phone call with John Chambers, CEO of Cisco, Medvedev met with Cisco executives in California. That same day, Vekselberg announced that Cisco and Boeing would invest in Skolkovo.

Both Cisco and Boeing are major Clinton Foundation donors. Cisco paid Bill Clinton $256,000 for a speech in Oct. 2010, just three months after Vekselberg's announcement that the firm would invest $1 billion in Skolkovo.

As Peter Schweizer, author of "Clinton Cash," noted in his report on the technology project, 17 of the 28 companies that were ultimately listed as "key partners" in Skolkovo were also Clinton Foundation donors.
During Bill Clinton's Russia trip, "Renaissance Capital, a Russian investment bank, paid Bill Clinton $500,000 for [a] speech, according to his wife's financial disclosures from 2010."
The Hill reported last October that: "Renaissance Capital had ties with the Kremlin and was talking up the Uranium One purchase in 2010, giving it an encouraging investment rating in Russia right at the time the U.S. was considering approval of the uranium sale, according to reports in The New York Times in 2015.
Back to The Wall Street Journal, which also wrote, "AT&T Inc. said it made payments to Mr. Cohen's company in 2017 for 'insights' into the administration at a time when the telecommunications giant needed government approval for an $85 billion takeover of Time Warner Inc.
The payments were made to Essential Consultants LLC, a company Mr. Cohen established in Delaware that he also used in October 2016 to make a $130,000 payment to former adult-film actress Stephanie Clifford, known professionally as Stormy Daniels."
Avenatti's curious interest in the affaisrs of the president's lawyer
Tuesday, Stormy's lawyer, Michael Avenatti posted a memo on Twitter, alleging that AT&T made four payments to Mr. Cohen's firm totaling $200,000 from October 2017 to January 2018. During this period, The Justice Department filed an antitrust lawsuit to block AT&T's proposed merger with Time Warner. So, the payments certainly couldn't have been a payoff.
The original memo tweet can be seen in the photo at the head of this article. The memo was re-posted later:
Here is a new link to our Executive Summary as the old link is no longer active. https://t.co/DabZ44dWgK

— Michael Avenatti (@MichaelAvenatti) May 9, 2018
"Mr. Avenatti's memo Tuesday [which can be read here] listed several alleged financial transactions involving Mr. Cohen and others from late 2016 until early 2018," said the WSJ. In fact, Avenatti's memo listed a very large number of financial transactions involving Mr. Cohen.
The Avenatti memo, titled "Executive Summary was filed in dropboxcom; it lists alleged transactions, beginning on page 5:
Transactions Involving Elliott Broidy, Keith Davidson, Real Estate Attorneys' Group, and Essential Consultants, LLC/Michael Cohen

Keith M Davidson & Associates, APLC is a law firm located in Beverly Hills, California

The firm is owned by attorney Keith Davidson. The firm maintains three accounts at City National Bank ("CNB") and the banking relationship began in May 2011

Mr. Elliott Broidy-Former Deputy National Finance Chairman for the Republican National Committee-Venture capitalist and prominent Republican fundraiser-CEO of Broidy Capital Management-Owner of Circinus, a private security company, which has hundreds of millions of dollars in contracts with foreign nationals

Real Estate Attorneys' Group APLC ("REAG") is a firm specializing in the commercial real estate industry.
Under the heading, "Possible Fraudulent and Illegal Financial Transactions," page 6 shows 9 alleged wire transfers between "Broidy" and "Reag" and states that "Mr. Cohen opened two individual accounts at Morgan Stanley Smith Barney," into which he allegedly deposited 3 checks: $505,000, $250,000 and $250,000."
On page 7, again under the heading, "Possible Fraudulent and Illegal Financial Transactions," Avenatti lists, in minute detail, transactions allegedly made by Cohen: he "cashed a check for $700.00 in Palm Beach County, Florida"; two checks supposedly received from a company in Singapore; 2 alleged wire transfers either from or to Hungary, (it's hard to discern which); more purported wire transfers involving Malaysia, Canada, Taiwan, Kenya and Israel.
NOTE: Western Journalism reports:
Avenatti's report includes a section listing "possible fraudulent and illegal financial transactions" involving Trump's lawyer. One of the payments is a $4,250 wire transfer from a Malaysian company, Actuarial Partners, to a bank in Toronto.

The other is a $980 transfer from a Kenyan bank to Bank Hapoalim — the largest bank in Israel.

Zainal Kassim, a representative for Actuarial Partners, told The Daily Caller News Foundation Avenatti's report is a case of mistaken identity. He forwarded an email the falsely accused Michael Cohen sent to Avenatti requesting the lawyer "correct this error forthwith and make it known publicly" there is no connection to Trump's Michael Cohen.

"You are surely aware of the fact that this is an extremely common name and would request that you take care before involving innocent parries in this sordid affair," wrote Cohen, who told Avenatti he is an international consultant who was paid by Actuarial Partners for work on a project in Tanzania.
Where did Avenatti get the info?
Fox News's John Roberts said tonight that the inspector general is investigating that very question.
The little question is: why is this lawyer representing a former porn star in a contract dispute publicizing all this financial data related to the president's attorney? The big question is: Exactly where did Avenatti get this detailed financial info? We'll have to file that under the heading, "Possible collusion between the FBI and Michael Avenatti?" (Just askin'.)
Remember the FBI raid of Michael Cohen's office, which netted many or all of his files?