I gave up on the debate. The candidates are worried about everyone except those who vote for them – white men, white Republican men, working-class men. It was frenetic, with no one having time to think because they had too many people on the stage who couldn't win.
If they think black people will vote for them in large numbers, they're nuts—it's time to abandon that one. Focusing on slavery is silly.
The GOP strategists who guide these candidates think the same old agenda and tactics will work as our country falls into ruin over identity politics, weaponization of government against political enemies, and stamping down of our rights, especially free speech. J6 rioters are in prison for a decade or more, while killers get 3 to 7 years in prison in many of our major cities.
At least Nikki Haley has her priorities straight as the country blows up – TikTok is very dangerous (sarcasm). She had a useless job as a UN ambassador and thinks that's foreign policy experience.
Republicans need to shut up about abortion. It's unwinnable on a federal level. It is not a federal issue, and we got it out of the Constitution — leave it to the states. Fight at the state level.
This next clip was good – we must end the war since we can't afford it on any level. We're borrowing from China to make the munitions we send to Ukraine. Poland pulled out of Ukraine. We need to do the same:
Ron DeSantis spits FIRE about Washington's obsession with Ukraine:

"They've sent money to pay [Ukrainian] bureaucrats' pensions and salaries and funding small businesses halfway around the world. Meanwhile, our own country is being invaded. We don't even have control of our own… pic.twitter.com/8zsXg4kWBh

— Never Back Down (@NvrBackDown24) September 28, 2023
DeSantis was good on crime. He said for DAs and Mayors not keeping their people safe, he thinks he can lodge civil rights charges against them and remove them. That was brilliant.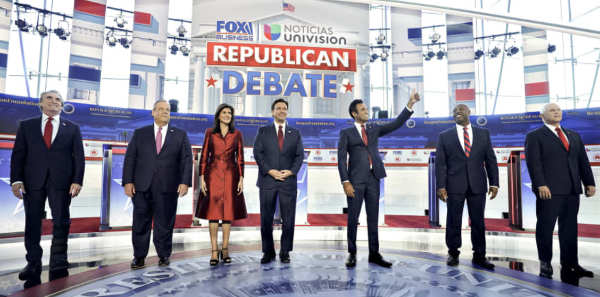 Ron DeSantis is the only person on that stage who gets things done. Fox didn't ask him a question for quite a while. Why?
Vivek is a used car salesman.
And WHY, WHY was Gavin Newsom there for an interview with Hannity??? I think we all know why.
I love Hispanic people, and I love black and white people, and religious and atheist people are loveable, too. How about we go back to identity-politics-blindness and abandon oppressor-oppressed insanity? Why not talk about it instead of slavery?
A funny moment came when Tim Scott said all the money we're giving Ukraine is a LOAN! Seriously? He thinks they're going to pay it back. He also answered a question about firing UAW workers by jumping to slavery.
I feel so dumb now.
Fox is dumb.
Ron DeSantis shuts down Fox's #GOPdebate gimmick about voting someone off the island:

"I'll decline to do that… We're happy to debate. I think that that's disrespectful to my fellow competitors… Let's talk about the future of the country!" pic.twitter.com/PJrQQfXHzI

— Never Back Down (@NvrBackDown24) September 28, 2023
The cringiest moment:
Chris Krispy your wish was fulfilled here is the king #Trump2024#GOPDebate @TrumpDailyPosts pic.twitter.com/9FQPVX5OWS

— Real Hamlet Garcia (@Hamletgarcia17) September 28, 2023
Could Newsom be right, or is this reverse psychology? I still think DeSantis is a good candidate of this group despite some newbie mistakes.
Well shit, even he sees it. But now the question is, did they follow along like good little puppets?

"I think it will be clear that Trump comes out the dominant force".

Nice reverse psychology.

Stay tuned. #GOPDebate pic.twitter.com/2SzbofUDs4

— Land Of ILLUSION (@Landofillusion1) September 28, 2023