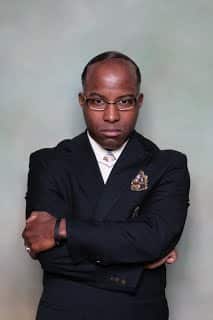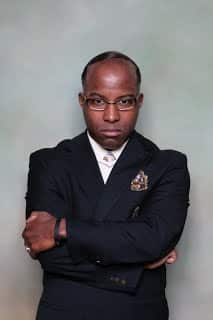 Minister Mauricelm X ( Dr. Mauricelm-Lei Millere ) of the African-Defense League wants all Trump supporters killed, at least that's what he appeared to have said on Facebook after Charlottesville. The post is still up. With all the banning on Facebook, you would think this guy wouldn't pass the censors.
He considers killing them self-defense to kill them all.
He wrote: SHOOT TO KILL ALL CONFEDERATES, KKK, SKIN HEADS, AND THEIR FAMILIES, IN SELF-DEFENSE! ALL OF 'THE DUCK'S', PRESIDENT TRUMP ' FRIENDS!
The families have to be murdered too because that's his definition of self-defense: I say again Black Nation, WE MUST KILL ALL RACIST ORGANIZATIONS, AND THEIR FAMILIES IN SELF-DEFENSE!
Such a delightful individual.
He also helped guide the killer of five Dallas police officers it seems.
The Dallas cop killer Micah Xavier Johnson, who "wanted to kill white people", was a follower of Dr. Mauricelm-Lei Millere who has also called for the death of white cops.
In November 2015, a post on the AADL's Facebook page asserted that "every black person across this nation should find a white police to kill in every state and American/European province around the globe."
A day after a Baton Rouge police officer shot and killed Alton Sterling, the group posted on Facebook:
The Pig has shot and killed Alton Sterling in Baton Rouge, Louisiana! You and I know what we must do and I don't mean marching, making a lot of noise, or attending conventions. We must "Rally The Troops!" It is time to visit Louisiana and hold a barbeque. The highlight of our occasion will be to sprinkle Pigs Blood! [sic]
Within hours of the mass shooting in Dallas, Texas, that killed five police officers, Millere posted on his Instagram account, "We have no alternative! We must kill white police officers across the country!" The message was accompanied by a photo of Millere with former president Bill Clinton that, according to Millere, was taken in May 2016. The morning after the Dallas shooting, a post on the group's Facebook page appealed to street gangs such as the Bloods and the Crips, saying, "WE ARE CALLING ON THE GANGS ACROSS THE NATION! ATTACK EVERYTHING IN BLUE EXCEPT THE MAIL MAN, UNLESS HE IS CARRYING MORE THAN MAIL!" Another post encouraged violence against firefighters, claiming "they are on the same side as police".
It's really stunning that the media can't find these people but they can write articles saying all Trump supporters are white supremacists and racists by default using quotes by three radical Marxist professors as proof.