A former CIA agent, Marc Polymeropoulos, was on Joe Scarborough's Morning Joe show this morning. The purpose of his appearance was to elevate Joe Biden to savior. Scarborough asked what would have happened if Trump won while propagandizing the question by saying that the answer is"obvious."
Biden Is the "Savior" and "Ronald Reagan"
"If Donald Trump won the election," says Polymer, "Ukraine would be part of Russia; the NATO Alliance would be shattered…with Biden's trip to Europe, you know, he is welcomed, frankly, not only as the savior of Ukraine, but the savior of Europe as a whole, and, and, Joe, watching that speech yesterday, all I could think of is someone both of us admit -that's Ronald Reagan."
Fmr CIA agent @Mpolymer: "If Trump had actually won the election, think about — Ukraine would be part of Russia, the NATO alliance would be shattered."

"With Biden's trip to Europe, he is welcomed as not only, frankly, the savior of Ukraine, but also the savior of Europe" pic.twitter.com/MGJWxqRmh1

— Tom Elliott (@tomselliott) February 22, 2023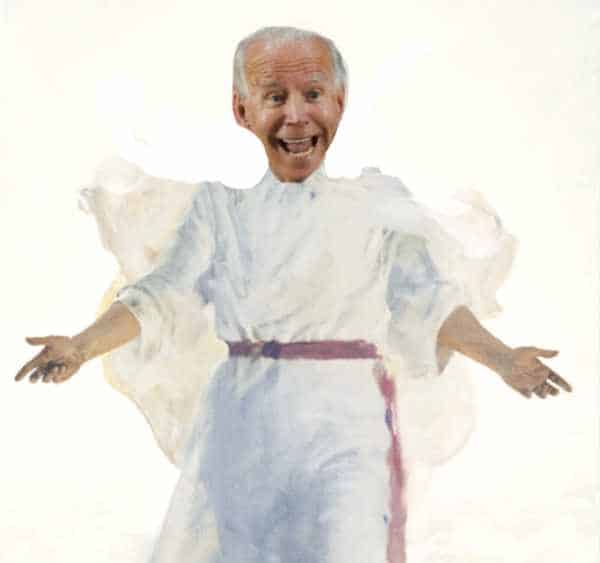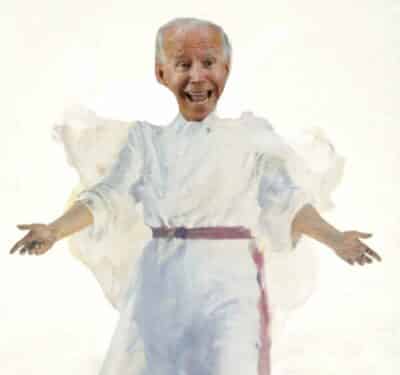 Some might say Biden has brought us to the brink of World War III with two nuclear nations which, when combined, are more powerful than the US.
Panetta's More Subtle
Russia has walked away from the START Treaty. However, they will stand by the weapons caps and say the situation could be reversible.
Leon Panetta said it's of "tremendous concern." Without the restraints of START, Mr. Panetta believes we are "living at a much more dangerous time than we have in the past."
Russia is also following the treaty in other ways. They notified the US that they were test-firing a missile [the failed test that Panetta mentions].
Panetta didn't call Biden a "savior," but he did insinuate it.
Panetta responded to Biden's tone during his 'historic trip' [faked air raid]. He said Biden has "really defined this moment in history as a struggle for freedom and a struggle for democracy…it will define what happens with democracy in the 21st century."
Wolf Blitzer calls it Putin's War as if NATO and Ukraine aren't involved. Panetta wants to punish China if they help Russia. He can't believe Xi would want to get into the conflict.
Watch:
Former US defense secretary Leon Panetta weighs in with @wolfblitzer on Russia's recent behavior, including Putin's decision to withdraw from the New START Treaty. Watch here: pic.twitter.com/xKDDG26y2N

— CNN (@CNN) February 22, 2023
Donald Trump Says He'd Have a Peace Deal in 24 Hours
We don't know if he could do it in 24 hours, but we know he'd at least use diplomacy and try to work out a peace deal.
TRUMP: I would have a peace deal done between Ukraine and Russia within 24 hourspic.twitter.com/NMH9kNwGRp

— Election Wizard 🇺🇸 (@ElectionWiz) February 21, 2023
As the savior works his magic, Russia moves toward a more serious confrontation, and they are moving closer to China.
Let's not forget that NATO continues to not pay its fair share.
Trump stood before NATO and demanded that the other members start paying their fair shares. Of course they hated him, he put America first.

They sure love Blank Check Biden. pic.twitter.com/TOlVPWQ0bD

— MAZE (@mazemoore) February 22, 2023