The open borders group Pueblo sin Fronteras, translated it means Villages without Borders, is organized and funded by hardcore leftist groups, many of whom are funded in turn by the Open Society Foundation, a George Soros 'philanthropic' organization. Soros is a far-left donor to far-left causes, especially if they promote open borders.
Most of the caravaners are men but Pueblo sin Fronteras is claiming the women and children were attacked. The U.S. media is supporting this story for the most part.
This shouldn't be partisan. All Americans should want to keep out anonymous people who are trying to enter illegally. Some might be legitimate asylum seekers but most are not and most are not women and children.
The reporter innocently told the truth about the caravan being comprised mostly of men:
The organizers of the open borders group have spoken out on their website with the usual dishonesty and unmitigated gall.
They wrote on Facebook:
US launches an unprecedented attack against refugees on Mexican Soil
Shoots tear gas and rubber bullets at asylum seekers in Tijuana, Mexico
Tijuana, CA – On Sunday, the United States fired tear gas and rubber bullets at asylum seekers peacefully protesting, including women and children on Mexican soil.
The United States has increasingly militarized its borders and has been preparing to engage refugees and immigrants with an increasingly militarized response. Attacking women and children seeking asylum is shameful and further criminalizes an already vulnerable population.
Additionally, the closing of the San Ysidro border is yet another symbolic response that aims to divide locals in San Diego and Tijuana and pit them against vulnerable refugees.
While the US continues to insist that that asylum seekers use "legal channels" they continue to place obstacles including the failure to recognize systemic violence in Central America.
The militarized targeting of the Exodus caravans adds to the shameful record of U.S. Border Patrol's illegal practice of turning away migrants fleeing persecution. This indiscriminate aggression of women, children, and men are in clear violation of the non-refoulement principle* of the 1951 Refugee Convention, which protects persons with a credible fear of persecution from being sent back to their countries.
Child Abuse 
They show this photo below of the mother of the year who dragged her small children on a dangerous journey with criminals and a caravan of mostly men. She is a child abuser in a Disney shirt. If this happened in the USA, she would be probed by CPS. The poor little children. Just think that this has been going on for years and the USA has facilitated this abuse. Children sent alone are abused and their abusive parents or family get to take care of them here in the USA.
The woman in this photo is not an asylum seeker. She was interviewed and said she wanted to join her husband in Louisiana who is here illegally.
Is this next picture the real story?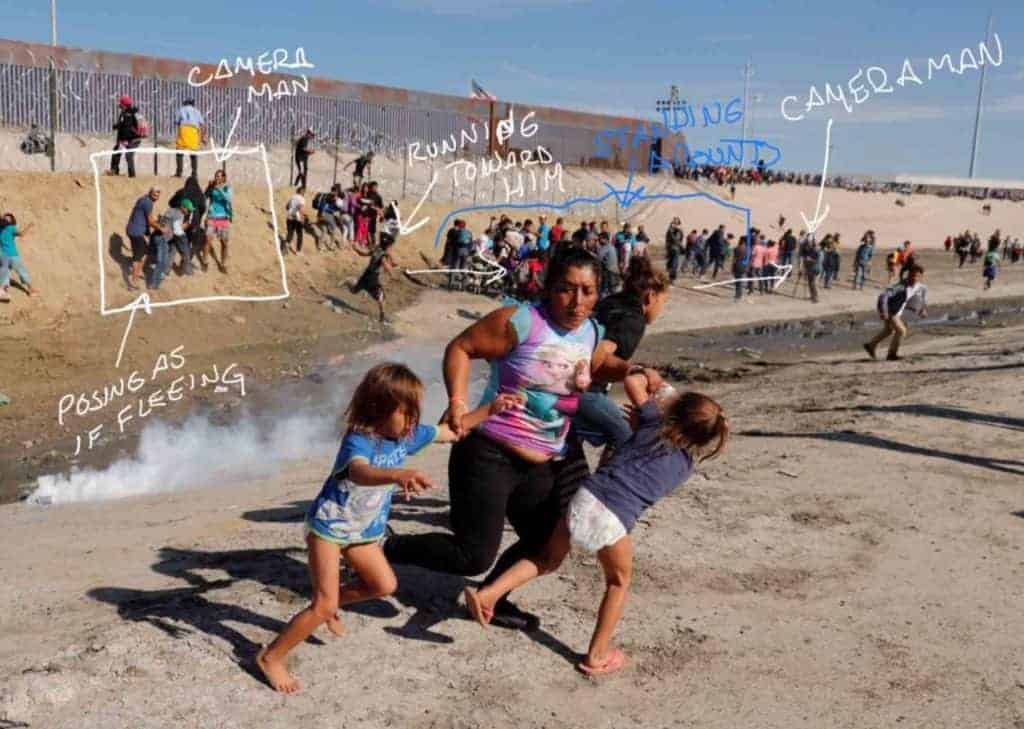 Everything in that Pueblo sin Fronteras statement is a complete lie. Many of the Mexicans posting on the Facebook page said exactly that. A lot of Mexicans are fed up with them also. Pity for the children, of course, it's awful, but sympathy stops there.
WHO ATTACKED WHO
Watch the wonderful 'peaceful' people throwing rocks in this next video.
Here's moment right before shot bang. You can see some rocks being thrown. pic.twitter.com/p0M9p7Rx4G

— WendyFry (@WendyFry_) November 25, 2018
Listen to the Border Patrol Chief:
The border isn't militarized. All the soldiers are doing is protecting the Border Patrol and helping them with administrative duties. That fact is the border war is real and, unfortunately, our corrupt media is aiding and abetting the enemy.
The U.S. did not attack these people nor was it a surprise. They were warned and they attacked the Border Patrol.
Most of us know by now that these are overwhelmingly fake refugees. There is no question there are deportees and criminals in the groups.
MARCHING PROUDLY WITH FLAGS OF COUNTRIES THEY ALLEGEDLY FEAR
They are so fearful of returning home they are marching with the flags of the country they are "fleeing".
They were trying to butter up the Mexicans in this next clip and sang the Mexican anthem which made a lot of posters angry. These people invaded their country too.
They keep saying they're not criminals and you can TAKE THAT TO THE BANK! [sarcasm]