Russian forces launched an air and missile raid in west Ukraine over the weekend, striking an ammunition depot, causing a massive explosion.
The depot reportedly contained a stockpile of recently delivered British depleted uranium tank shells, which were destroyed in the explosion, allegedly sending radioactive particles into the atmosphere of the Khmelnytsky region.
After researching, it appears that the story is based on speculation. It's fake news.
Depleted Uranium shells were one of Russia's red lines crossed by the UK. The British said there wasn't any added danger.
Slavyangrad reported that a spike in gamma radiation had been detected around the time of the Russian airstrike, which would contradict the British claim.
The chart below is floating around as evidence. However, it indicates that the spike began on the 11th. The attack was on the 12th. Moreover, this is from a real-time system for general information and it is not from an alerting system.
"The EURDEP platform has no alerting function. The notification of a radiological accident or emergency is accomplished through the European Community Urgent Radiological Information Exchange (ECURIE). No action may be taken based on this data without prior consultation with the data provider.
"The majority of the measurements presented here are NON-VALIDATED DATA. This means that meteorological conditions such as heavy rain or snow, defects in the instruments, electronics or software, or ongoing calibration work can result in erroneous or seemingly elevated values."
As a consequence, elevated levels appearing on the map, even when present on several nearby stations, CANNOT alone be taken as an indication of actual increased levels of radioactivity.
Also, the depleted uranium shells mostly give off Alpha particles. The levels of 140 mSv aren't even high.
The British and US appear to be accurate about the near-non-existent levels of radioactivity.
The shells are DEPLETED uranium used to penetrate armor; it's mostly depleted. The US military uses only .2% or less 235U and the shells are not much of a source of radioactivity.
The chart from the map used to give legitimacy: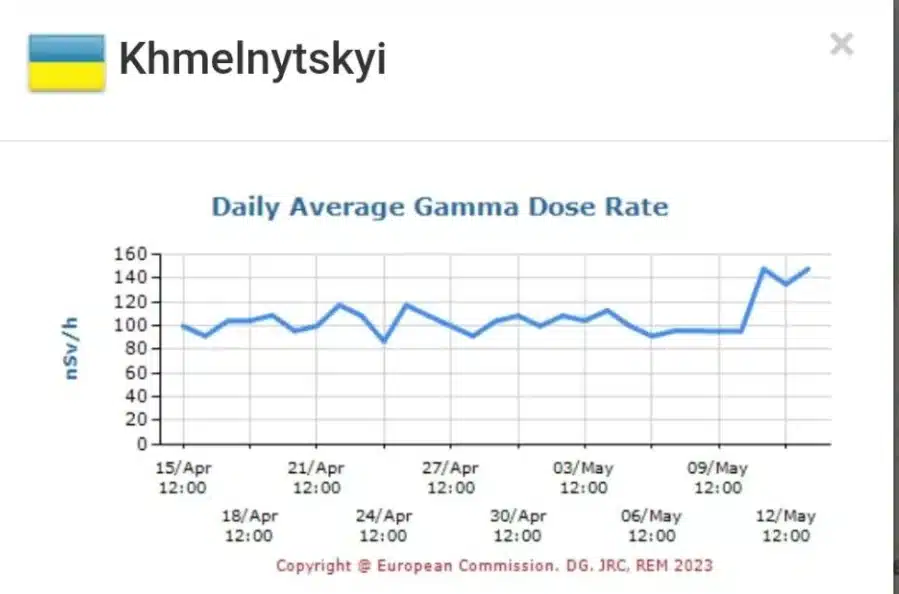 This information appears to be conjecture, not based on fact. It was a big explosion of an ammo depot. The people are not in danger from it.
☢️☢️☢️☢️☢️#RADIOACTIVE PANIC: #Russians Missiles Hit #Ukrainian #Ammunition Depot in #Khmelnytsky Causing Massive Explosion – Cache of British Depleted Uranium Tank Shells Destroyed – Gamma Radiation Spikes in the Region's Atmosphere…. pic.twitter.com/PHMaKNUDFI

— Freedom (@MassAdi15176401) May 15, 2023
Correction: The story was rewritten with additional information upon further research.