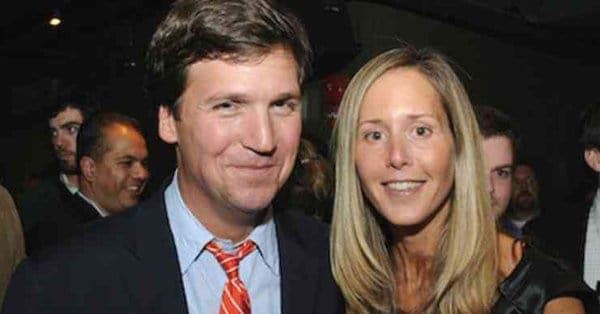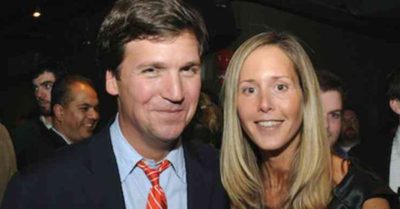 Fox News host Tucker Carlson was interviewed on the phone by The Washington Post after radical Democrats terrorized his wife and children Wednesday evening.
An Antifa affiliate, SmashDC, tweeted out Tucker's address and that of his brother. They also doxxed Ann Coulter, Neil Patel, and Sean Hannity. After that, radical protesters then showed up at his home to threaten him.
The police are investigating it as an anti-political hate crime.
Twitter, at first, only deleted some of their tweets, but after blowback, they suspended their account. As for Facebook — which took down my profile page for no reason –, they are allowing these domestic terrorists to keep their page.
THE DETAILS ARE ALARMING
"I called my wife," Carlson told The Washington Post in a phone interview. "She had been in the kitchen alone getting ready to go to dinner and she heard pounding on the front door and screaming. … Someone started throwing himself against the front door and actually cracked the front door."
Carlson said the protesters had blocked off both ends of his street and carried signs that listed his home address. The group called Carlson a "racist scumbag" and demanded that he "leave town," according to posts on Twitter. A woman was also overheard in one of the deleted videos saying she wanted to "bring a pipe bomb" to his house, he said.
"It wasn't a protest. It was a threat," said Carlson, who is despised by the left for his beliefs about illegal immigrants on his Fox News show. "They weren't protesting anything specific that I had said. They weren't asking me to change anything. They weren't protesting a policy or advocating for legislation. … They were threatening me and my family and telling me to leave my own neighborhood in the city that I grew up in."
An anarchy symbol was spray painted on Carlson's driveway, and signs making reference to Carlson's political affiliation were left on his front door and on vehicles on his driveway, according to the report.
.@TuckerCarlson's "wife, thinking it was a home invasion, locked herself in the pantry and called 911." Thanks Maxine Waters, Hillary Clinton, and Eric Holder. https://t.co/1IvVAMag0L

— Tom Fitton (@TomFitton) November 8, 2018
"We know where you sleep at night, we will fight."

Tucker Carlson's 4 CHILDREN have to experience this Leftist mob outside their bedroom windows. Real Journalists should be asking elected Democrats to disavow Antifa. CNN and elected Dems encouraged this. pic.twitter.com/dIzuplCTiH

— Robby Starbuck (@robbystarbuck) November 8, 2018
THE SOLUTION
James Woods has a solution, but the left would probably say that's too harsh.
The attacker who would break down my door would do so during the final five seconds of his life. https://t.co/Aff3xCVcO7

— James Woods (@RealJamesWoods) November 8, 2018
This won't stop, as long as #Democrats fund it and support it. #DemocratMobViolence #DemocratAntifaMobs https://t.co/5eNEyJqHqD

— James Woods (@RealJamesWoods) November 8, 2018
FOX NEWS RELEASED A STATEMENT
Statement from Fox News CEO Suzanne Scott and Fox News president Jay Wallace, re: Tucker Carlson pic.twitter.com/9q77AXgxcg

— John Koblin (@koblin) November 8, 2018
THESE ARE THE MAXINE WATERS TYPES
Check out reactions from some on the left. In fairness, most people don't react this way.
That makes them almost as bad as @TuckerCarlson

— Tom Arnold (@TomArnold) November 8, 2018
I honestly cannot empathize with Tucker Carlson's wife at all — I agree that protesting at her house was tactically unwise and shouldn't be done — but I am utterly unable to identify with her plight on any level. https://t.co/1YRAY8DuWC

— Matthew Yglesias (@mattyglesias) November 8, 2018
This next guy doesn't even have his facts straight. Obama is the one who put them in cages.
Tucker Carlson's life work is to make it easier for the police to drag tens of thousands of people from their homes put them and their children in cages and send them back to often certain death in their countries you do not have to defend his doorbell getting pushed in rudely. pic.twitter.com/zTBMHUnfSO

— luke oneil 🚽 (@lukeoneil47) November 8, 2018