The media only recently reported on the deaths in Maui. Now FEMA, allegedly in response to a request from Maui County officials, wants a "full stop" on all imagery, photos, and videos as they clean up the disaster. They say it's out of respect for the victims. Won't banning images put Maui out of the news cycle as people try to find out what happened to 1100 missing people, including hundreds of children? The FBI puts the number at 1100 and Maui County puts it at 850.
Hundreds of children who were home from school are missing. Where are they? They are finding baby bones in car seats. They found the bones of a young boy hugging his dead dog after officials told the parents that everyone was out of the area.
THE FEMA NOTICE
"Out of respect for those who perished," the FEMA notice reads, we were asked by Maui County officials to pause on posting on social media and elsewhere new imagery of damage/disaster/debris starting now. They are asking for a full stop on disaster imagery going forward. At this time, we have not been asked to take any photos or videos down. Our team on the ground is coordinating with the county for further guidance to ensure we remain fully aligned. Cultural sensitivity is of the utmost importance in all our responses and recovery activities to this disaster."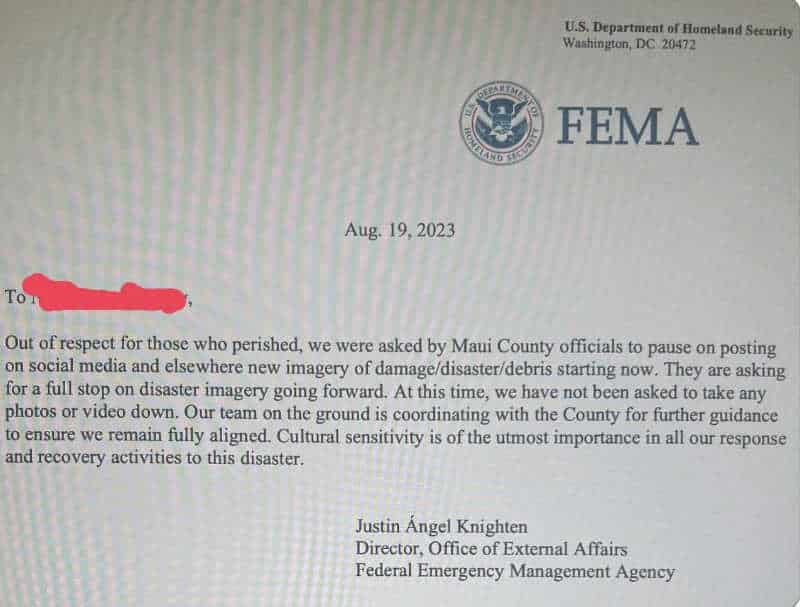 The FEMA director of external affairs, Justin Angel Knighton, signed the notice.
A FASCINATING REQUEST
This request is fascinating because the Maui County officials failed royally. Not providing water, blocking exits out of the area, not having taken care of debris, brush, plants, downed electrical poles, and so much more.
"Those who disobeyed the barricaded road closures during the Maui fires survived the disaster, while many of those who heeded orders to turn around perished in their cars and homes with no way out,"  reported the AP.
As for culture, they're Americans. They haven't gotten the help they need, and they've only been promised $700 apiece. If the horrific story disappears from the news, will they ever get what they should get?
If we can send 40 billion dollars every several months to Ukraine, can't we spend 6 billion dollars to rebuild Maui?
Am I all wet here?
BABIES BURNED ALIVE IN CAR SEATS
🚨 MAUI POLICE HEADLOCK ME FOR ASKING THE MAYOR ABOUT MISSING CHILDREN

MAYOR BISSEN KNOWS THE ANSWER, BUT HE'S HIDING IT.

The mainstream media have been REFUSING to press the Mayor on this, so residents and I started pressing him HARD for the past SEVERAL DAYS.

He's been… pic.twitter.com/ewZgl7lwz4

— Nick Sortor (@nicksortor) August 23, 2023
I wonder if they like this imagery from Rep. Jim Jordan. FEMA is staying in five-star hotels, and Joe Biden is vacationing in Lake Tahoe.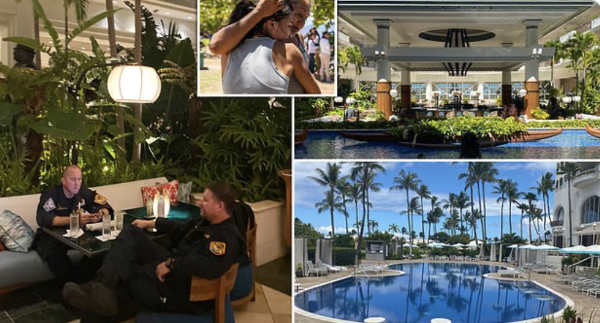 How about the image of the despicable Bidens flying back to Lake Tahoe after a few hours in Maui, where he compared his small kitchen fire to the horror in Maui and fell asleep during the Memorial? What a piece of garbage. Eleven hundred people, possibly mostly children, are missing. I believe the Bidens and their Democrat allies are evil.
Biden took no questions after arriving back in Lake Tahoe last night to resume his vacation.

Today is Biden's 376th day on vacation since taking office — 39.8% of his presidency. pic.twitter.com/5MLI50J0Fc

— RNC Research (@RNCResearch) August 22, 2023