Update October 27: 8:20 pm ET
The former army reservist who killed 18 people in Lewiston, Maine, has been found dead. Four senior law enforcement officials told NBC News that Robert Card is deceased. Robert Card, 40, was found dead in the woods near Lisbon. Multiple law enforcement sources told the network that Card died of a self-inflicted gunshot wound to the head. Some reports say his death was due to two gunshot wounds to the head. That would be strange, but most reports say one gunshot wound.
The 40-year-old Army reservist was found dead late Friday. Robert Card's body was inside a semi-trailer at a recycling center. He died of a self-inflicted gunshot wound, officials said. It was where he worked before he was fired. It was an area that had not been searched before because the manager forgot to tell authorities.
He left a suicide note saying he'd kill himself before the cops found him.
All 18 victims have been identified: Ronald G. Morin, 55; Peyton Brewer-Ross, 40; Joshua A. Seal, 36; Bryan M. MacFarlane, 41; Joseph Lawrence Walker, 57; Arthur Fred Strout, 42; Maxx A. Hathaway, 35; Stephen M. Vozzella, 45; Thomas Ryan Conrad, 34; Michael R. Deslauries II, 51; Jason Adam Walker, 51; Tricia C. Asselin, 53; William A. Young, 44; Aaron Young, 14; Robert E. Violette, 76; Lucille M. Violette, 73; William Frank Brackett, 48; Keith D. Macneir, 64.
~~~
Update: October 27th, 8 am ET, and still no sign of Robert Card. People who commit crimes like this usually commit suicide. Maybe it's time to search the rivers and woods for a body.
Card hears voices, and who knows what they're telling him to do? His family said his mental health has deteriorated rapidly lately. He became paranoid and thought everyone was against him.
According to The Daily Beast:
"He is quiet but the most loving, hardworking, and kind person that I know. But in the past year, he had an acute episode of mental health, and it's been a struggle," his sister-in-law Katie O'Neill told the publication, adding that he started using hearing aids.
"He truly believed he was hearing people say things," O'Neill told The Daily Beast, adding that "this all just happened within the last few months."
She added, "He would get mad and claim that we didn't believe him. We tried to listen to him and tell him that nobody was talking about him. Yesterday, as the story was unfolding, we prayed that Rob had nothing to do with this. But when we heard the two places where the shooting happened, my husband rushed home."
Katie O'Neill is married to Card's brother. She has also been called Katie Card in some reports.
Local resident Liam Kent told NBC News that Card lived in what was "basically a compound" in Bowdoin, Maine. "The family and Robert, they're all gun fanatics," Kent said to NBC. "For all intents and purposes, they are very much associated with right-wing militias. It's known in the town to stay away from them and not approach them."
Kent was appalled that Card was a hunter and the family "shot guns all the time."
According to the New York Daily News, authorities found a note in Card's home, but they said they are trying to decipher it. They did not disclose the contents.
A federal official told CBS News investigators they found a note inside one of them. Sources say this was not simply a suicide note but would not elaborate further.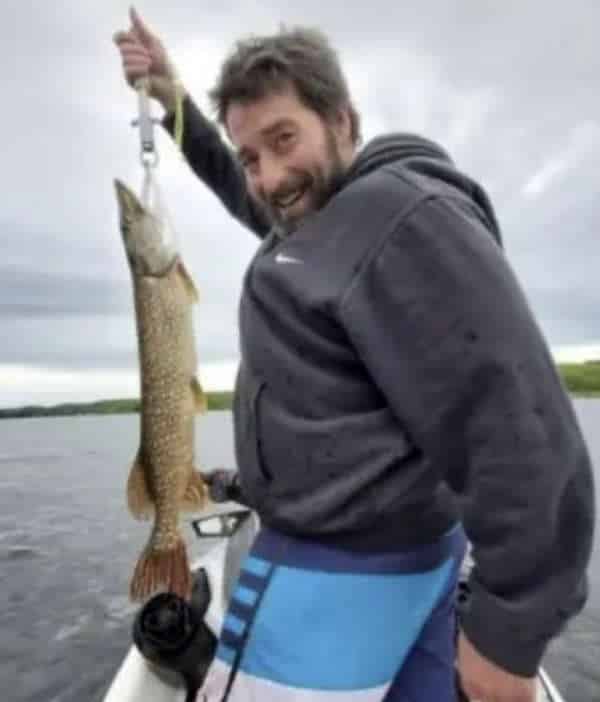 CBS reports that at least 80 heavily armed FBI and ATF agents are on the ground. Several searched two homes in Bowdoin on Thursday.
A weapon was also found inside Card's vehicle, but it's unclear if it was used during the two shootings.
~~~
It does appear that 18 – 22 people have died, 13 were injured, and three are in critical condition.
Report at 6:30 am ET:
pic.twitter.com/GMbbsLz3oi
I joined@CNN
on Thursday morning to talk about the search for Robert Card. Unfortunately, this morning not much has changed, and law enforcement are still searching for Card.@WMTWTV #RobertCard

— Schweiker Cody (@SchweikerC1191) October 27, 2023
OLDER UPDATES
Update: 10-26 at 9:47: Police thought Robert Card was in a home in Bowdoin, Maine. The officers breached the home, but didn't find him. Police are leaving the scene. It's not clear if it is his home.
DEVELOPING: Police are leaving the alleged Lewiston Maine shooter Robert Card's house, they were able to breech the house but police reported that nothing was inside.

This is after hours of FBI and police were stationed in front of this house trying to negotiate to a… pic.twitter.com/PvEHHHaN4k

— Dom Lucre | Breaker of Narratives (@dom_lucre) October 27, 2023
ABC News Update 10/26
The shooter is still on the run.
Police Update: 11:50:
The person of interest, Robert Card, is still on the loose. His car has been located, but he's still missing.
Police give an update. Suspect is "armed and dangerous"#RobertCard #lewiston #Maine

— Johnny (@tallyman2023) October 26, 2023
Update: NBC News as of 10:36:
At least 22 people have been killed, a Lewiston police source said. [Many reports say 16]
Fifty to 60 were wounded at several locations, including a local bowling alley, law enforcement officials said.
A local medical center said it was responding to a "mass casualty" event.
Officials have urged residents in Lewiston and Auburn to shelter in place.
The Androscoggin County Sheriff's Office released photos of a man with a rifle with the caption "suspect for identification."
Lewiston police said a "manhunt" is underway for a person allegedly connected to shootings.
Lewiston is a city of around 37,000, almost 30 miles north of Portland.
Maine shooting suspect is Robert Card, a trained firearms instructor in the U.S. Army reserve. He was recently released from a mental health facility pic.twitter.com/KfhceeGl8h

— BNO News (@BNONews) October 26, 2023
INITIAL REPORT
Reportedly, at least 22 people are confirmed dead, 50 to 60 injured in a mass shooting in Lewiston, Maine. There is a bolo for Robert Card, driving a 2013 Subaru Outback, in connection with the mass shooting.
Maine State Police are telling residents to shelter in place as the active shooter is on a shooting spree. A restaurant and a bowling alley were reportedly among at least two shooting scenes.
Police, fire, and rescue personnel descended on Sparetime Recreation on Mollison Way about 7:15 p.m. after a report of an active shooter. Shortly after, reports came in that there was another shooting – possibly – at Schemengees Bar & Grille Restaurant on Lincoln Street.
Sparetime Recreation, the bowling alley, had families enjoying the evening playing games when the shooting began. Eyewitnesses described seeing people, including children, flee from the location and being patted down outside by police officers. There was also footage of first responders loading a victim into an ambulance outside the business,
The business lies just off the main highway that runs through Lewiston, with an arcade and grill that serves food, according to its website. It regularly hosts special events throughout the week such as "Senior Day" with discounted prices for seniors, and "Glow Bowling" with a DJ.
Schemengees Bar & Grille Restaurant, the second shooting location, hosts parties, family celebrations, and corporate events — with an arcade area that includes dart boards and pool tables, according to its website. The restaurant is equipped with ten pool tables, 14 dart boards, and dozens of TVs to catch all the major sporting events, the bar, the website says.
Police are investigating two shooting scenes.
Police have issued a BOLO (Be On the Lookout) for an individual named Robert Card. He is believed to be driving a 2013 white Subaru Outback. If spotted, please report to authorities and exercise caution.#Maine #Lewiston #Auburn #Shooting #MassShooting #ActiveShooter pic.twitter.com/qN68rrYOEh

— Raw Reporting (@Raw_Reporting) October 26, 2023
FOOTAGE: ACTIVE SHOOTING ONGOING IN LEWISTON, MAINE

A mass casualty incident has been declared with Mutual Aid being requested from surrounding Counties.

Lewiston Police stated that: Numerous people have been injured.

"WE ARE ENCOURAGING ALL BUSINESSES TO LOCK DOWN.… https://t.co/oyH3cG6VV0 pic.twitter.com/CDkBzDDLio

— Mario Nawfal (@MarioNawfal) October 26, 2023
Eyewitness account of Maine attacker.#RobertCard #MassShooting #ActiveShooter

— Truth Over Media (@TruthOverMedia) October 26, 2023
CORRECTION: THE FIRST PICTURE FLOATING AROUND THE INTERNET OF A PEDOPHILE WAS A DIFFERENT ROBERT CARD.