Ukraine is not misusing the tens of billions of dollars in direct financial assistance it is receiving courtesy of U.S. taxpayers, according to top Biden administration official Samantha Power. She also stated we would have a "mammoth undertaking" when we rebuild Ukraine.
Mind you; we have no audits and no oversight. The Senate rejected oversight with the help of Mitch McConnell. Ukraine is using some of the money to fund their entire government, all of their bureaucrats, government pensions, the raises to pensions they just decided to give, and all of their welfare.
Samantha Power, the U.S. Agency for International Development (USAID) administrator, gave the public affirmation during a CNN propagandized town hall live on Thursday evening.
She also clarified that we will rebuild Ukraine, which will be a "mammoth undertaking." The bulk of the expense will be ours. The EU spends little now, and that will continue.
Recognize the propaganda, discount it, and listen for facts.
THE MAMMOTH UNDERTAKING FOR US TAXPAYERS
Her assurances came just hours ahead of the White House revealing it would give another $2 billion in military aid to Ukraine as its war with Russia officially hits the one-year mark, bringing the total amount of American military assistance to over $30 billion in one year.
They discussed the "mammoth undertaking" to rebuild Ukraine. It will mostly fall on the US taxpayer.
Power acknowledged the long road ahead for Ukraine to rebuild the country when the war ends. Some estimates have totaled the damage to date at $130 billion, she noted, reports CNN.
"This is going to be a mammoth undertaking," she said.
Power said that USAID and international financial institutions have worked to rebuild Ukraine's infrastructure and help get private industry to return to peaceful parts of Ukraine.
She said the major projects are ahead.
Meanwhile, US infrastructure is crumbling. No one cares about that undertaking.
"The other thing we want to do now is, with an eye to those big-ticket items, most of which will only happen when there's a negotiated peace," Power said.
"But we have to make sure resources are going to be well spent," she added. "When you have those huge investments, which go well beyond what is being provided right now, that's when of course, you want to make sure that you have the safeguards in place so that all outside investors and donors can know and say to their citizens that this is money that's going to be well spent."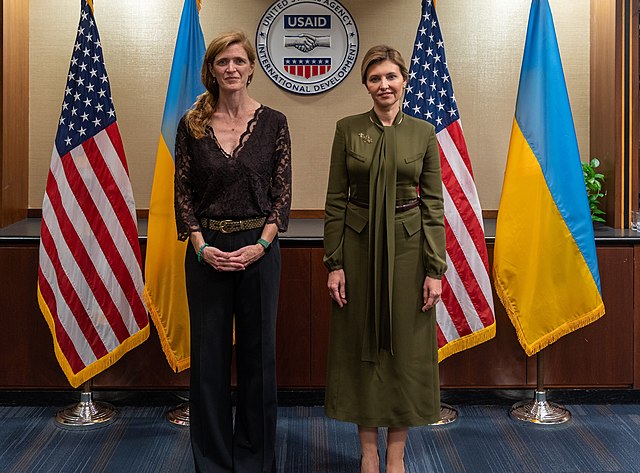 NO EVIDENCE USAID WAS MISUSED [NO ONE'S LOOKING]
Power said that to this point, the Biden administration had not seen evidence that US assistance was being misused.
"Up until this point, we don't have any evidence that U.S. assistance is being misused or misspent but, again, the key is not resting on anybody's goodwill or virtue," Power said.
"Again, the key is not resting on anybody's goodwill or virtue," she said. "It's checks and balances, the rule of law, the integrity of officials."
Power said Ukraine is fighting for the world, and she may believe that, but many do not. Ukraine is a corrupt nation in the hands of a dictator. He has shut down freedom.
FIGHT FOR FREEDOM FOR THE WORLD?
Power notes in this clip that Putin has shut down freedom in his country, but ironically, Zelensky has done the exact same thing. This is not about democracy and freedom as strangers flood our country. That's robbing our freedom and dismantling our democracy.
Tonight, at a @CNN town hall I was asked what vital interests the United States has in Ukraine?

My answer: pic.twitter.com/3oIBLEUZZ7

— Samantha Power (@PowerUSAID) February 24, 2023
It looks like the undertaking we need to worry about is Zelensky using his people to fight the West's war against Russia. The Biden administration is now talking about war with China. China and Russia are far more powerful than we are. Lindsey Graham has even talked about war with North Korea. We sent our weapons to Ukraine and have nearly $32 trillion in debt. Asia, South America, and the Middle East are uniting in BRICS to trash our petrodollar. Our WOKE leadership under an imbecile with military leaders who surrendered Afghanistan to thugs is pathetic. Our country is flooded with unvetted Chinese, Russians, Iranians, and others who probably hate us.
CENSORSHIP BY THE GOVERNMENT IS NOT FREEDOM
Biden's stepping up the govenrment censorship.
🧵 Huge gov censorship! Biden's colluding with State Dept's Samantha Power/USAID to censor Social Media utilizing International Fund for Public Interest Media running under his Presidential Initiative for Democratic Renewal. Funded by gov, CIA assoc NED etc & founded by Omidyar. pic.twitter.com/z88dKKETpt

— Bad Kitty Unleashed 🦁💪🏻 (@pepesgrandma) February 15, 2023
I am being silenced; please share where you can. We are heading for World War III and nuclear war with idiots. It's an undertaking we must avoide.