The Biden White House defended the $200,000 payment the President received from his brother James as a loan repayment, but it didn't wash.
On Thursday, Committee Chairman James Comer (R-KY) issued a letter to White House Counsel Edward Siskel calling on President Joe Biden to furnish the loan documents and applicable IRS filings for the loan. He emphasized that regardless of whether the check was a loan repayment, the President still benefitted from his family "cashing in on the Biden name."
Comer said, "As you may know, the Internal Revenue Code has specific requirements for delineating and reporting "below-market [rate] loans" from gifts. While there are some exceptions, for example, loans of $10,000 or less, the payment in question would not appear exempt from such requirements if it is a loan. Indeed, there appears to have been no interest paid on the "loan" based upon the White House's own representations. The current lack of documentation leaves reason to doubt claims that this transaction was repayment for a legal loan."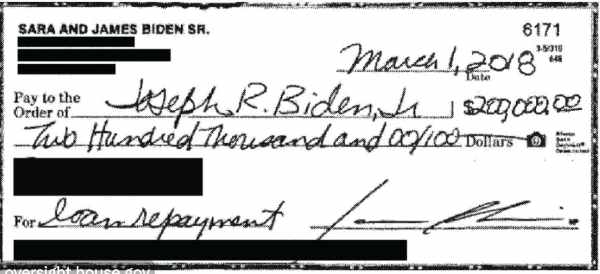 The Chairman explained, "The White House has claimed Joe Biden loaned James Biden $200,000, and this check was repayment."
In 2018, James Biden received $600,000 in loans from Americore—a financially failing rural hospital operator, according to bankruptcy court documents. Americore sued James Biden for the $600,000. He promised Americore that the name "Biden" would "open doors" to a "large investment from the Middle East" based on their amily connections.
On March 1, 2018, Americore wired a $200,000 loan into James and Sara Biden's personal bank account – not their business bank account. On the same day, James Biden wrote a $200,000 check from this same personal bank account to Joe Biden."
Biden's propagandist, Iam Sams, said, "It's a loan repayment… It's right there on the check."
Okay, then, if it's on the check.
BREAKING @RepJamesComer calls on President Biden to prove that the $200,000 he received from his brother was a loan and that all applicable IRS filings were properly made.

Whether or not the $200,000 check to Joe Biden was a loan repayment, he benefited from his family… pic.twitter.com/xHSep0O0su

— Oversight Committee (@GOPoversight) October 26, 2023