On March 26, TIME spoke with Imran Khan from his home in Lahore. The former Pakistani Prime Minister was clear on why the government refused to hold snap elections as constitutionally mandated.
"What they are hoping is that by that time, I'll be in jail," Imran Khan said.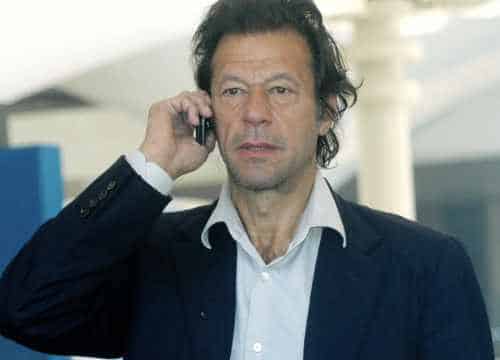 Mr. Khan knew how his supporters would react. "They believe that if I'm arrested, they will kill me," he said, predicting widespread unrest. "No one trusts this government."
🇵🇰‼️Imran Khan, the former Prime Minister of Pakistan, arrested. pic.twitter.com/IgErqcl3ZW

— Radar🚨 (@RadarHits) May 9, 2023
Time reports:
In dramatic footage, he was detained by security forces at the High Court in the Pakistani capital, Islamabad, with dozens of anti-corruption officers clad in riot gear swooping on the 70-year-old and bundling him into a jeep before driving away.
"Mr. Khan went into the biometric office for the biometrics," Raja Mateen, a member of Khan's legal team, told the BBC. "The rangers went there; they broke the windows, they hit Mr. Khan on the head with a baton."
As Mr. Khan predicted, his outraged supporters took to the streets, some became violent, and at least one person died.
In January, Khan dissolved two provincial governments controlled by his PTI party and account for half the country and his voters. He hoped to force the government to hold elections, which opinion polls show he'd win.
It didn't work.
The way he was arrested infuriated his supporters. The Sharif government knew this was how the people would react.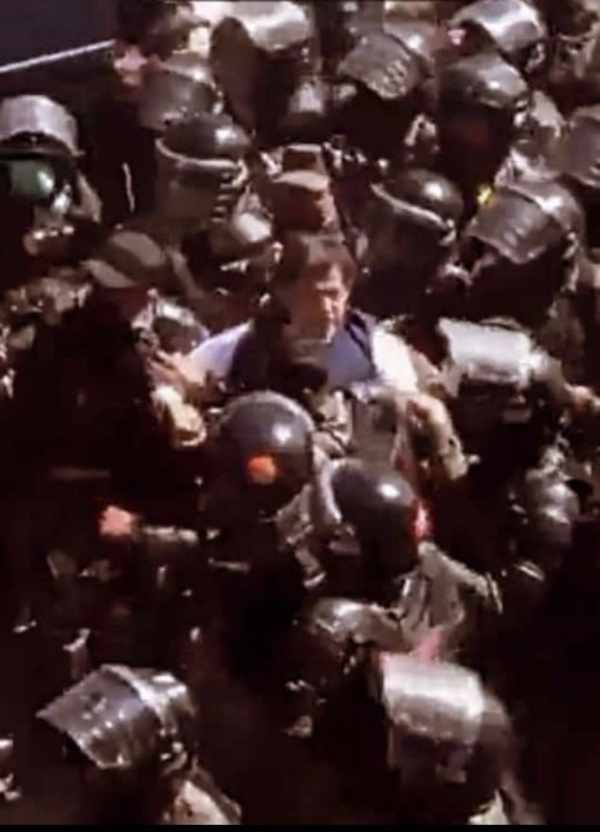 140 CHARGES
Khan has been hit by over 140 charges, by his count, including defamation, terrorism, and corruption. He claims all are politically motivated to muzzle him. His appearance in court on a corruption charge relating to a land deal led to his arrest this week.
The trigger appears to be Khan's repeating during a rally on Saturday of allegations that Gen. Faisal Naseer, chief of Pakistan's fearsome Inter-Services Intelligence Service, or ISI, orchestrated November's assassination attempt that left Khan nursing three bullet wounds.
The military was infuriated.
Then he was arrested. Hundreds of his supporters were arrested as he appeared in court.
Sharif's government won't let Khan run.
News outside Pakistan pic.twitter.com/jNlDUZflVp

— Imran Khan (@ImranRiazKhan) May 10, 2023
Samina Yasmeen, director of the Centre for Muslim States and Societies at the University of Western Australia, said that arresting him for corruption and not defamation is to tarnish his image. She thinks it will backfire. He's held in high esteem.
Unrest over Imran Khan's arrest has gone GLOBAL. Take a look at the scene in London, where hundreds gathered to show their support for Khan & protested in front of former Pakistan PM Nawaz Sharif's house:pic.twitter.com/1OEMGCIHYw

— Steve Hanke (@steve_hanke) May 10, 2023
Take a look as multiple fires are set in the streets of Karachi, Pakistan, over the arrest (read: abduction) of former PM Imran Khan today in Islamabad:https://t.co/bMZL4tNxpb

— Steve Hanke (@steve_hanke) May 10, 2023
The PTI warned Sharif's government that a red line has been crossed.
The UK and US Appear to Ditch Imran Khan
At a joint news conference with his British counterpart, James Cleverly, US Secretary of State Antony Blinken said they want the rule of law to be followed in this South Asian country.
The US and UK on Wednesday appeared to wash their hands off Imran Khan, calling for respect of democratic principles and the rule of law adhered to in Pakistan in the aftermath of the former Pakistan Prime Minister's arrest.
"The UK has a long-standing and close relationship with Pakistan. We are Commonwealth partners…we want to see peaceful democracy in that country…we want to see the rule of law adhered to. I'm uncomfortable to speculate any further without having a detailed briefing on that," Cleverly said.
Earlier, White House Press Secretary Karine Jean-Pierre said at a daily news conference that the US does not have a position on one political candidate or party versus another.
"We are aware of the arrest of former Pakistani prime minister Imran Khan. As we have said before, the United States does not have a position on one political candidate or party versus another," she said while responding to questions on arrest of Khan in Pakistan.
"We call for the respect of democratic principles and the rule of law around the world. So I would refer you to the Government of Pakistan for any further information on that," she added.
Large protests have broken out in Pakistan over the arrest of former PM Imran Khan. In Rawalpindi, protestors stormed the front gates & stormed into the PAK Army HQ. In Lahore, protestors have burned down the Lahore corps commander's residence. Take a look:pic.twitter.com/AJ3R6WJPaN

— Steve Hanke (@steve_hanke) May 10, 2023
Imran Khan supporters destroy Pakistani army barracks pic.twitter.com/x0mHOcm9N0

— Spriter (@Spriter99880) May 9, 2023