The once-Red state of Arizona has turned purple, and the growth is largely due to Democrats moving out of California. They take the politics that destroyed California with them as they move to other states, Arizona being one of them.
The two Senate seats and the governorship are Democrat, far-left Democrats, and they helped push the incompetent, hard-left Joe Biden into the White House. Few mention the media, including social media, but they were and are behind Democrat candidates. They provide enormous free advertising.
"A lot of that growth is Californians," Arizona-based Republican consultant Stan Barnes told Fox News. "Even though they're leaving the People's Republic of California over its tax and regulatory restrictions, they still carry some of their progressive politics with them, and it shows in the election results."
Even though the state has leaned further to the left since 2018, Republicans hope to return the state to its red roots in 2024. The Republican Party is hoping to flip Sinema's seat, especially as the senator has not revealed her own reelection plans so far. Rep. Ruben Gallego (D-AZ) is the biggest challenger to the senator so far.
Gallego is popular with all the new Hispanic immigrants, although he is very far-left.
Barnes claimed candidate quality has contributed to Democrats' success in recent years, with Democratic candidates largely running a centrist campaign. Republicans, he noted, have put forward candidates that were too far right.
"When Democrats run statewide in Arizona, they run as center-right as they possibly can," Barnes said. "If you heard them campaigning, you'd think they're Republicans. They have had good candidates the past two cycles, and we've put up some folks that were easily marginalized."
Another Arizona strategist blamed conservative shortcomings in the state on the candidates' failure to appeal to their own base, claiming that conservative voters are voting Democrat because of fringe candidates from the GOP.
"These vitriolic, tin foil hat-wearing, election-denying Republican maniacs are not succeeding in Arizona, and that's not a result of increased power among Democrats," Democratic strategist Stacy Pearson said. "It's that they're not appealing to their own base; they're not appealing to the Republicans in Arizona."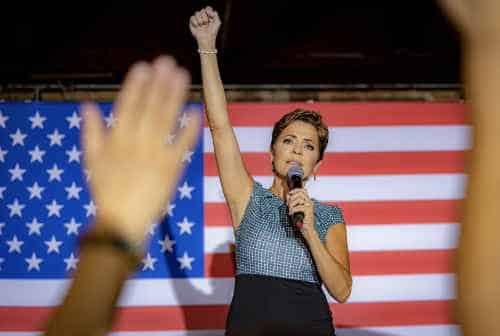 Barnes said he sees hope in Hispanic voters, who were largely expected to vote Democrat. Latino and Hispanic voters still vote more liberal, but support for Democrats has dwindled.
"It turns out the Latino voter did not get that memo. And they don't necessarily perform that way or register that way," Barnes said.
What he is saying comes from an establishment perspective. For example, Kari Lake almost won, and the RINOs in the state did what they could to further the candidacy of the Democrats. She had legitimate complaints about the election, which was run by establishment Republicans.
It's hard to win when your own party is in league with the opposition.