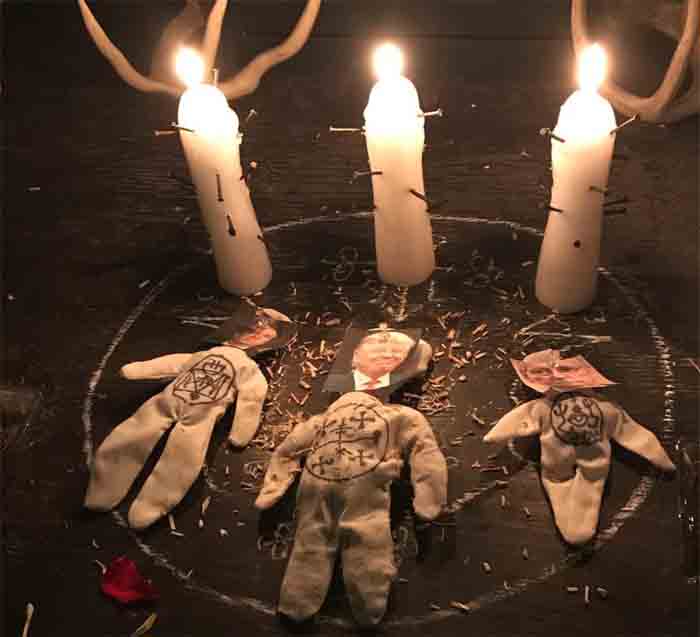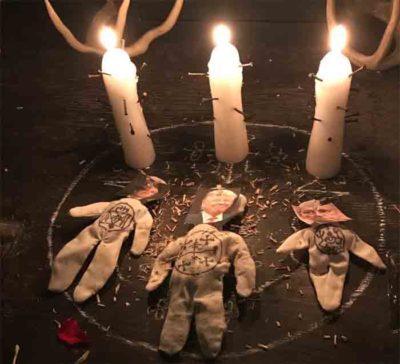 As you have probably heard, witches gathered at the Catland occult bookstore this evening to put a hex on Justice Kavanaugh. They say they put three hexes on the President last year that worked.
Jesse Waters interviewed the head witch on Fox News. He's an LBGTQ witch.
Witches in New York plan a "hex" on Justice Kavanaugh & @JesseBWatters interviewed one of those witches pic.twitter.com/chJ4kYXhnZ

— FOX & friends (@foxandfriends) October 20, 2018
Journalist Caleb Maupin tweeted: Tonight in #Bushwick was an absolute circus. Witches. Christian evangelists. Antifa. Russia hating pseudo-leftists. Drag queens in witch costumes. Pagans who claim the ceremony violates the laws of the religion. Satanists. I'm so tired of #GreenwhichVillage Politics.
Absolute circus outside bookstore in #Bushwick #Brooklyn #NYC where #witches had a ceremony to hex #BrettKavanaugh. Christian counter protests. #Antifa. Goths. Complete circus. Watch this clip! pic.twitter.com/5gqa3kxZwD

— Caleb T. Maupin (@calebmaupin) October 21, 2018
Antifa, the anti-fascist fascists were present to protect the evil witches of course.
The #Antifa crowd has gathered to protect the store where #Kavanaugh will be cursed by #Witches. pic.twitter.com/Gvu4RuqY5R

— Caleb T. Maupin (@calebmaupin) October 20, 2018
A Catholic exorcist is holding a Mass to counter the hex.
Catholic exorcist hosting special Mass to counter witches' hex on Kavanaugh https://t.co/E3q5SksW7u pic.twitter.com/wfeqQ99Lc8

— Newsweek (@Newsweek) October 18, 2018