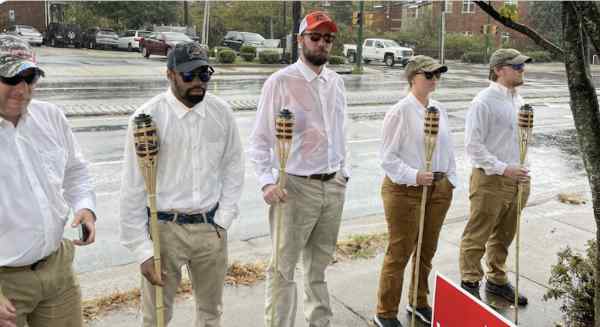 In case you haven't been following, five Democrat operatives, apparently staffers for the McAuliffe campaign in VA, were outed as tiki torch-bearing white supremacists today. Their presence was promoted by the McAuliffe campaign, journalists, and Democrat political commentators.

~ Ian Miles Cheong
Virginia Democrats posed as white supremacists by a Youngkin campaign bus, but unfortunately for them, they were caught. They had to make their accounts private as a result. All the white supremacists were Democrat operatives.
One of the white supremacists is a financial director for the Young Virginia Democrats. This is a common tactic by leftists. One of the 'white supremacists' is black. Do they want to perpetuate the notion that blacks can be white supremacists?
They were Terry McAuliffe staffers. McAuliffe must be desperate.
Meghan McCain tweeted: Just for clarity – the McAuliffe campaign sent a bunch of his staffers to pretend to be tiki torch white supremacists at a Youngkin campaign event? Pathetic all the way around. And don't absolve the staffers who did it, they aren't kids. Dirty, shameless, pathetic politics.
The pedophile-enablers at The Lincoln Project fell on their sword and are now saying they set it up to remind people of Charlottesville. Charlottesville was a case of Antifa and BLM activists going to Charlottesville to stir up trouble during a right-wing march. An autistic man, who has caught standing with Nazis, plowed into left-wing marchers, killing one woman. Look at the last clip for The Lincoln Project statement.
https://twitter.com/TrumpJew2/status/1454148274319933448?s=20
https://twitter.com/TrumpJew2/status/1454157161999880199?s=20
UPDATE: 2nd VA Democrat operative caught, goes private https://t.co/kkgoyphA27

— Jewish Deplorable (@TrumpJew2) October 29, 2021
They also found a black white supremacist.
Looks like they found the black "white supremacist"

and his account is also locked pic.twitter.com/m8DBH1Z91n

— Ames (@RestingTwitFace) October 29, 2021
Hey @TerryMcAuliffe, your staffers are morons. #Caught pic.twitter.com/VpMNjI7AKe

— John Cardillo (@johncardillo) October 29, 2021
It's not likely The Lincoln Project planned this because the operatives hid all of their accounts when they were caught. It's dirty politics.
No chance Lincoln Project staged this, even though a "white supremacist" rally is right up Confederate Rick Wilson's alley. The VA dem operatives involved have already been identified & locked down their social media. Busted. Don't let Pedo Project take the hit for McAuliffe. https://t.co/vPgQBKGJ3I

— Donald Trump Jr. (@DonaldJTrumpJr) October 29, 2021