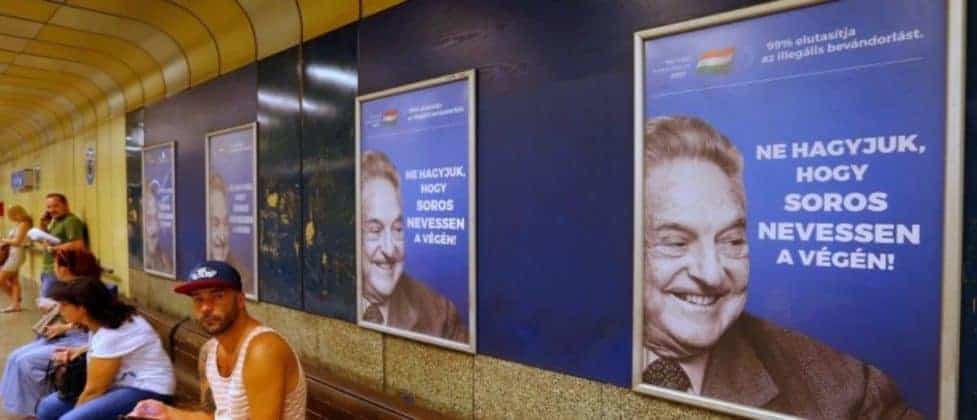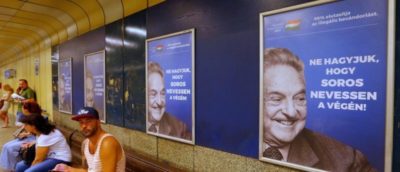 George Soros is a danger to the world and no one takes him on. In the U.S., he's funding the Antifa, Black Lives Matter, Occupy Wall Street and other violent, very far-left groups. He's manipulated the Democratic Party and helped push them to the hard-left. One man has taken him on but he could be an anti-Semite. At least that's what the leftist "J Street" calls him.
Hungary stands up to George Soros
Hungarian Prime Minister Viktor Orbán has attempted to keep refugees out of Hungary to preserve the nation's sovereignty and culture. Geroge Soros, through his NGO's, is actively working against him.
Orbán just engaged in a six-week campaign to defeat Soros and his agenda in his country. As part of the campaign, Budapest was lined with posters and billboards of a smiling Soros declaring, "Don't let Soros get the last laugh!"
Soros has pushed the global open borders movement and has said that that the EU must take in one million migrants a year.
Orbán also believes that another aspect of the Soros plan is this: "The second element in the billionaire's plan would be a European asylum authority, which would seize powers in this area from the authorities of the member states."
At one time Soros was a benefactor to many prominent figures in Fidesz, Orbán's party, including Orbán. That was in the early years of Hungary's transition from communism. That quickly changed when Soros's plans became clear in establishing what Orbán called a "mafia state" with a "facade of democracy".
The prime minister vowed to "stop Soros" from "executing his grand plan and his grand business project" after a conference in June. Previous to this, he had asked eligible voters for their views and he says an overwhelming majority back him.
In Orbán's poster campaign, he caused some concern with what some say are anti-Semitic posters. Soros, a Jew by birth, claims the posters talking about not letting Soros get the last laugh deliberately played off Nazi attacks against the "laughing Jew."
Soros used the comments to call the campaign anti-Semitic. He said in a statement. "Equally, I am heartened that together with countless fellow citizens the leadership of the Hungarian Jewish community has spoken out against the campaign."
Orbán disavows any anti-Semitism
Orbán's spokesperson Zoltan Kovacs claims it is not anti-Semitic and he doesn't know if Soros even has a religious affiliation.
"The campaign you are referring to seeks to draw attention to the threat which George Soros represents on the issue of immigration – namely his standpoint that the borders of Europe must open up to immigrants," Kovacs told the Daily Caller News Foundation. "This is why the government insisted that [the] parliament decide on making these organizations transparent, as the Hungarian people have the right to know who represents what and for what purpose."
"We would like to emphasize, however, that the poster campaign has nothing to do with Mr. Soros's religious affiliation – if indeed he has any."
The government regards the issue of illegal immigration to be "a matter of national security" and will therefore mobilize "the political and legal power" in its efforts against Soros, according to Kovacs.
For his part, Soros's spokesman said his views are completely in line with the EU's. He called the Hunagarians xenophobic.
We don't know if Orbán is anti-Semitic but he might have appealed to baser emotions in his campaign.
The NY Times blames Jews in Israel
The NY Times cleverly blamed the Jews in Israel. They portrayed the man who helped Nazis as a 14-year old in Hungary as a Holocaust survivor.
As a Holocaust survivor, a successful financier who embraces free market capitalism and a philanthropist who champions liberal democracy, George Soros should be a darling of the Israeli establishment. But Mr. Soros has failed the only litmus test that seems to count for Israel's current leadership: unconditional support for the government, despite its policies of occupation, discrimination and disregard for civil and human rights.
Israel's Prime Minister Benjamin Netanyahy does back the Hungarian President which led the NY Times to conclude:
For Mr. Netanyahu, ideally there would be no daylight between Jewish identity and Israeli identity. Mr. Soros represents an obstacle to this project because he is such a high-profile figure among the communities of the Jewish diaspora that do not necessarily have a strong identification with Israel — or worse, that are critical of it. In pursuing his strategy, Mr. Netanyahu has repeatedly alienated a majority of American Jews on both political and religious grounds.
The Israeli prime minister's willingness to endorse Mr. Orbán's attacks on Mr. Soros is not only a direct affront to Hungary's Jewish community, but also a dangerous assist to anti-Semitism on a continent once more roiled with extreme nationalist, anti-immigrant sentiment. Although he regards himself as a leader, even a savior, of world Jewry, Mr. Netanyahu is anything but.
The reason for the contempt is political. Israel is far more conservative than J Street and the others who support Soros. Jn Street is a fake pro-Israel group.