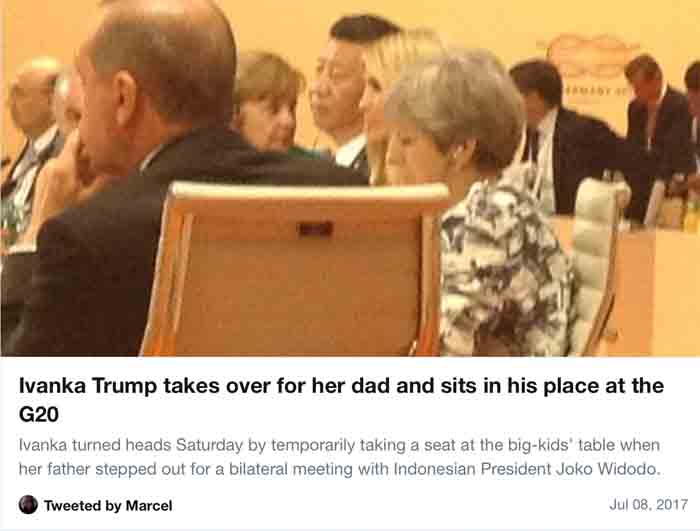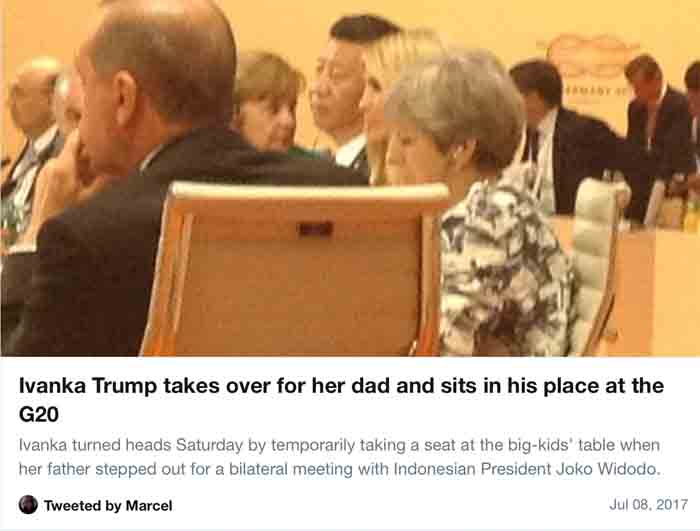 There is a lot of fake news going around Saturday. In fact, fake Ivanka Trump news is trending but not in a good way. Ivanka, an adviser to her father, "took her father's place" at the G-20 for two meetings yesterday – for minutes. It's become one of several media storms.
Ivanka sat in her father's place while the president of the World Bank addressed the meeting, which was about African migration and health — areas that would benefit from a facility that Ivanka Trump and the World Bank had announced shortly before the meeting, a Trump spokesman said.
Ivanka was at the table because there would be a discussion about women's empowerment later in the day. She did not speak during the meeting.
The left is infuriated by it, horrified she was sitting next to Theresa May. If only they would notice the Antifa/Black Bloc army of madmen burning down Hamburg. If only they would spend as much time on our communist NYC mayor rushing over there to speak with the domestic terrorists to bolster their morale.
Ivanka is being compared with Chelsea. The left says we'd be infuriated if Chelsea showed up at a G-20. Perhaps that's true, but mostly because Chelsea's a vaporous individual.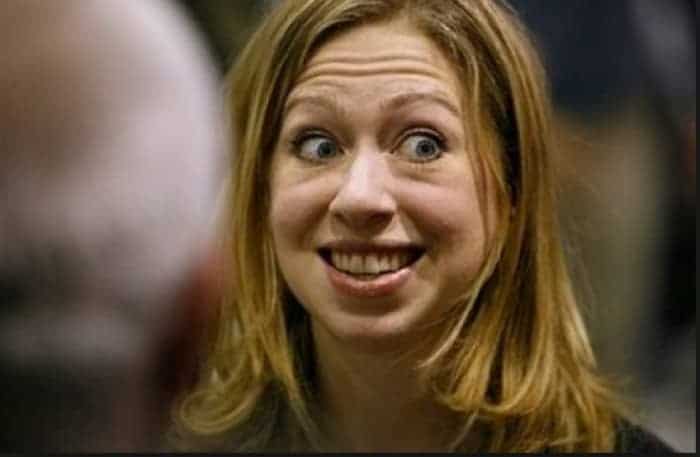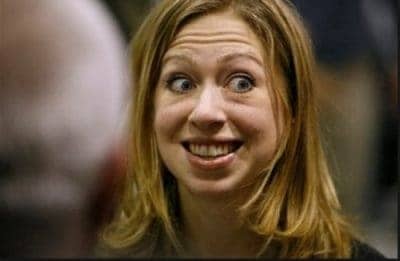 Hillary had Huma Abedin instead of Chelsea.
The fact is Ivanka was working on something that redirects the useless World Bank. While many of us won't agree with using the World Bank for anything, perhaps this will be a better use of the funds.
Ivanka Trump and World Bank launched a plan at the G-20 Summit to help women in business, The Washington Post reported.
They announced "an innovative new [fund] that aims to enable more than $1 billion to advance women's entrepreneurship and help women in developing countries gain increased access to the finance, markets, and networks necessary to start and grow a business."
The program aims to lift women in Africa, South America, and the Middle East. As an unpaid advisor, Ivanka has only advised on this issue. She will have no operational or fundraising role.
Trump said the U.S. will contribute $50 million to the fund his daughter conceived. The U.S. will serve as a founding member. Chancellor Merkel said, "I want to sincerely thank everyone who worked on it especially the President of the World Bank Jim Yong Kim and Ivanka Trump".
Everything Ivanka does is at great risk to her life and certainly her reputation. She's doing it for no pay. A man carrying knives was stopped just yesterday as he tried to get to her.
The left is bashing Donald Trump as well, calling him isolated from the EU leaders. It's not surprising that the EU opposes him on trade and climate. They want all our money and resources.
However, Eastern Europeans love him and he's working on a "very, very big trade deal" with the U.K. The left is also saying he "caved to Putin" without an ounce of evidence that he has.