One officer was slain, two are were in critical condition, and another took the suspect down during an ambush by Mohamad Barakat in Fargo, North Dakota. it appears to have been an ambush.
A gunman opened fire on police and firefighters "for no known reason" as they responded to a traffic crash in North Dakota, killing one officer and wounding two others before another officer killed him, Fargo's police chief said Saturday.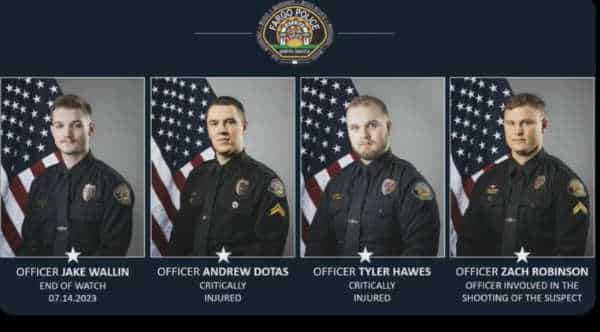 Chief David Zibolski said officer Jake Wallin, a military veteran, was killed in the shooting Friday afternoon. Two other officers, Andrew Dotas and Tyler Hawes, were wounded. A fourth officer, Zach Robinson, shot and killed the suspect, Zibolski said.
A 25-year-old woman was also injured, but authorities did not say who shot her. The gunman did not hit any firefighters, Zibolski said, but a fire truck was struck by gunfire.
Since the FBI is involved, we will likely never know why Mohamad opened fire.
Officer Jake Wallin was killed by Mohamad Barakat in ambush attack Friday night in Fargo. Two other officers are in critical condition. Citizen Free Press.. pic.twitter.com/QAOt7P6xmF

— D. Scott @eclipsethis2003 (@eclipsethis2003) July 16, 2023