An inside source told Breitbart News that Rep. Jamaal Bowman tore down the signs on the door and threw them on the floor before he pulled the clearly marked fire alarm near an 'Emergency Exit Only' sign on a stand. He then ran to a different door on a different floor.
That goes to premeditation. The only reason for this would be to delay the vote for the continuing resolution and shut down the government. Democrats would then turn around and blame Republicans.
Without mentioning the $6 billion taken out of money for Ukraine, Democrats now claim they won.
Bowman and his Democrat allies are a threat to democracy.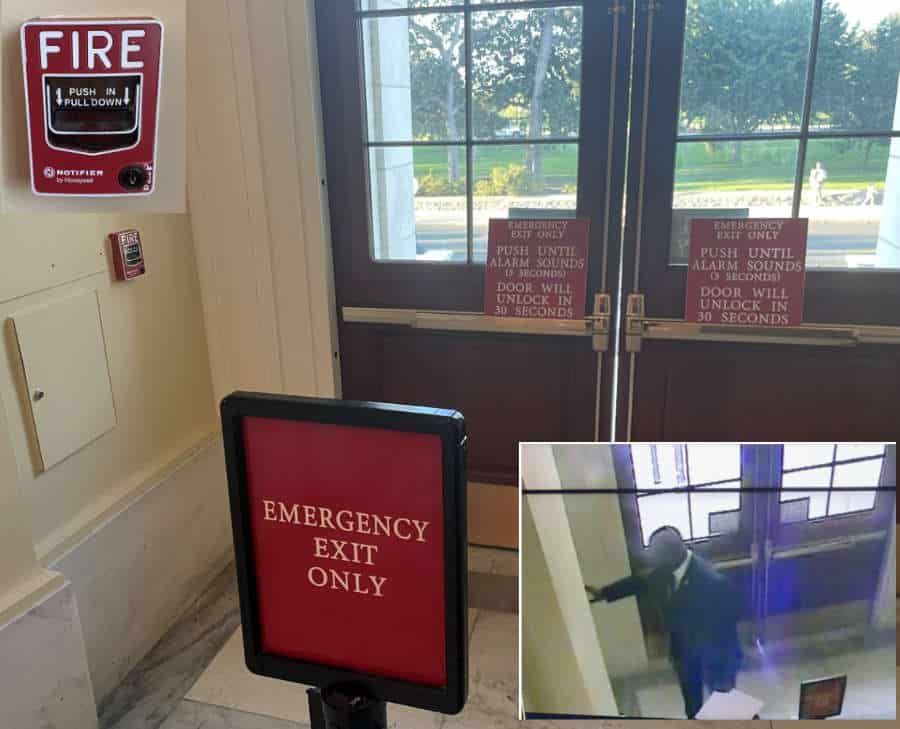 The alarm triggered a full-scale law enforcement and emergency services response, leading to the evacuation of the building, reports Breitbart.
A source familiar with the matter said Bowman casually, as the House was holding open the House Democrats' motion to adjourn vote earlier in the day, walked up to the door and then ripped the emergency signs off and threw them on the ground.
"He ripped both of them off the door and threw them both on the floor," the source familiar with the investigation told Breitbart News.
"Then, he leaned into the door and tried to open it," the source added. "Then, he pulled the fire alarm. When the alarm begins going off, he turned around and ran—going down to the first floor of Cannon and exited out of a different door then made his way across the street to votes. At no point did he say to anyone 'sorry this is a mistake' or 'sorry I pulled the fire alarm by mistake' or anything like that. He didn't say anything to anyone until he was confronted by Capitol Police later. By doing what he did he caused a whole building to be evacuated. Capitol Police and emergency services need to treat any alarm like a real threat until they know otherwise."
In addition to the false report emergency misdemeanor charge, pulling the fire alarm could also possibly constitute illegal obstruction of congressional proceedings — a federal felony, according to the Washington Examiner.
Bowman is currently under investigation.
Bowman's statement: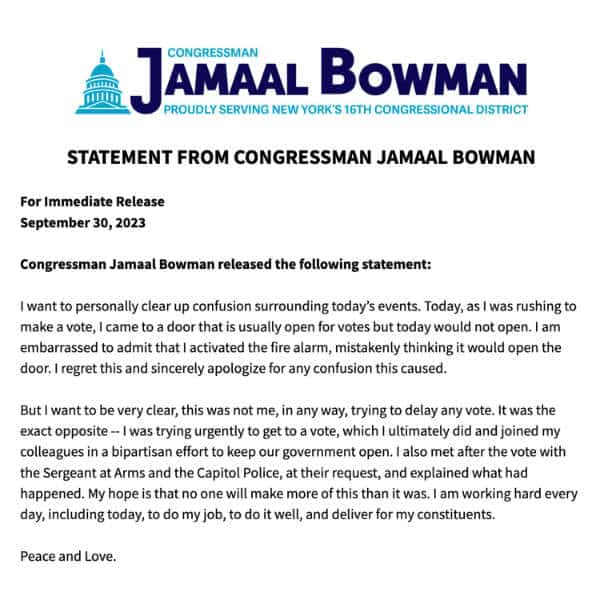 MSNBC's Misinformation Disinformation Report
I know there are going to be even funnier attempts by the media to defend Jamaal Bowman — even though what he's alleged to have done isn't just a crime but a felony under the theories of the Jan 6 case — but the way they degrade themselves for Dems like this is hilarious: https://t.co/sUXXmaMEpT

— Glenn Greenwald (@ggreenwald) September 30, 2023
Bowman did say no one was above the law!
Can't wait for your take about a congressman that interrupts official congressional proceedings by intentionally activating a (false) fire alarm.

— Hunter Biden's Life Coach (@Dave_AllRighty) September 30, 2023
Did you??? pic.twitter.com/BtWEJgtTFb

— Heidi (@reshas) September 30, 2023
Look at all the warnings … Jamaal Bowman said in his statement that this door is "usually open for votes"

Jamaal Bowman is a lying insurrectionist. pic.twitter.com/YDtL8zjfoI

— Catturd ™ (@catturd2) October 1, 2023